It sounds like the name of a bad comic book movie if you don't know what it's all about. "Potterwatch 2010, coming soon to a rabid theme park fan near you!" With the Wizarding World of Harry Potter set to open to those who purchased vacation packages it has many fans who are hoping to catch a glimpse of the area before the June 18th lining up at the gates virtually all hours the park is open. We call it simply, Potterwatch.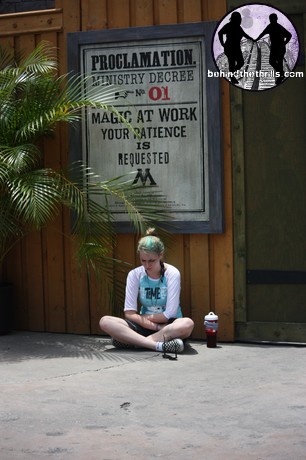 Soft openings are a way for the parks to test out what may or may not be working with a ride, an area or anything that it decides to open. It's a normal occurrence for parks to open attractions up to a month in advance in order to make sure everything is in tip top shape. However normal it may be, WWOHP is not a normal attraction by any stretches of the imagination. It is based on arguably the most well known movie and book franchise of all times, so far and boasts one completely unique ride with characters from those movies interacting with you.
Since soft openings are never announced, it has prompted a group of locals around Islands of Adventures (including a few members of the media, and ourselves) to drop by and spend as many as five hours a day waiting to see if it opens. It hasn't.
"I think you're all idiots" says one forum member on a discussion board. "Harry Potter fans are  making Twilight fans look good" says the latest article at CoasterDom a rollercoaster and amusement park fansite. Kind of low blows, but in a sense kind of right. This is, after all, the most anticipated theme park opening since Islands of Adventure Debuted in 1999. It is also the first major attraction opening since the park opened as well. It's also, Harry Potter.
"They're not just Harry Potter fans. They're Harry Potter fans AND theme park enthusiasts. A match made in terror." says @stuartnewsom on Twitter. Bingo. It is a match made in something. Mostly a combination of excitement and too much time on ones hands.
But let's look at a few reasons some may think it will soft open soon:
Vacation package previews start Friday
Effects and music are going non stop in the area
Team members are being seen in full costume entering and very rarely leaving the area
Team members keep telling everyone (both online and in the park) that the area is open
Team members have already had their previews
They keep letting media in(except us)
Employees denied Rockit was opening up until two minutes before they opened the gates
Universal has been very tight lipped about the whole ordeal, saying nothing
People just want the wait to be over
But a few stipulating facts remain.Forbidden Journey has not tested yet, or had previews for employees. The busy Memorial Day weekend is upon us and Universal may not want those kinds of uncontrolled crowds roaming the streets of Hogsmeade. And perhaps the biggest one comes from a lady who identified herself as someone who "works Forbidden Journey" and who's name tag said "Team Leader". She claimed to a group on Sunday that there was no chance WWOHP would open before June 18th. That the ride was not ready, and that even those who held vacation packages for the weekend were not guaranteed anything except that "the area will be open".
Still, it's a fun game. Standing watch, hopeful that everyone is wrong, knowing that it will open soon…perhaps..OMG IT'S OPEN NOW! Just practicing. Besides, you do meet all kinds of people while standing in front of the gate. From innocent tourists, to die hard potter fans, to people you've known online for quite a while to even local reporters.
Want to know where Potterwatch came from? Well, it was actually coined by Theme Park Insider, but the actual origin of the term comes from the seventh book of the series where Lee Jordan hosted a radio show to support Harry Potter while Voldemort had gained control. Yeah, when theme park enthusiasts and Potter nerds make babies, this is what happen.
Join us on Twitter for PotterWatch!