Universal Orlando pitched a survey today regarding HHN tickets. They did the same last year, pitching the "Rush of Fear" pass, which allowed the purchaser to get admission into Horror Nights for the first three weekends of the event (a total of 10 nights) for one low price. This year's survey has some interesting points to make.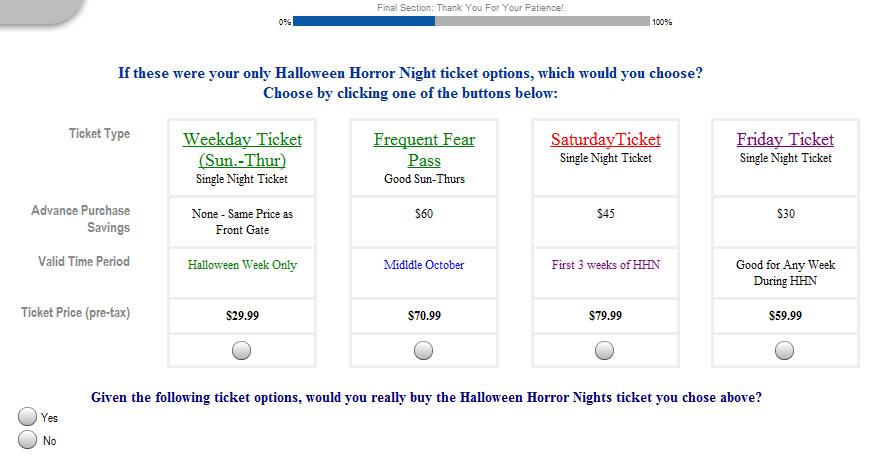 The first part of the survey is loaded with typical questions: Have you been to HHN before? Have you heard of HHN? Did you buy an express pass? How likely are you to go this year? What year's have you gone before? Of course, next comes the hardest part. If these four ticketing options, which one would you buy? Thankfully, it's followed by a "Would you really buy the HHN ticket you chose above" question.
I noticed a pattern in this year's ticketing questions that I have never seen Horror Nights do – a Halloween Weekend ticket. Some of the ticket options were for single nights, but some were good Sunday through Thursday. I have never been Halloween weekend myself (I've got kids that want to trick or treat), but I've always heard that Halloween weekend is usually pretty dead. Parties and trick or treating usually take a huge chunk away from the crowd.
It's also possible that Universal is looking to extend Horror Nights into November. Halloween falls on a Wednesday this year. Typically towards the end of the event, Universal does have event nights on Wednesdays, so does that mean we could see a full weekend heading right into November? We haven't had a November event night since 2008, which ended on November 1st.
The Rush of Fear pass was pitched last year and became a reality (and a popular one at that). Looks like this year we might see a Halloween weekend ticket, whether it's a specially discounted night ticket or a ticket good for the whole weekend to get more folks in the door.
I included some screen caps from the survey, including questions I thought were important.
[flickr-gallery mode="photoset" photoset="72157629270285462″]
Feel free to take the survey yourself. In order to take the survey, you must type the following URL or copy and paste it into your browser or else the link will not work! Here's the link:  www.visitorsatisfaction.com/HHN12
For more information about Universal Orlando, visit http://universalorlando.com.