Roller coasters are pretty intimidating structures. Most coasters are huge steel behemoths that look like some kind of prehistoric beast. As a parent, and coaster enthusiast, it's a problem when you have little ones. First they aren't tall enough to ride, and when they are, the natural intimidation takes over. It's plagued my ten year old daughter who is very timid when it comes to new things. Legoland Florida is looking to help parents get their kids over that fear so that they can enjoy more time with their families instead of sitting out.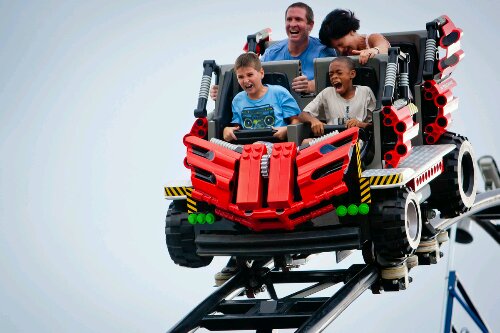 The park is offering "Roller Coaster Readiness Tips" to parents who have children with the very real Veloxrotaphobia (fear of coasters). Legoland Florida has reached out to nationally-recognized psychologist and award-winning author Dr. Susan Bartell to help parents and employees manage these potentially traumatic situations.
"Our junior roller coasters offer just the right blend of speed and thrill that make LEGOLAND Florida the perfect spot for kids to ride their very first roller coaster," says Adrian Jones, LEGOLAND Florida general manager. "But because we know the 'pink knuckle' nature of these attractions doesn't mitigate a first timer's fears, we wanted to provide resources to parents as well as our model citizens to ensure that every first plunge is a positive experience for the entire family."
I've personally experienced this anxiety from my daughter, and there are many mistakes that a lot of parents make when trying to entice a child on a coaster. My daughter only wants to do what the rest of the family is doing, so she gets excited to ride. The fear and nervousness takes over. Instead of getting mad or frustrated, Dr. Bartell and Legoland have a list of tips that could help.
"Dismissing a child's fear, comparing them to a sibling or friend, bribing them with gifts and money, or labeling a child with a negative name based on their reluctance won't make them any braver," says Bartell. "In fact those strategies often cause greater anxiety, and resentment and make them more reluctant, not to mention ruin what should be a great day for the family."
Before Your Trip Bartell suggests starting at home with these tips before leaving on the trip. · Learn Online – Young children (especially those who are anxious), don't like surprises. So, visit the LEGOLAND Florida website with your child and look at the different attractions, discussing how much fun each one will be.
· Tell a Story – Talk to your child about fun roller-coaster experiences that you and other people had when they were kids. Be as animated, silly and positive as possible.
What to do When You Get to the Park · Focus on Fun – As you arrive, review the park map and point out all the fun attractions, not just the roller coasters.
· Take it Slow – Invite your child to pick which attractions she most wants to experience. If she is reluctant to try the roller coasters, begin with at least a couple of her choices.
As the Day Continues… · Watch and Learn – When some people in your party are eager to try a roller coaster, don't split up. Rather, watch the roller coaster ride with your reluctant child, all the time commenting excitedly about how much fun it looks and how happy and excited kids are as they come off the ride. Point out that kids coming off the ride do not look scared and are not crying.
· Nervous is Normal – Explain that while riding a roller coaster, it is normal to feel a little nervous, scream, close your eyes, and squeeze someone's hand – in fact, it is part of the fun. Explain that feeling a bit nervous doesn't mean you are too scared to go on the roller coaster.
At the End of the Day… · No Regrets – If your child expresses regret that he didn't try the roller coaster, don't make him feel bad. Now that the day is over, it's easy for him to 'be brave.' Instead, remind him there is always a next time, and that he should focus on the rides he enjoyed and the fun that was had by all.
While adults may have fun on coasters and rides, its easy to forget that kids see the world differently. My daughter's first coaster was a larger one with a single loop. She worked herself into wanting to ride it, but when we git there she went rigid and stiff, bring very nervous. Instead if getting impatient or mad, we watched the coaster and talked it out. She nervously got in and as we went into the drop and up the loop, she closed her eyes and put her head down. Once we made it through, she yelled out "did we make the loop?" Once I said yes, she let out a scream of triumph and ride the coaster three more times. Kids will do things when they're text, it just takes patience, encouragement and understanding.
All of Dr. Bartell's tips will be available in a brochure at the front of the park to help parents make the best of their day in the park.
Do you have any coaster riding tips? Let us know in the comments below!
For more information, including tickets, visit the official Legoland Florida website!