The airspace over Bakersfield California just got a little more crowded. Dragons have been spotted taking off and landing at the Bakersfield airport, and according to one local source Disney is behind the magical creatures testing in "secret" over the skies of California.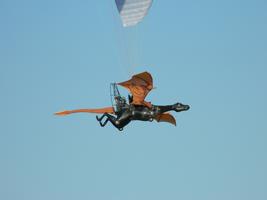 The picture above comes from The Bakersfield Californian who reports that Disney is conducting tests with dragons. Okay, so they're not real dragons, but ultralight gliders made to look like dragons.
If you head over to The Bakersfield Californian you can see a few more pictures. Their report also has the dragons breathing fire and moving their heads.
The automatic first thought goes to the plans for Avatar land at Animal Kingdom in Walt Disney World. Blueprints surfaced earlier that shows ultralight aircraft fitted as dragons (or banshees as they're called on Pandora) that could be used for a stunt show in which actors will board the dragons and fly over the crowds much like in the movie.
Compare the above picture to a picture of an Avatar banshee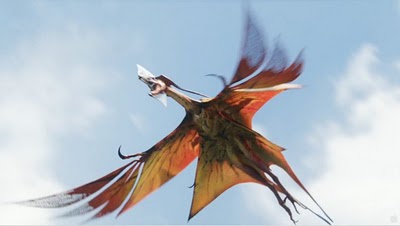 While Avatar is certainly a logical conclusion jump, The Disney Blog points out that not only were the plans for these dragons drafted before Avatar was announced, but there could be another plan altogether. China has a rich history and mythology built in dragons. For many, the dragon is seen as a source of strength and seeing one is supposed to be good luck. As luck would have it, Shanghai Disneyland will be opening in the next few years. How lucky would it then be to see a dragon flying over the grand opening ceremonies? The crowd would go nuts!
Eyewitnesses to the tests said that not only were test flights being made, but also tests on how much space would be needed for take off and landings.
Who knows at this point, but keep your eyes to the skies!
Special thanks to The Disney Blog for the heads up.