Ki ki ki…..ma ma ma….Happy Friday the 13th everyone! Okay, so it's really not a holiday, and the second one this year.  Just because it's not really a holiday doesn't mean that it's no reason to celebrate. If you're HOS Insider, the official unofficial spokes…thing…for Howl O Scream at Busch Gardens Tampa, it's not really a reason to celebrate, but more to torture. The official kick off to haunt season is well over two months away, but it's never too early to get excited.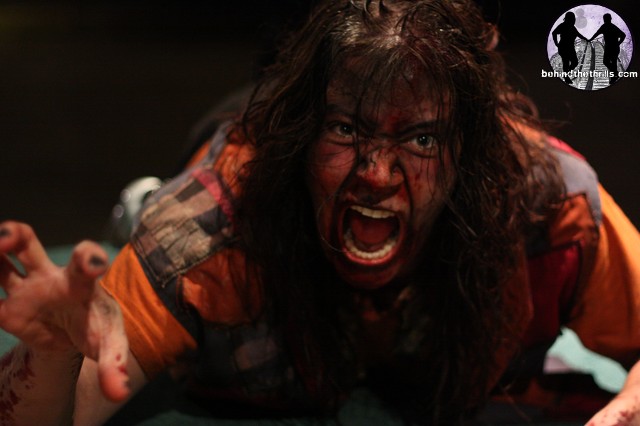 A few hints were promised today, as it seems to be the perfect day for some haunt information. As the unlucky day reached mid morning, a singular tweet broke the silence.
@HOSInsider:So if Death Row Vengeance and Deconstruction are going away… what does that leave coming back?
Last year Howl O Scream had six regular admission houses, and one upcharge house. Death Row Vengeance, Deconstruction, Nevermore, Zombie Mortuary, Nightshade Toy Factory, and Vampire Casino. The upcharge house was Alone, back for a second year. With the tweet, Insider confirmed what everyone was guessing, Death Row Vengeance and Deconstruction had overstayed their welcome and would not be returning. This leaves the other houses confirmed to return, as well as the confirmation that Alone, the upcharge house that sees you face the terrors solo, would be returning again, for a third year.
@HOSInsider: Of course you know we never bring them back exactly the same…
In the past some houses that returned would get minor tweaks to make them a little different from previous years. In the case of 2010-Trapped in the Walls had a "Ghost Hunter" theme and included a laser show. Changes were minimal, and in most cases not extremely effective. Last year a few houses received a "zombification".
This year the event looks to step up the returning houses a bit by adding new elements. (It seems that the Insider is taking their time with the updates, so we will update throughout the day):
@HOSInsider

: Updated house the first: Vampire Casino: Condemned. The casino is closed, but you can still explore… with a flashlight!!

@HOSInsider: Crazed toymaker vs MUTANTS. in Nightshade Toy Factory: Mutation, a radioactive leak gives the toys the power they need to finally take over.

@HOSInsider: Alone, Zombie Mortuary and Nevermore are all returning with little tweaks. So I guess that just leaves the two NEW houses to talk about…
First up: Vampire Casino with a flashlight. That's interesting in itself. The highlight of the event last year for many was the glitz and glamour of a Vegas Casino. Will they take all the bright lights and sparkle and simply turn it off? Curious choice, but what makes it more curious is the use of a flashlight. This is something that will need to be seen.
Second:Nightshade Toys will be in it's fourth year, and it returns with a twist, the toys will take over. Last year the park tried to amp up the house by adding more actors in the line. It worked to an extent. Could we see even more actors in the lines of the house? How about more toys, and more effects?
Lastly :Nothing really major said about the three remaining houses. It would appear that the most dramatic changes are to Vampire Casino and Nightshade.
There will be two new houses this year:
Blood Asylum
@HOSInsider

: You asked for it, YOU GOT IT! HOS 2012 will once again feature an insane asylum house… BLOOD ASYLUM!

@HOSInsider: From the official BG files: "As a storm rages, 'The Creature' escapes from his cell in a high-security asylum for the criminally insane…

@HOSInsider: Now this sadistic deviant is running rampant, skinning his former cellmates and turning the mental hospital into his own torture chamber.
Circus of Superstition 3-D
@HOSInsider: Who wants CLOWNS?!

@HOSInsider: Ohhh… did I mention they were 3-D clowns?

@HOSInsider: NEW HOUSE #2! "Circus of Superstition 3-D"

@HOSInsider: Crazed circus clowns challenge you to survive 13 superstitions in their 3-D Tent of Terror, but it will take more than luck to escape!

@HOSInsider: Here's what I know: You've been taught to avoid black cats and sidewalk cracks your whole life, but all those years of bad luck caught up.
BGT has done Asylum houses before. Escape from Insanity was a longtime house that was well beloved, and one of the most celebrated houses in the event's history. This sounds like a new take on an old classic, and could quite possibly be a mix of EFI and the leaving house Deconstruction. Color us curious.
It wouldn't be a big anniversary without a look at the past. What could HOS have in line for a tribute to the past? This is the 13th year of the event and it already seems like Busch Gardens is letting superstition play it's part into the event. Looks like we have confirmation that Howl-o-Scream will be bringing stuff back from the past to celebrate the 13th anniversary of the event.
@HOSInsider: A bunch of people have been asking if HOS was going to bring back anything from the past to celebrate big number 13, and the answer is YES!
Scarezones:
It seems that Howl-o-Scream is doing away with the whole "scare is everywhere" deal and going back to physical scarezones. Now, I'm not saying they won't have roaming hoards, but they will have scarezones set up where you can go for some scares without having to wait in one spot all night or hoping you run into a hoard. Last year the roaming hoards were hit or miss. Many people loved them, but for us personally they were more miss than anything.
@HOSInsider: "Faded Memories" is a new zone with signature set pieces/props from HOS's classic houses, plus some of your favorite HOS characters ever!
That looks like all the information the Insider is going to give out today, so what do you think of the updates so far? Do they make you chomp at the bit for haunt season, or simply yawn? Let us know in the comments below.
Howl O Scream is an after hours event in which the park is transformed into a series of mazes and scare zones. The theme changes every year, and each year quite a few changes are made. Howl O Scream at Busch Gardens Tampa is celebrating it's 13th year, so it's expected to be a big one. Howl O Scream at Busch Gardens Tampa was voted the 2011 King of Halloween in the 2nd annual Thrill Weekly Awards.
For more information on Howl O Scream, including tickets, visit the official website!