Universal Orlando has already announced several houses for this year's upcoming annual Halloween Horror Nights event. Over the summer, Universal Orlando announced four haunted houses that would make their appearance at this year's event, but that's not all Universal Orlando had up their sleeves. Instead of going their traditional route and doing months of teasing through the official Halloween Horror Nights website, the park went with a more "social" approach and released information via their Twitter and Facebook pages, with a big full reveal at midnight.
httpvh://www.youtube.com/watch?v=kOLwCff_D6U
This year's Halloween Horror Nights 22 line up consists of:
Houses:
There is strength in numbers and you must band together to make it through many of the iconic settings made famous by the critically-acclaimed AMC hit, The Walking Dead. As the city is crawling with hordes of "walkers," the issue of your becoming one of them is not a question of if, but when.
In the eerie and desolate town of Silent Hill, ash falls from the sky and the physical laws of nature no longer apply. If you dare to venture into this alternate dimension, there is only one law of nature with which you must concern yourself: survival.
Journey into legendary rocker Alice Cooper's twisted mind and witness the natural melding of horror and Cooper's four decades-long career. Here you will follow Steven, the iconic character from many of Cooper's works, as you come face to face with a myriad of tormentors who threaten an already-decaying sense of sanity.
World-renowned magicians Penn & Teller have accidentally nuked Las Vegas, but don't worry, it's nothing a fresh coat of paint and a truckload of BS can't fix! Come on down to New Vegas, where all that glitters isn't gold, and in fact probably has fatal levels of radioactivity.
If enough people believe in something, perception can become reality. In Carey, Ohio, the perception was that countless horrific acts had occurred in the old Hartford Mansion. The reality was that the curse which befell the house was far worse than any story ever told.
The Catedral de Caenentum Animus is, by day, undergoing a building-wide architectural refurbishment. By night, the many stone gargoyles that keep watchful eye over the sanctuary come to life with the mission of protecting this scared place against any intrusion.
These are original icons of fear in blinding black and white. In here, lightening slashes through the darkness to reveal terror's true faces. They've been waiting to take back what is theirs…and their time is now!
Streets:
Scarezones will be roaming all over the park this year. Beasts, vampires, prisoners, and more inhabit the streets of Halloween Horror Nights. A feeling of no escape as you never know when you will encounter the beasts of the night. The groups are broken up into "Legions" all lead by those who have been dug up, and who control the terror…the Iniquitus
THE INIQUITUS
Rooted in evil these are the patrons of death, and were the first to rise from the cemetery. They've summoned the Dark Legions to join them in a night of carnage as they feast upon the living.
THE LEGIONS OF HORROR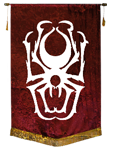 The Iniquitus have commanded these grotesque predators to hunt you down. Silently they'll stalk you…all night long, until they have you surrounded and there's nowhere left to hide.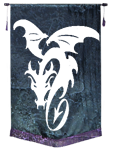 Slaughtered in a deadly battle, the Warriors have been brought back from the dead by The Iniquitus. Seeking their bloodthirsty revenge, they move under a cloak of darkness. So beware—that's not a breeze on the back of your neck.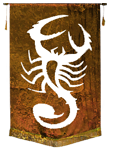 At a brutal women's prison, fire scorched the inmates alive and the charred convicts were trapped between life and death—until now. The Iniquitus have released them and they're going to kill everyone in their path. Their chainsaws are churning and they're coming for you.
DARK LEGIONS: TRADITIONALS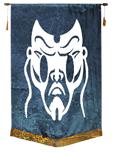 These aren't the fiends from your childhood books. These are the fears that creep inside your dreams. Brought forth by The Iniquitus, these ghosts and goblins have teeth—and they're hungry.
Shows:
Party on as those two most excellent dudes return to skewer the biggest names in entertainment and pop culture.
The 20 Penny Circus brings their "Magic For People With Questionable Taste" to an unsuspecting Halloween Horror Nights audience.
httpvh://www.youtube.com/watch?v=jQoArQyZ0lw
This marks a very different approach for Halloween Horror Nights this year as they are going the route of no official Icon (or mascot), the first time that this has been done since 2004. There is also no official storyline to tie the entire event together, again not done since 2004. Normally Universal Orlando has a huge elaborate story to the event, with all the houses being tied together…at least in spirit.  And this year, Universal promises that they are "redefining the street experience" but with one less house than last year, and no scare zones for guests to camp out in, will it be enough to keep the crowd levels enjoyable? There was also no mention of the Cinematic Spectacular, something that was promised nightly until the end of the year. That doesn't mean that a horror version of the amazing new show won't happen, it just hasn't been announced…so keep your fingers crossed on that one.
While many fans on the official Facebook page  were pleased with the announcement overall, many fans expressed their disdain for the changes. Halloween Horror Nights in Orlando has developed a very passionate fan base through the years, rabid at times, and are some of the harshest critics in the world. Many expressed displeasure in the lack of a story, icon and the use of what seems to be no "defined scare zones", the elements that many have loved. It would appear that backlash was premature as the Iniquitus have risen and seem determined to wreak havoc through the Legion of Horror. This could be our story, and this could be the Icons of the event. Still, many fans squealed with rejoice at the prospect of having The Walking Dead as the centerpiece of this year's event.
Whether you agree or disagree with this year's announcement, it is definitely an exciting time for Universal Orlando, and fans of Horror Nights. The event is still a few weeks away, which will have fans frothing at the mouth before opening night. While the changes seem extremely risky (especially when you're talking to fans) you must remember that seeing is believing, and this year is one that I am certainly excited to see, and something you don't want to miss! Already things have changed with the full reveal of the official website.  What do you think about what has been announced so far? Good? Bad? Better? Worse? Don't care? Let us know in the comments below!
Stay tuned for more information!
Halloween Horror Nights runs on select nights from September 21st until October 31st. For more information about Halloween Horror Nights, visit the official website.