In 1972, the host of KHJ-TV's Fright Nights did a huge "Spook-tacular" to help promote his TV show on Halloween at Magic Mountain. While the event was a success, the open air theater didn't lend itself the dark atmosphere of the TV show. So, in 1973 while looking for another venue, Sinister Seymour's manager came across a theme park with a more suited venue. That park was Knott's Scary Farms. He didn't know it at the time, but Sinister Seymour was about to open a Pandora's box of hellish nightmares that would last more than 40 years.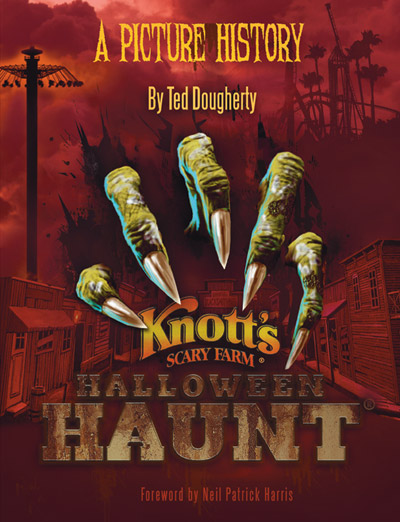 Knott's Scary Farm's Halloween Haunt is an annual tradition that many rank right up there with Trick or Treating. however, that wasn't always the case. Haunt started in 1973 as a small retheming of a few of the rides, a show and a few actors in professional grade make up. At $4 dollars a ticket, it was a huge success, and grew every year.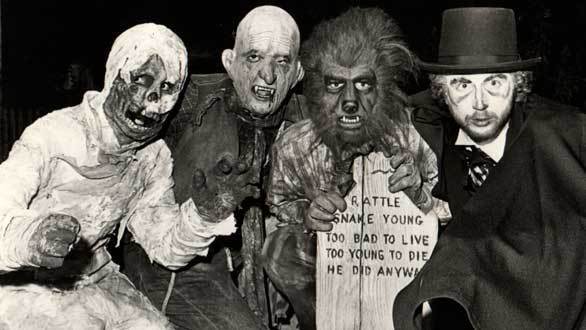 It's that growth and change that is documented in the book Knott's Scary Farm Halloween Haunt: A Picture History by Ted Dougherty. The book is an authorized, but not official look at one of the industry's biggest names, written by someone who was touched by the event personally. Ted Dougherty went from being a huge fan of the event to being an undead werewolf from 1885, literally an insider. From that experience, he co-founded Ultimate Haunt, dedicated to Knott's Scary Farm. After ten years of interviews, sifting through memorabilia, and even getting help from Knott's themselves, Ted put out the definitive book on Knott's Scary Farm History.
The book plays out like a huge scrapbook of pictures, stories and details about one of the longest running haunted attractions in the country. It details all of the shows, mazes, scare zones, and guest hosts. Through the course of the book you're introduced to the many different characters and macabre family of deviants that call Knott's Berry Farm home from September to Halloween.
The book includes a foreword by Neil Patrick Harris, a lifelong Halloween and haunted house fan about his experiences with Knott's Scary Farm, and all the different shows he did before he was Legen….wait for it….dary.
The things that I found most interesting were the characters, and acts that Knott's was able to get away with in the days before the dreaded "copyright infringement" cases. Characters from favorite horror movies like Freddy Krueger would make frequent appearances in shows and in the fog. Huge horror movie festivals would happen, and even premieres of horror films would delight audiences. To say it was the good ole days is an understatement.
A Picture History is made by haunt freaks, for haunt freaks. It's a great gift for any haunt fan, even if they have never been to Knott's. It certainly is a great read for all of those who love theme park history, and especially if you're looking for something to hold you over until the goodness of haunt season rolls in with the fog. While all the pictures are in black and white, it adds to the charm of the book by making it look like an actual scrapbook.
For more information or to buy Knott's Halloween Haunt: A Picture History, click here!