The Wizarding World of Harry Potter goes to Hollywood! The Boy who lived proved to be the "Boy with huge bank" at Universal Orlando when it debuted in 2010. As Orlando gets ready to take guests over to Diagon Alley at Universal Studios Florida, the plans are being made for Universal Studios Hollywood. While nothing official has been announced, besides Hogwarts Castle, the rumors are flying around faster than a Golden Snitch. While they are just rumors at this point, it is very interesting to see the direction they are going in.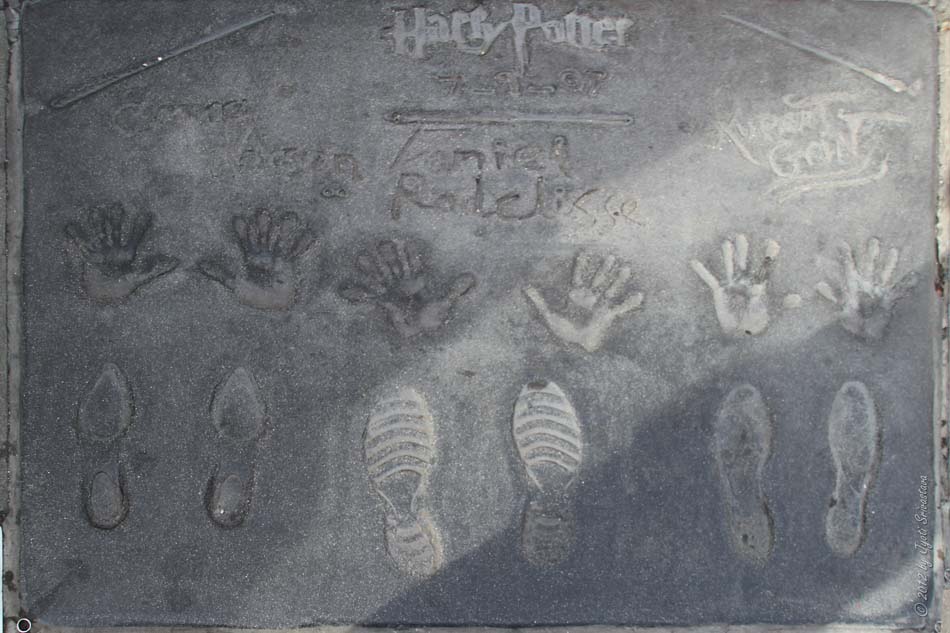 Almost as soon as the gold started flowing in Florida, the plans were put in motion to get a Japanese, and Hollywood versions of the Wizarding World of Harry Potter built and bringing in visitors. While Universal Studios Japan has been hard at work with their version, they've kept an extremely low profile, but we're expecting the Osaka, Japan version to be a near clone to what is already in Orlando. It's been Hollywood that everyone has been keeping an eye on. With the development of the "Universal Evolution" The Wizarding World was placed on the back burner…albeit briefly.  With the approval of that plan, Universal Hollywood will soon become a walled city as construction begins popping up everywhere, which began with Despicable Me in January, the new Universal Plaza hub area, and will now include the future Wizarding World by the end of the summer.
One major concern, especially to those who have already been to Orlando's Wizarding World, what will this new Wizarding World be like? Despite the what the "Disney model" says, if you have something that's identical to something that's already built, it does take away from the magic and experience, not to mention the dollar signs. Here's where the Rumor Mill starts churning overtime.
Now keep in mind that these are merely rumors, they are not official by any means. They are rumors, and rumors are apparitions that appear from the atmosphere, and can be either based in reality or based on utter nonsense. In other words, as of right now, none of this is true. Until it's announced by Universal, take this as a sheer speculation and bit of fun.
Got your grains of salt?
The Hollywood version of Harry Potter will be smaller. The Village of Hogsmeade will exist, but on a smaller scale. It will include the key elements, such as the wand shop, the candy shop, and joke shop. They will have a small tavern to sell Butterbeer, but there will be no Three Broomsticks, and there will be no Dragon's Challenge.
Instead, they will have a Flight of the Hippogriff Clone, that will be a tad bigger and include more interactive scenery. Hagrid's Hut could end up being a walkthrough part of the queue experience. The new area also may not include the Tri-Wizard heroes that Universal Orlando Resort has. The Tri-Wizard show features students from all three schools performing their specialty. The Durmstrang students have a bo-staff fight, the Beauxbatons have a ribbon dance, and the Hogwarts students have frog choir. While there may not be room for two of those, we are told they will have the frog choir. It's kind of iconic, and really a small touch that brings it all together.
Hogwarts Castle is where things get really interesting. Hollywood will have a Forbidden Journey in their version of Hogwarts, just like Orlando. However, unlike Florida, the California version will be HUGE. Almost full scale. It's like a reverse Disneyland scenario. The reasoning is because there will be more in the castle than just a ride and a gift shop. According to rumors, they will also feature a huge replica of the Great Hall. The Great Hall will be a dining experience that will be completely themed, and will have all manners of activities happening. The ceiling will change, the portraits will interact with guests, and there will even be Dumbledore periodically making announcements. The dining experience will be very similar to Disney's  "Be Our Guest" in the New Fantasyland. Unique entrees, and two different dining experiences. Lunch will serve light snacks and sandwiches, but dinner will be a unique mix of gourmet entrees from all over the world. Now if they could just work on getting the house elves to make the food magically appear.
If that wasn't enough, there will also be a show inside the castle. A new teacher will give Muggles a lesson in the dark arts with an all new Defense Against the Dark Arts Class. The Class will be an interactive show, and could see students matched against creatures and dark wizards. Cornish Pixies, Boggarts, and Death Eaters could all invade the classroom, as they did in the book and movie series.
Again, keep in mind these are rumors. We have no "source" for the rumors, they are just bits and pieces floating around on the internet that we pieced together from various sites. We are merely contemplating the "ifs".  Either way, the Wizarding World of Harry Potter hits Hollywood in 2016, and if you're not excited about the new land yet, then you really need to be. Whatever ends up happening, it will be an amazing experience for theme park guests, and should help Universal Studios Hollywood solidify itself as a worldwide destination.
For more information about Universal Studios Hollywood, visit the official website by clicking here!