Happy National Roller Coaster Day! Today is the one day that the entire nation recognizes what you've known all along. Roller coasters are awesome! In honor of National Roller Coaster Day, we asked you to vote for your favorite roller coaster (click here for the poll) and you did. It's been a long week, and we tallied over 8,000 votes! We put up the top rated wooden and steel roller coasters, 50 of each, in a battle of adrenaline, drops and fun!
(click here for the poll)!enter;">
There are so many great coasters in the world, however, seeing that it's National Roller Coaster Day in the United States, we are focusing only on coasters here in the good ole U. S. of A! The coasters nominated in the poll were the top 50 in their category. We have 50 wood, and 50 steel coasters. We nominated the coasters by taking the top ranked coasters from other coaster organizations, other industry awards, and top searches for coasters on our site. Voters could choose up to three coasters a vote, once per day. We allowed theme parks and fans to promote the poll via social media outlets, and the resulting list is from that vote. The list was not chosen by BehindTheThrills.com staff, but by you, our readers!
Thank you to everyone who participated, promoted and voted!
So which coasters made our top ten? And which coaster will take home the coveted title of The Great American Coaster?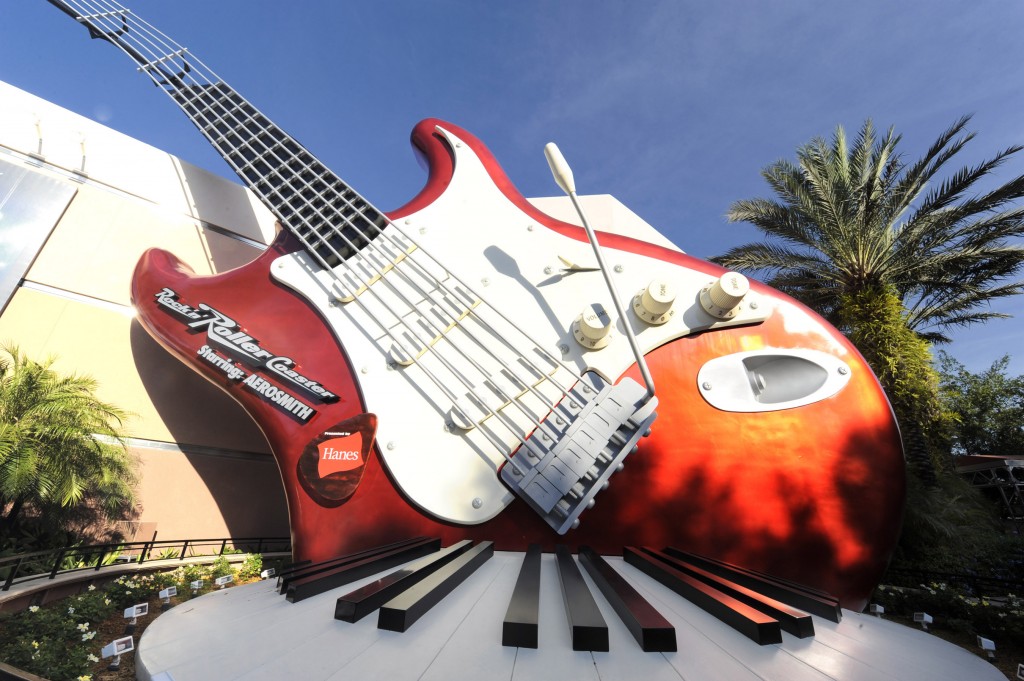 10.Rock n Roller Coaster-Disney's Hollywood Studios
Rock n Roller Coaster is one of those rides that you can never really get tired of. It's got a little bit of everything. The queue takes you to a great time in music, and the soundtrack of the ride really puts you in the moment, and gives you the feeling of rushing to a sold out concert!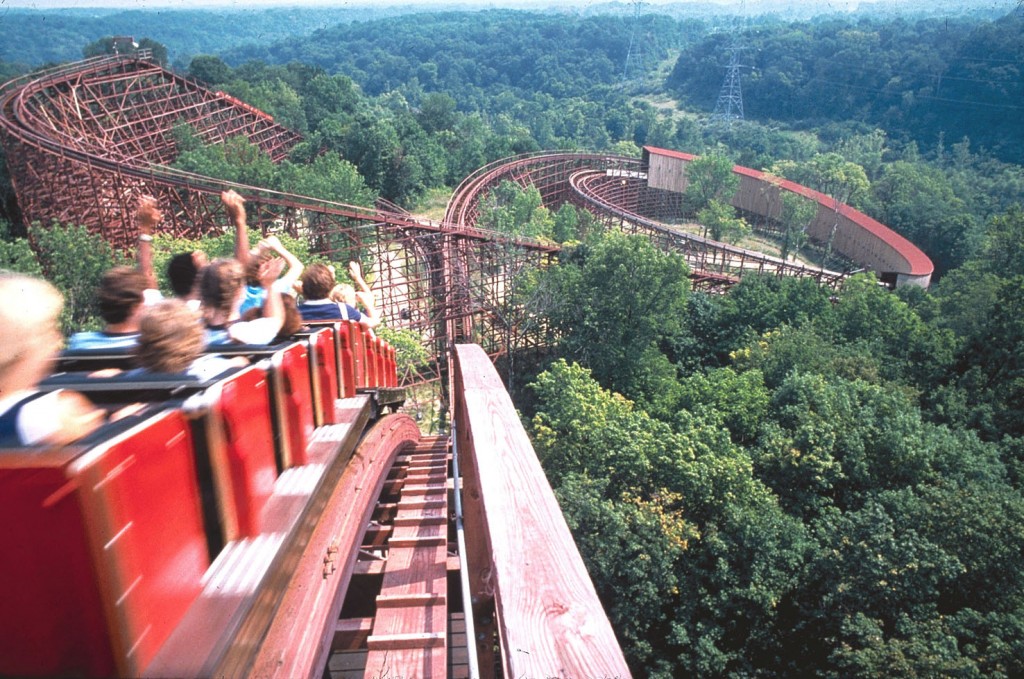 9.The Beast-Kings Island
The longest wooden roller coaster in the world opened in 1979 at Kings Island. It is a historic icon, and one of the most important wooden coasters to be built in the world. It takes guests through the woods on the back of Beast of unknown origin. The Beast can't be chained, and he can't be tamed!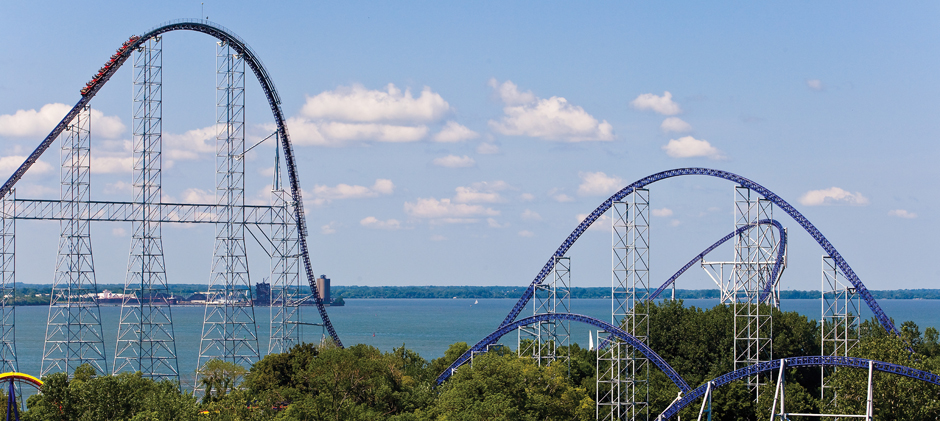 8.Millennium Force-Cedar Point
Cedar Point is one of America's favorite coaster parks. If you want to get an education on roller coasters, there is no better place to begin, learn and end than Cedar Point. Millennium Force is the jewel of the point, standing at 310 feet and taking riders on a ride over a mile long at 93 mph. No wonder it has been the Golden Ticket award winner for best roller coaster for longer than most people can remember!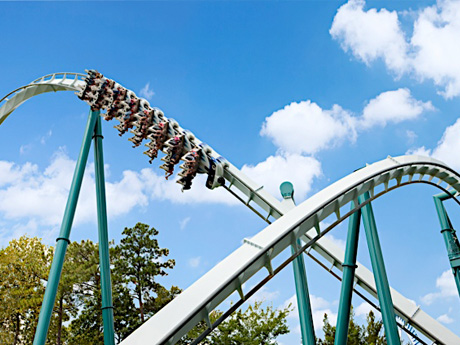 7.Alpengeist-Busch Gardens Williamsburg
The theming of Busch Gardens Williamsburg's only inverted coaster is worthy of a list all it's own. The park makes great use of the natural landscape, and hilly countryside to make this run away ski lift an instant classic. Alpengeist takes guests on a trip through the German mountain side and twists them every which way from 195 feet, at 67 mph!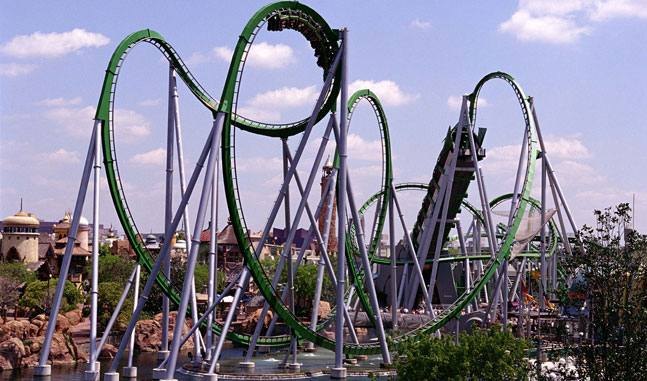 6. The Incredible Hulk-Universal's Islands of Adventure
The Incredible Hulk is not a record breaker. It's not very tall, and it doesn't launch you out very fast. However, it is one of the meanest looking, most intimidating coasters in the world. The coaster puts you right in a rocket sled in the lab of Dr. Banner, who is trying to cure his little "problem". Of course things go wrong and you are rocketed out over the walkway into a corkscrew, and down into a huge cobra roll into a loop. It's hard, it's fast, and HULK SMASH!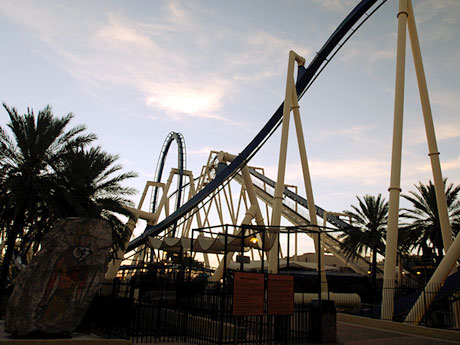 5.Montu-Busch Gardens Tampa
The Egyptian God of War has woken from his slumber and is declaring you as the enemy. Montu soars, and dives into huge loops and turns. It is one of the first inverted coasters in the world, and is one of the most beloved Florida coasters.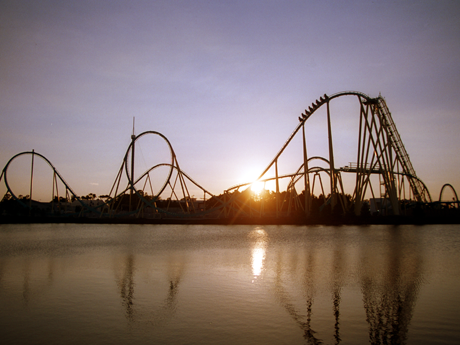 4. Kraken-SeaWorld Orlando
Kraken was born of the tales shared by sea farers for centuries. Some call it a squid, others an eel…but it's all monster and it's one big mean coaster. SeaWorld Orlando houses this floorless demon from the deep. It features almost a mile of track and seven inversions. It's a beast as wild as the sea itself.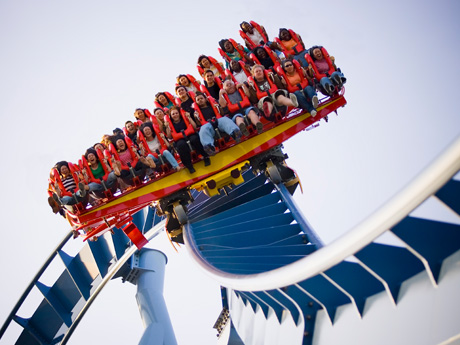 3. Griffon-Busch Gardens Williamsburg
Griffon at Busch Gardens Williamsburg cracks our top three, and then plunges you down out of it. At 205 feet, it is the tallest floorless drop coaster in America. It gives you an amazing view of the park, and then teases you over the edge before letting go. You drop into two inversions and a splashdown that is sure to soak those waiting in fear below.
2. Blue Streak-Conneaut Lake Park
The fans of Blue Streak came out of the wood work, and landed it in the #2 spot. The coaster has seen some ups and downs, but still stands and operates today! The coaster was originally built in 1938 and operated until 1994. Since then it has been up and down, due to disrepair. Now the coaster has been almost fully restored and is still thrilling guests.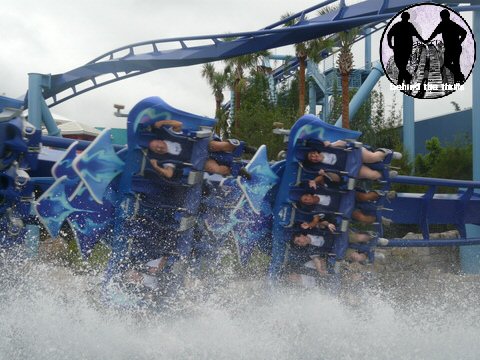 1.Manta-SeaWorld Orlando
Manta at SeaWorld Orlando isn't very big. It's not the fastest coaster in the world. What it lacks in world records, it makes up for in sheer flight. It's SeaWorld Orlando's first foray into mixing coasters with amazing animal attractions. That aside, it gives you the chance to fly through the air in Florida's only flying coaster. Rider's strap in and move into position as they are taken up the lift hill, over the crowd and into an amazing pretzel loop. It lifts you from your seat one moment, then slams you back down as your body is twisted and turned. The coaster then has a splashdown where the wings of the coaster look like they actually dip into the water!
Manta at SeaWorld Orlando won the poll with over 1,200 votes! According to those who voted in the poll, Manta at SeaWorld Orlando is the Great American Coaster for 2013! Manta has flown it's way into the hearts of many, and is this year's winner of The Great American Coaster poll!
For more information about Manta at SeaWorld Orlando, visit the official website by clicking here!
Thanks to everyone who voted and shared in the fun! Be on the lookout in just a few short months for your chance to crown even more of the best, as we kick off our fourth annual Thrill Weekly Polls!
We hope everyone has a happy National Coaster Day! If you can't ride a coaster today, then at least ride one in spirit, and let out a huge scream! Riding coasters is one of the most thrilling experiences you can have while being completely and totally safe!
Happy riding everyone!