Last year Universal Orlando's Halloween Horror Nights broke new ground by basing a house around the hit AMC television show, The Walking Dead. While fan and guest reaction was split down the middle on the experience of the house, there's no denying that the event was much bigger because of it. This year, The Walking Dead is back for it's fourth season on AMC, beginning October 13th, and it's back for it's second run….or should we say Walk at Universal Orlando. This time there are no bounds as to where you'll find the slobbering hordes of walkers as Universal Orlando brings all three previous seasons of The Walking Dead back to life. The park is already setting up for the event, with tons of props all over the park.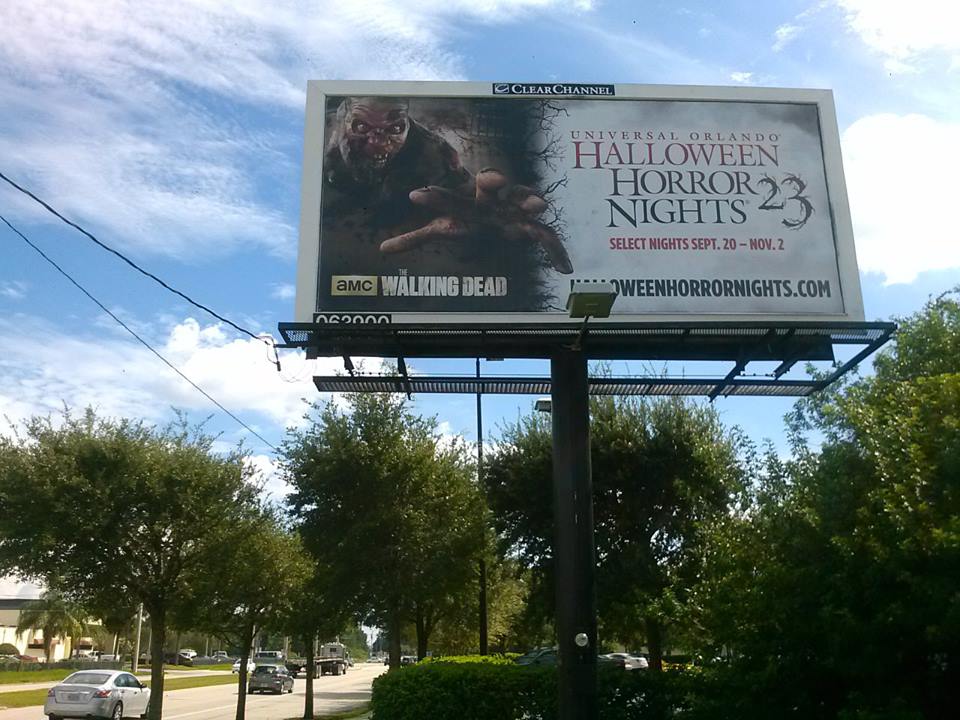 Billboards outside the park are adorned with The Walking Dead, and other properties being used this year (like Resident Evil) but inside the park, the show is coming to life with props, sets and other items from the first three seasons of the show.
If you look around the park, guests will start to see what seems like random objects popping up. A bicycle may not seem like anything of importance to the average guests…but if you're a fan of the show, it can only mean one thing.
The park has already confirmed that guests will see the "bicycle girl" zombie, but how were they going to pull it off? It seems fairly clear now. It's always exciting for fans to see how things come together, but you haven't seen anything yet.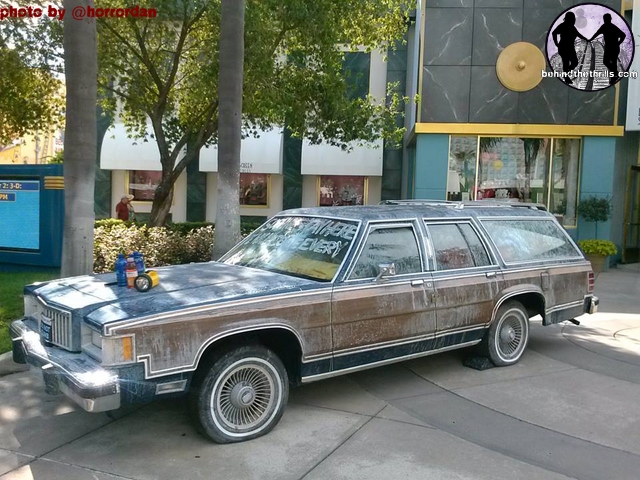 A station wagon with a message means that a herd of walkers are nearby, roaming the highway, searching for the source of some random sound they heard months ago…not able to remember what they are searching for. Universal Orlando has yet to unveil some details, leaving something up their sleeves for opening night.
This year the Walking Dead will be the main focus of the street experience. But they aren't the only things. The official Twitter account @HorrorNightsOrl has confirmed that the beloved Chainsaw Drill Team will once again be terrorizing guests. The Chainsaw Drill Team has been a staple since the beginning, and has become a welcome staple in the event yearly.
See more pictures of construction from Halloween Horror Nights:

Having trouble viewing the slideshow? Click here to view all the picture goodness!
Halloween Horror Nights 23 kicks off September 20th at Universal Studios Florida, and runs all the way until November 2nd on select nights. The event is not for kids, and is a separate ticket, meaning it is not included in daily theme park admission.
Be sure to follow along with us on Twitter @BehindThrills for the latest HHN updates and surprises!
For more information about Halloween Horror Nights at Universal Studios Florida, visit the official website by clicking here!