Earlier this year a scandal broke out involving Disney theme parks and disabled guests. Several news agencies reported a scandal that involved touring companies were offering "handicap tour guides for hire". The purpose of the guides were to allow those willing to pay, a way to immediately skip the lines by taking advantage of a free pass intended for disabled guests and their families. In light of the scandal, Disney has opted to end the current program and institute a new program beginning October 9th. It has some families with disabled family members outraged, but is it really all that bad?
Currently visitors who are unable to wait in line are able to access the Fastpass lines without waiting for a return time. The disabled pass was given, free of charge, to guests with disabilities and their families. According to reports beginning October 9th, the change will take that type of pass away, and will be replaced with a pass that allows guests to reserve a time to return, similar to the current Fastpass wait system. The time will be severely shorter than a typical Fastpass time. The move comes after several touring agencies were exposed as having disabled tour guides available to allow non-disabled guests willing to shell out hundreds of dollars to skip the lines completely.
The new system hopes to eliminate that, and is very similar to what other park companies like Universal Orlando and SeaWorld parks have in place. In most instances, if there is less than a 30 minute wait, the guest is allowed to come right in. If not, then the guest is given a time at or below the current wait time and then allowed to come in through the Express, or Fastpass line.
Many families of disabled children are outraged, stating that the former pass is the only way their children can experience attractions at parks like Disney. However, the idea behind the move is that families can do other things while they wait for their time to enter the attraction.
Having disabled family members, we have used all systems at the parks several times. While not having to wait in line is nice, it's just as nice to have a certain time to return. In many cases you can visit every attraction and get a return time while you wait. All it takes is a little bit of extra planning, and some creative ways to spend some time. In our case, we used it to visit bathrooms, and gift shops, or eat. During longer times we visit things like shows, and play areas that keep little ones occupied. While that worked for us, it's not always the case for all people with disabilities.
*UPDATE 10/4/13
With just a few days left before the old disability system is done away with, Disney parks blog has released a letter from Disney Parks and Resorts President, Meg Crofton. The Disney Parks Blog also reiterated what the letter said in that pretty much, special needs guests will be considered on a case by case basis:
The new Disability Access Service (DAS) Card will replace the Guest Assistance Card. Guests will be able to request a Disability Access Service Card at Guest Relations, and they will receive a return time for attractions based on the current wait time.

With that said, we have long recognized and accommodated people with different needs. Guests can visit Guest Relations to discuss their individual situation, and we will continue to provide assistance that is responsive to their unique circumstances.
Here's the full letter from Meg Crofton: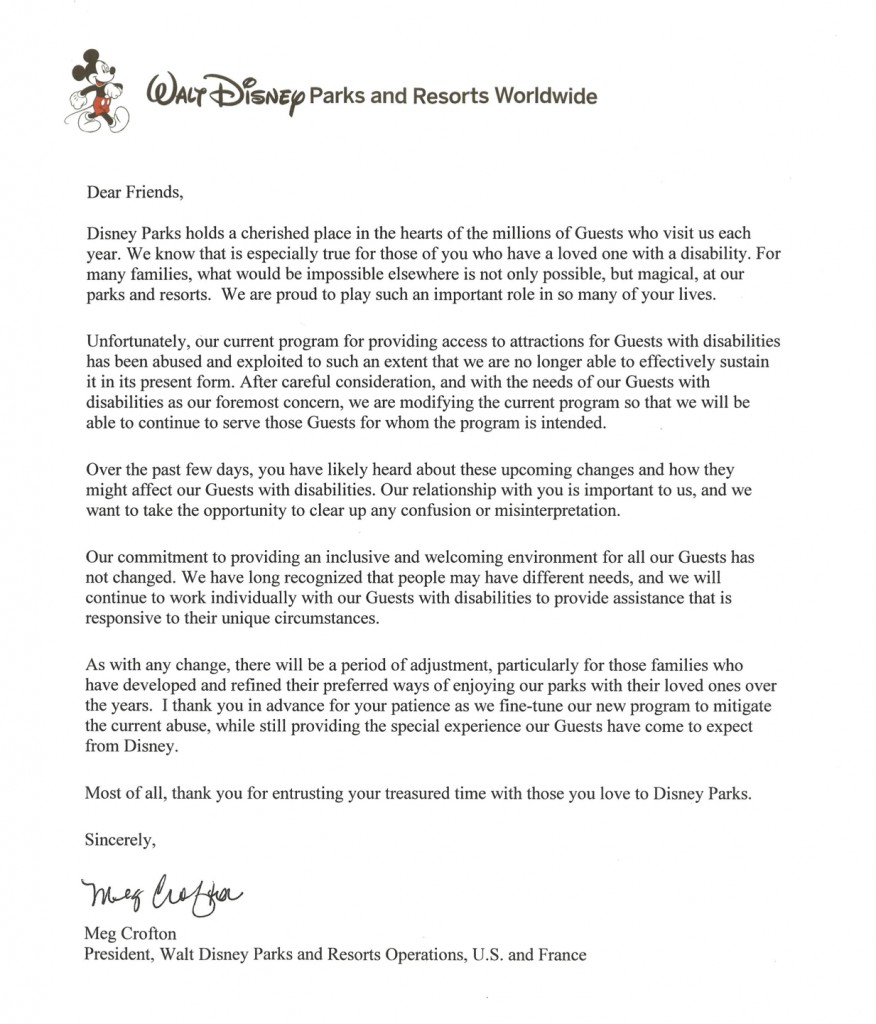 Looks like Disney is doing everything in their power to make sure that the guest experience is as magical as it can be for those with debilitating illnesses which may make it impossible for them to experience the park like a normal guest does, all while cutting down on the fraudulent use of the system.
What do you think? Is this measure reasonable, or does it really complicate things for those of you with disabled children or family members? Let us know in the comments below.
For more theme park news and updates, be sure to follow along with us on Twitter @Behindthrills for all the latest!