The Wizarding World of Harry Potter has been a huge success for Universal Orlando since the opening of the area in 2010. The park announced that they will be introducing an expansion to the Wizarding World in 2014 based in Diagon Alley. Not a lot is known about the new area, except that it will make the story of the Wizarding more complete with dragons, more wands and of course, The Hogwarts Express. Today we have a good look at promo art showing off both Diagon Alley and Hogsmeade!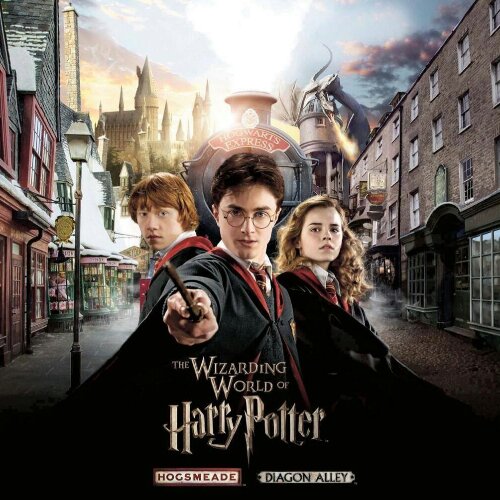 The new promo art is, as I'm told, an ad for travel agencies. The new art also splits Harry, Ron, and Hermione between the two areas of Hogsmeade on the left and Diagon Alley on the right.
The new art also gives a look at the dragon perched atop the crooked columns of Gringott's Wizarding Bank. We also see a look at some of the shops such as what appears to be Ollivanders and others. Of course, the windows aren't bustling with life…could that be a hint of the time frame Diagon Alley is set in?
The biggest site is The Hogwarts Express in between the two areas. The Hogwarts Express will connect both Diagon Alley at Universal Studios Florida, and Hogsmeade at Islands of Adventure, in a first of it's kind in park, park to park transportation ride. According to rumors, guests can expect to see Wizards, dementors and more when they board at Platform 9 3/4.
The Wizarding Worldof Harry Potter:Diagon Alley is expected to open sometime in 2014.
Stay tuned for more updates, and be sure to follow along with us on Twitter @BehindThrills for the latest info!
For more information about the Wizarding World of Harry Potter at Universal Orlando, visit the official website by clicking here!