Summer is just around the corner and so is Memorial Day Weekend, which pretty much serves as the official start of summer. School is getting ready to end and the weather is finally starting to warm up! There's a big summer ahead this year at Busch Gardens Williamsburg and Water Country with the grand opening of two brand new attractions – Colossal Curl and London Rocks.
We were invited to take a sneak peek behind the walls of both Colossal Curl and London Rocks before they make their official debut to the public this coming Memorial Day Weekend on Friday, May 23rd.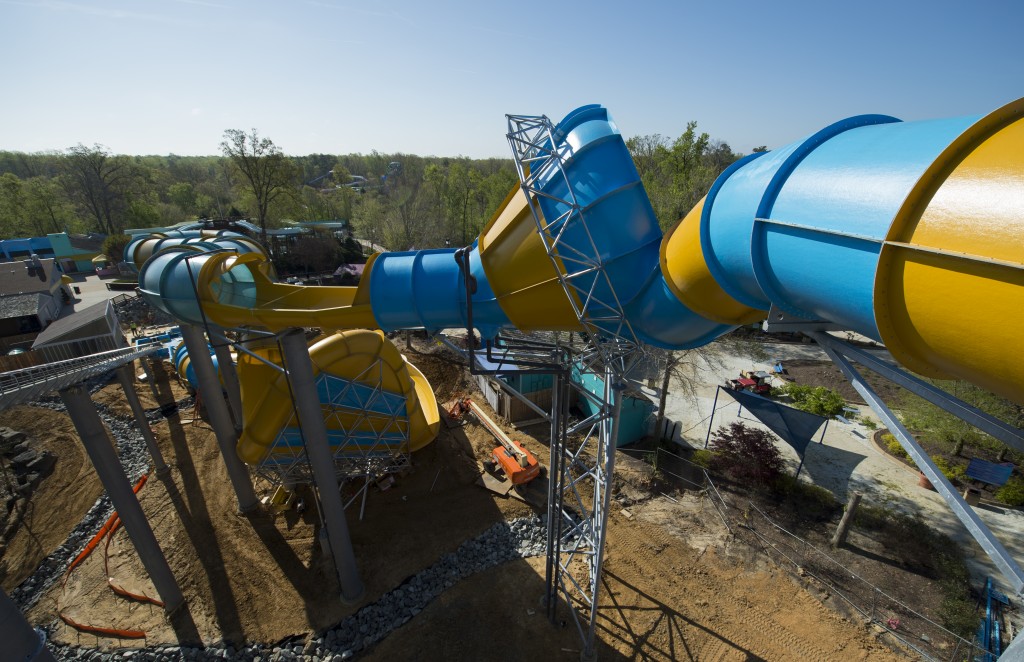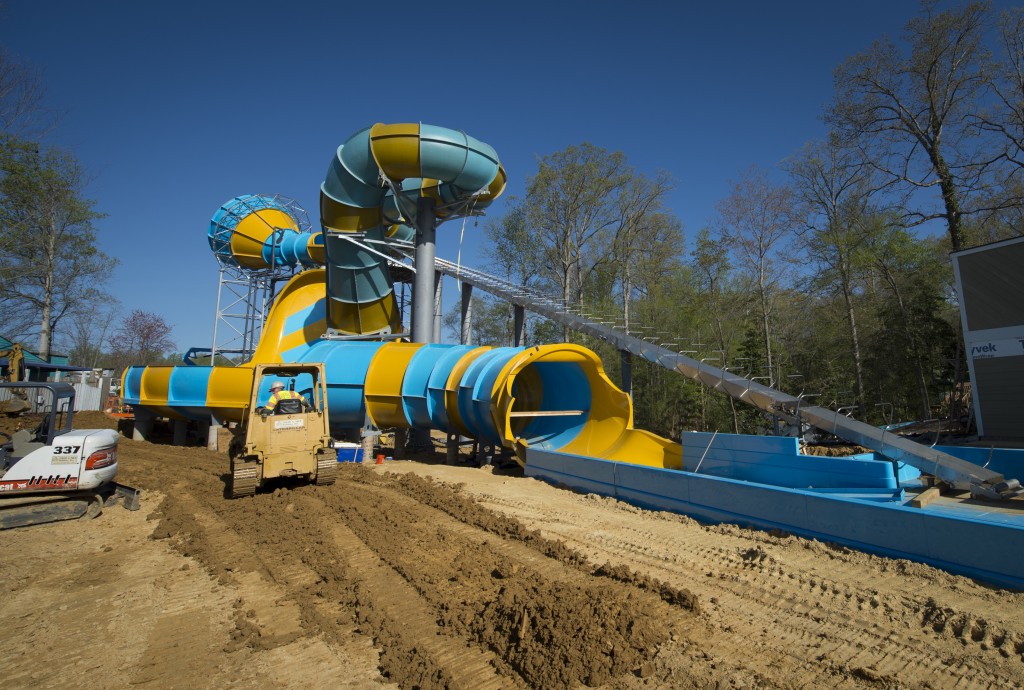 As you can see in the photos above, Colossal Curl is almost ready for riders. With just under a month until the attraction opens, there's still a little bit of work left to do before it will be ready to open.
Colossal Curl features many different elements, including a funnel and wave element. The combination of these two elements will make it the only attraction of it's kind in North America. Riders will slide down Colossal Curl with a four-leafed clover shaped inner-tube, giving the entire family the opportunity to ride together. Colossal Curl will also give rides the sensation of weightlessness.
Colossal Curl will be a great attraction for many families to experience together. The use of a four-leafed clover shaped raft will allow up to four people to ride the attraction together. Also , with a lower height requirement of 48″, many of the smallest thrill seekers will be able to ride.
Video: Time Lapse of Colossal Curl

"Colossal Curl is Water Country USA's first family thrill water ride. With its funnel and wave elements, I am confident Colossal Curl will be a pinnacle attraction for guests visiting the Williamsburg area," said Jeff Thomas, Water Country USA's vice president.
It's time to start getting ready as Colossal Curl will open to the public in just a few weeks! Better get things like your bathing suit and sunscreen ready because you're going to need it to experience all the thrills Water Country USA and Colossal Curl has to offer.
For more information about Water Country USA, visit the official website by clicking here.