Lunch at Be Our Guest might have just gotten a lot less frustrating. Guests at Magic Kingdom have reported that the very popular Be Our Guest restaurant has started to implement the same Fastpass return system that launched last month at the Frozen meet and greet, as well as Soarin at Epcot. Is this new addition a sign of things to come for Disney?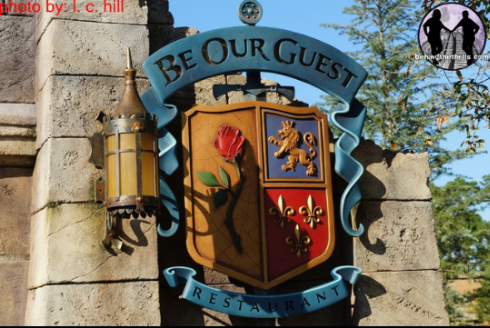 Guests at Walt Disney World's Magic Kingdom have reported that the popular "Be Our Guest" restaurant is attempting to alleviate long lines for lunch by offering Fastpass return tickets. Like the hugely popular Elsa and Anna meet and greet at Princess Fairy Tale Hall, guests receive a return ticket to the attraction where they face a minimal wait time to gain entry. FastPass Plus is available for the restaurant as well, but only for hotel guests.
Paper Fastpasses have all but been done away with since the introduction of FastPass Plus and Magic Bands. However, glitches in the system, as well as the longer lines for standby that the passes have created have lead to numerous guest complaints. With resort guests able to book the their reservations in advance for lunch, the standby line would fill up quite fast. With the return tickets, guests are given a ticket to come back at a time later in the day (just like traditional FastPass tickets). Once those tickets are gone, all spots for lunch are no longer excepted. Just like regular FastPass tickets, and the Frozen Meet and Greet tickets, the tickets have been disappearing rapidly, so early arrival is essential.
Additionally we have been told that yet another new system is being tested, with resort guests being able to not only being able to reserve their tables in advance, but also reserve their meals. The guest browses the online menu, and places their order before even sitting down in the restaurant. Once the guest arrives at the restaurant, their meals arrive almost immediately after sitting down. While this sounds like a great idea in theory, it could lead to the experience being rushed. In fact, it appears to be just that, a way to rush guests in and out of popular restaurants. It really feels like a double edged sword. On one hand, guests have to make reservations months in advance just to get a table, or camp out for much of the day. The need to get more people through is definitely there. On the other, your meal is rushed by so fast that you really don't have a chance to enjoy the atmosphere and relax. It will be very interesting to see how this pans out.
With all the issues with this and other systems, it feels like FastPass is getting out of control at Disney and is creating an experience that has to be planned out months in advance. While there's a distinct advantage in that, it tends to take away from some of the magic when you have a strict schedule to keep.
Still, the kinks are being ironed out and more is being learned every day.
Stay tuned for more form Walt Disney World, and be sure to get social with us on Facebook, and follow along with us on Twitter @BehindThrills for the latest updates!
For more information about Walt Disney World, including tickets, visit the official website by clicking here!