It's getting closer. Yes, of course we're talking about Halloween Horror Nights at Universal Orlando. The event is in it's 25th year, and you can bet that it's going to be a huge one. With the ever looming announcements will come those who just want to spoil the surprise, by making claims in videos and posting on message boards. Usually they're unnecessarily cryptic messages, but from time to time they do make some huge reveals. One such reveal comes from Orlando Informer, a Universal fansite, which details one of the houses for this year's event. According to Orlando Informer, the hit house from HHN 23, An American Werewolf in London is coming back for the 25th year.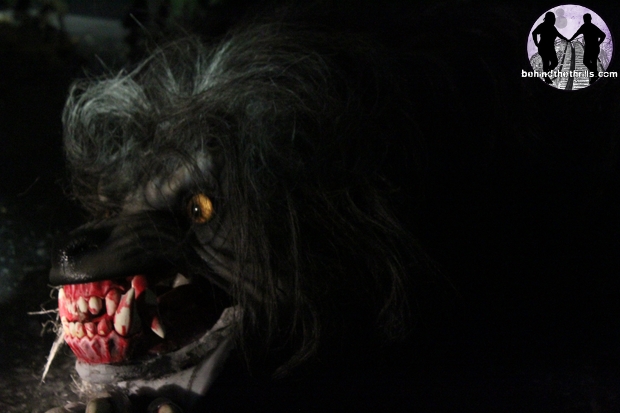 An American Werewolf in London definitely was a groundbreaking house for Halloween Horror Nights. It was based on the 1980 John Landis Horror/Comedy of the same name, and used huge lifelike puppets,  and a painstakingly recreated set. The sets were identical to many scenes in the film, including the huge Tube Station scene. The puppets moved with ferocity, and energy that you couldn't get from an animatronic.
Now, again according to fansite Orlando Informer, the house could be making a comeback for the 25th anniversary of Halloween Horror Nights. It was definitely celebrated as one of the greatest houses in Halloween Horror Nights history, and for good reason.
Video-Take a walk through An American Werewolf in London

While the rumors are out there, the park has not officially announced the return of the house, so this is purely rumor and speculation. However, on one side of the coin, it makes perfect sense. The event is celebrating 25 years of Halloween Horror Nights. The powers that be have teased heavily that the original HHN Icon, Jack the Clown is coming back. It also stands to reason that with coming year, HHN 25 could very well have several houses that would return.
While many seem shocked at the return of An American Werewolf in London (AWIL), it is not the first time in HHN history that a house has made a return. In fact, it's not even the first time that an "Intellectual Property" (IP) has made a return. The very first house at HHN was Dungeon of Terror in 1991. It made a return in 1992,1994, and in 2006.  People Under the Stairs came in 1992, returned in 1993 and 2006.  Pyschopath also hit in 1993, returned in 1994 as well as a version of it in 2006. In fact, Halloween Horror Nights has had returning houses, revamps and "sequels" to their many of their houses for much of the history. Sure, sometimes some story elements change, and even locations could change, but the event does get some great repeats.
The Walking Dead has been a prominent house since 2012, and has returned in bigger, badder ways ever since. Like it or not, the house is a huge part of HHN history, so you can more than likely expect to see a house based on that property once again.
So, with the possible return of AWIL, what other houses could we see a return for? Let's speculate a little.
Here are our picks for returning houses-Keep in mind, they are not the ones we could see return.
An American Werewolf in London-A definite keeper, a house that was very well put together and well done
The Thing-Definitely a triumph at HHN. One of the few houses that kept people jumping with all the detail and gore
A Nightmare on Elm Street-Besides Michael Myers, Freddy is one of the most recognized names in horror. The 2007 house was a fan favorite
Saw-Again, another recognizable name with a great house behind it
Friday the 13th-Rounding out the huge horror names is one that we will see in theaters again very soon…we hope. The Camp Blood house was very innovative, and was definitely a plus side of 2007
Scary Tales-This series of houses took the fairy tales we know, and told them as they really happened in the books. Gory, fun and unexpected
Castle Vampyre-How can you not want these demonic vampires back in the huge castle setting.
Hellgate Prison-Another great house with simple thematics, and great execution…execution…get it?
Body Collectors-The "gentlemen" who collected body parts throughout the years were very good at their jobs, and it was a house that had it's fair share of screams and blood
Any Icon House-Yes…All Night Die-In, Screamhouse, Jack's Funhouse, RUN, Where Evil Hides, Silver Screams, even Reflections of Fear….all great houses, and wonderful tributes to the 25th anniversary
We should be hearing some news within the next few months about Halloween Horror Nights. We'll have to see just what kind of terrors the team brings back from the past, and what new fears the team creates.
Keep in mind that at this point, this is all speculation and rumors, and until the park announces it, it's not happening at all.
Want to see what you missed with An American Werewolf in London? Check out our gallery below for a behind the scenes look at one of the best houses in HHN history.
Stay tuned for more HHN gory goodness, and be sure to get social with us on Facebook, and follow along with us on Twitter @BehindThrills for the latest updates!
For more information about this year's Halloween Horror Nights at Universal Orlando, including tickets, visit the official website by clicking here!