Earlier this year, Universal Orlando announced that the mean green machine, The Incredible Hulk Coaster would undergo some maintenance on the trains, and queue. Rumors surfaced that the entire coaster would be retracked. While that seemed a little drastic, work started over the weekend that lends a little credence to that rumor, as track has been removed on the coaster.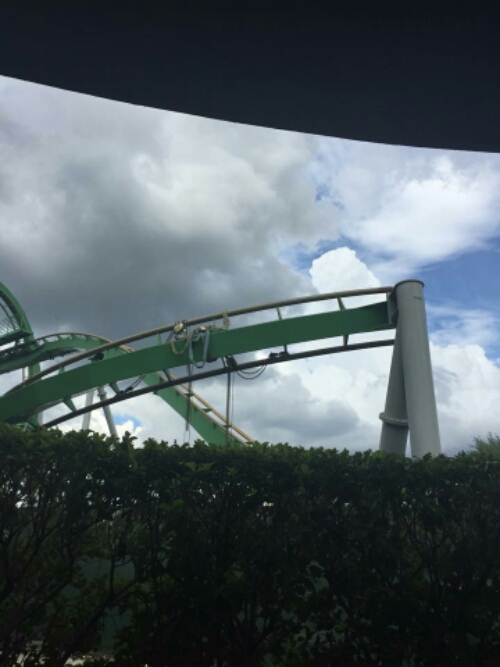 Sections of track have been removed, and it looks like more is being prepared, as straps are being tied on the tracks.
It's unclear if the track is being replaced, or just cleaned, blasted and replaced.
No new green coaster track has been spotted coming from the steel plant in Ohio where B&M coaster track is produced.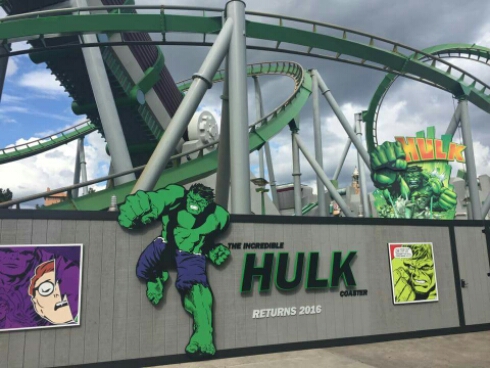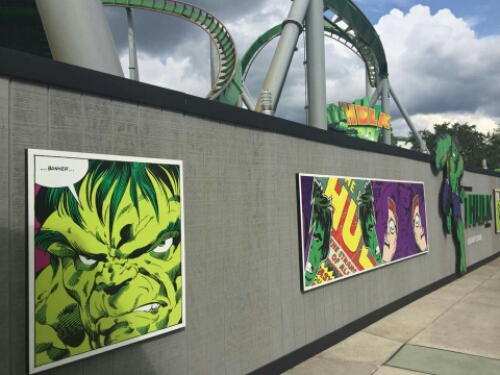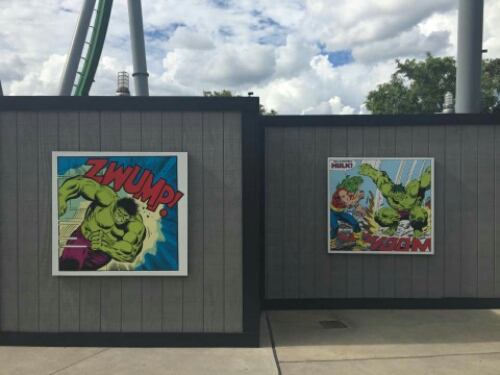 New construction walls have gone up around the coaster as well, with comic panels showing the Hulk doing what he does best.
The new version of Hulk, with enhanced trains and queue will be open in the summer of 2016.
Update
We knew the trains were getting work, but it looks like the trains will be completely new…as the old trains were spotted in a scrap yard in Orlando.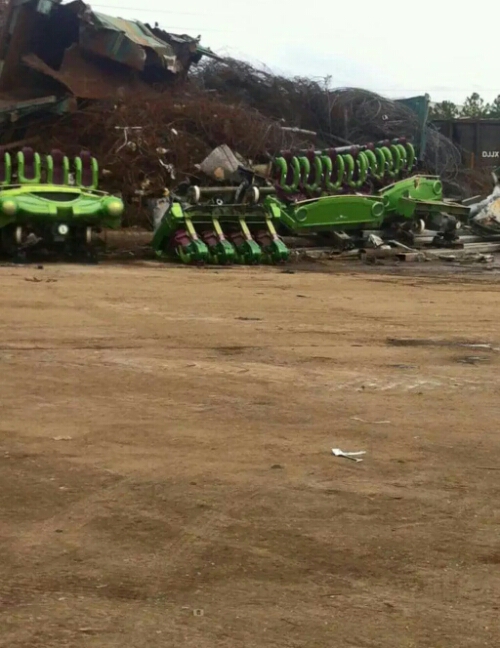 Friend sent me this photo of where the incredible hulk roller coaster cars are currently pic.twitter.com/bdloq51Q0E

— Crushinat0r (@Crushinat0r) September 28, 2015
Not sure if this is a real picture, but if it is, that's a pretty good confirmation of all new trains. It's also a bit sad on where the trains ended up, but do you know the price of scrap right now?
ANOTHER UPDATE!
From our friends at In The Loop…we have a pretty definitive answer on what's happening to Hulk at IOA…and it's not pretty.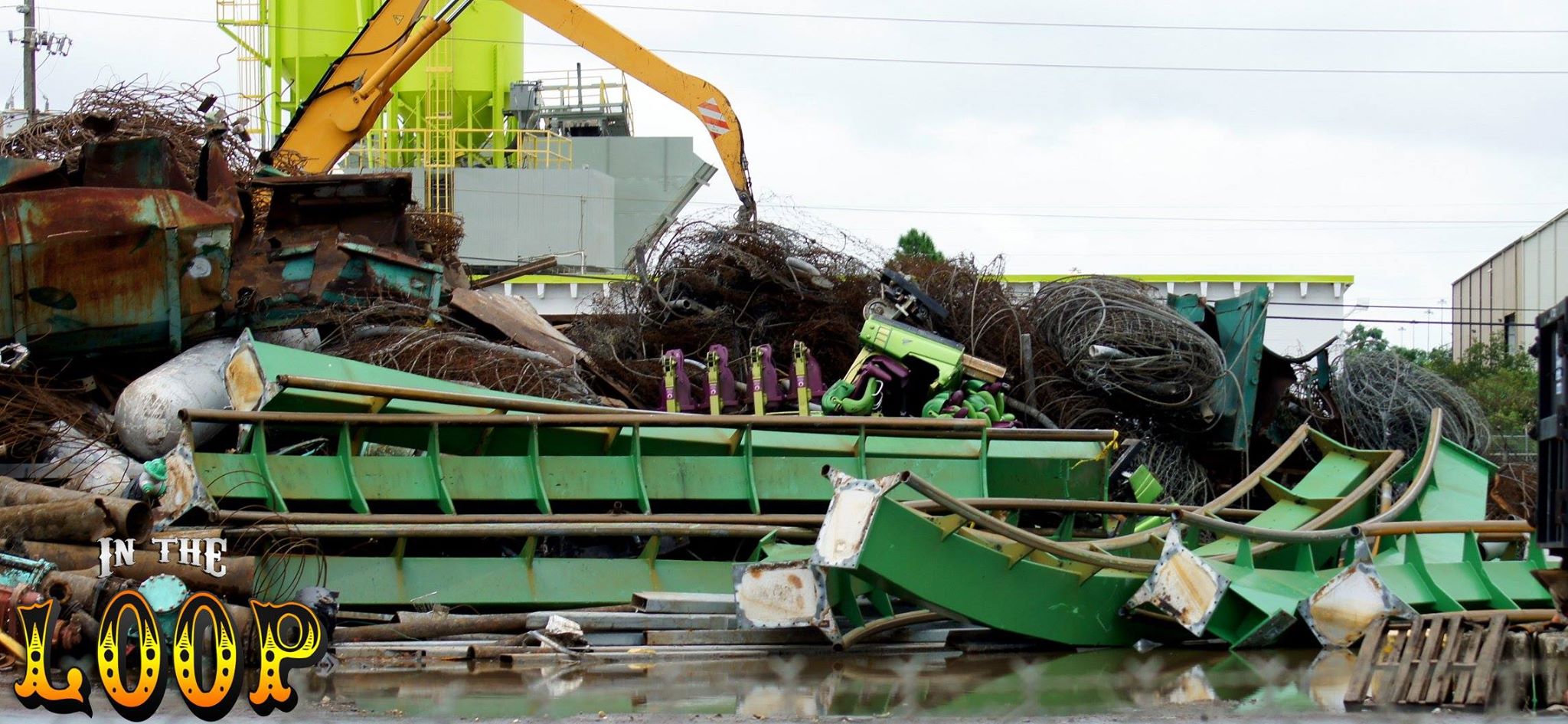 Quite a few sections of track have been taken apart, and sitting at Trademark Metal Recycling. So…that pretty much answers the question of whether they are cleaning/repairing the track, or doing like we predicted and completely retracking that sucker. Hulk will now apparently get new track, at least in some sections, and new coaster trains.
Jump over for more pictures and heartbreaking video.
At this point, does count as a completely new coaster? It should have the same layout if they are using the same supports, but we have to wonder why all this destruction? It was rough, but was it THIS rough?
This also raises another question…will the new coaster be a B&M coaster, or will the park go with another company altogether? B&M is plenty busy this year, and with new trains and track, it's entirely possible that it will be replaced with another brand. We're not saying that WILL happen, but at this point, it is possible. We do know that the launch system is being replaced on Hulk, and probably looks to be more in tune with the Thunderbird system from Holiday World…could the coaster be getting new track to better support that system? It's all a big mystery right now, but it will eventually start coming back together.
Stay tuned for more from Universal, and be sure to get social with us on Facebook and follow along with us on Twitter @BehindThrills for the latest updates!
For our latest theme park videos please be sure to subscribe to us on YouTube!
For more information about Universal Orlando, including tickets, visit the official website by clicking here!