It's been a rumor for a while now but Universal Studios Hollywood has just announced via Facebook that Jurassic Park The Ride will close for good on September 3rd, to receive a Jurassic World themed overhaul.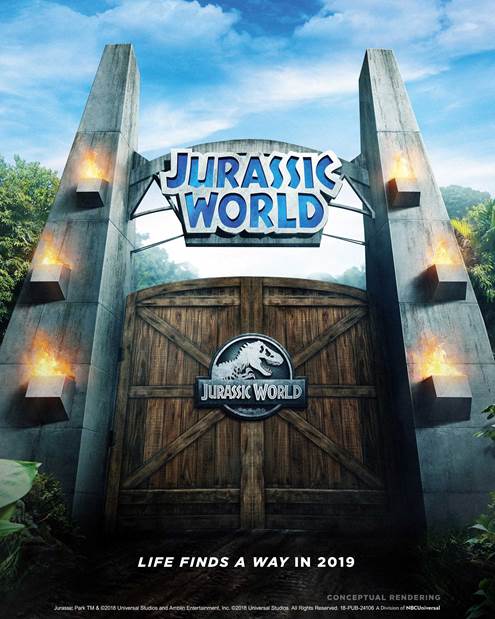 Drawing from the favorite elements of the original "Jurassic Park—The Ride," this next-generation "Jurassic World Ride" will be a fully reimagined iteration of the ground-breaking adventure, elevating every facet of the experience. With the introduction of never-before-seen dinosaurs, enhanced storytelling, lush scenic design, an entirely new color scheme and uncompromised state-of the art technology, the ride will capture elements never experienced within a theme park.
Details are scarce but many of the classic scenes are expected to be removed and in their place new scenes that align themselves with the storyline of Jurassic World utilzing the existing ride system and track layout of Jurassic Park: The Ride. It was announced just a week ago that Jurassic World would be coming to Beijing, skipping the iconic JP branding. This will likely be the first re-branding of the 3 (others in Orlando and Osaka).
Still no word on Orlando or Osaka, but it's safe to assume this overhaul will be coming their way once their current projects (Potter Coaster in Orlando, and Super Nintendo World in Japan) near completion.
This announcement may come with some backlash among theme park fans as the Hollywood version of the attraction was the original and in development years prior to the films release with Spielberg overlooking almost every facet. This version also holds many of the original props used in the first film as well.
To rally fans for the finale of "Jurassic Park—The Ride" on September 3, 2018, Universal Studios Hollywood has launched a "Countdown to the Extinction" campaign—inviting guests from around the world to experience the ride before its transformation into the all-new "Jurassic World Ride" in 2019.
Are you happy to see this iconic ride receive a much needed overhaul or sad to see it change? Let us know in the comments below.
Stay tuned for more on Universal Studios Hollywood and get social with us on Facebook and follow along with us on Twitter @BehindThrills for the latest updates!
For our latest theme park videos please be sure to subscribe to us on YouTube!
For more information about Universal Studios Hollywood, visit the official website by clicking here!