When I say "Midnight Syndicate" chances are you have no clue who I'm talking about. If I say Halloween Horror Nights, you know exactly what I'm talking about, and chances are you know the music. Midnight Syndicate is known primarily as "The Halloween Band" or "The Haunted House Band" because Universal Studios, Howl O Scream…hell pretty much every single haunted attraction or event has used their music. What makes them so special? It adds the perfect atmosphere to any attraction, it just gives it that over the top that it needs.
That's right, they have composed music especially for Universal Orlando's Halloween Horror Nights. For 13 years they've been at it. And to top off this momentous of occasions they are finally getting to release their long in production film to DVD, "Midnight Syndicate Presents: The Dead Matter". I've worked with Midnight Syndicate in the past, in fact, it wasn't a Halloween Show without them. So I was very pleased to find this in my mailbox this evening: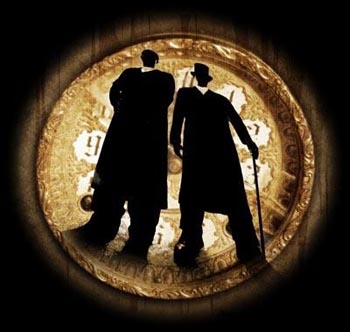 Hey Erik,
It's Ed from Midnight Syndicate.  I hope you had a good Christmas and New Years.
We just announced a July 30th release date for "The Dead Matter" and a cool VIDEO CONTEST that we're running where filmmakers create a silent film or music video to a Midnight Syndicate track and get a chance to be featured on "The Dead Matter" DVD, win prizes, etc.   I've attached the press release below.
I'm also producing a set of 3 trailers that we'll be releasing leading up to July.
I look forward to hearing from you and thank you again for all your support over these past two years!!
Best,
Edward Douglas
Midnight Syndicate Halloween Music / Midnight Syndicate Films
www.MidnightSyndicate.com
——
FOR IMMEDIATE RELEASE
Contact: Edward Douglas
The Dead Matter movie to be released on July 30th.  Midnight Syndicate gives filmmakers chance to have their work featured on The Dead Matter DVD and win prizes with their 13th Anniversary Video Contest.
(Cleveland, OH) Midnight Syndicate Films has announced that The Dead Matter movie and soundtrack will be released on July 30th.  Production on an interactive website that allows fans to delve deeper into the world and characters they will encounter in the movie is underway.  A set of three new trailers, the first of which will be released in February is also in production along with a mini-documentary produced by Smudgeline Productions and other behind-the-scenes featurettes.   All of these items and more special features to be announced soon will be included on the DVD release.
Midnight Syndicate Halloween Music is hosting a 13th Anniversary Video Contest where filmmakers and animators can create a silent film or music video to an existing Midnight Syndicate track.  The winner will be featured on "The Dead Matter" DVD as well as win prizes from sponsors: Screamline Studios, Conquest Graphics, Robert Kurtzman's Creature Corps, Van Helsing's Curse Halloween music, and Midnight Syndicate.   Other finalists will also win prizes and special promotions.
Judges include legendary frontman and horror fan Dee Snider (Twisted Sister, Strangeland), Horror FX-legends Tom Savini (Friday the 13th, Dusk Till Dawn) and Robert Kurtzman (producer From Dusk Till Dawn, KNB FX, Wishmaster), as well as Edward Douglas (The Dead Matter) and Gavin Goszka of Midnight Syndicate and producer director Gary Jones (Xena, Hercules, Boogeyman 3).
– – – 1 / 13 / 10
ABOUT The Dead Matter
Why rule the living when you can control the dead? . . .
Inspired by Hammer Horror Films and Tales from the Crypt.  The Dead Matter tells the story of a relic with occult powers that falls into the hands of a grief-stricken young woman, whose desire to reconnect with her dead brother draws her into the supernatural world of vampirism and the living dead. Scored by Halloween music legends MIDNIGHT SYNDICATE and co-produced by Robert Kurtzman (Producer From Dusk Till Dawn, KNB FX, Wishmaster) and Gary Jones (Xena, Boogeyman 3), the movie features a mix of classic horror themes with modern twists that will keep audiences on the edge of their seats. Starring Andrew Divoff (Lost, CSI:Miami, Wishmaster), Jason Carter (Babylon 5, Angel), Tom Savini (Friday the 13th, Dawn of the Dead), and legendary television horror hosts Dick Count Gore DeVol Dyszel and Big Chuck Schodowski.
For the past thirteen years, dark music pioneers Midnight Syndicate have been creating soundtracks for the imagination and their music has become staples of the Halloween, gothic music, haunted attraction, and role-playing game industries. With a catalog of CDs that blend dark, orchestral horror and fantasy movie score-style music with sound effects, the band consisting of Edward Douglas and Gavin Goszka has had its soundtracks to imaginary films featured in everything from Hugh Hefner's infamous Halloween parties, Barbara Walters specials and Monday Night Football to X-Box games, tracks by the Academy-Award winning rap act, Three Six Mafia, and Twiztid as well as concerts by dark music pioneers The Misfits and King Diamond. The music has also been featured on countless television shows and documentaries relating to horror films and the supernatural.
Often referred to as the first Halloween band or Haunted House band, Midnight Syndicate is the industry standard for the world's top haunted attractions and amusement parks. From Siberia and Hong Kong to Europe and the United States, whether it's a store, neighborhood celebration, or even a themed-cruise, Midnight Syndicate's music has become synonymous with the celebration of the Halloween season.  In September of 2009, AOL released a list of the Top 10 Best Halloween Music CDs of all time as ranked by AOL/CBS Radio listeners. Three of the ten CDs were Midnight Syndicate discs (#8, #4, and #3) ranking only behind Danny Elfman's Nightmare Before Christmas and John Carpenter's classic Halloween soundtrack.
In 2003, Midnight Syndicate made an impact in the gaming industry when it teamed up with Hasbro and Wizards of the Coast to produce the first official soundtrack to the classic role-playing game, Dungeons & Dragons. Midnight Syndicate's 2005 release, The 13th Hour, was the first music CD to ever receive the industry's top two awards: The Origins Award and the ENnie Award for Best Gaming Accessory.
2007 saw the band, take on three new projects as they composed music for Universal Studios' Halloween Horror Nights XVIII, scored Robert Kurtzman's drive-in thriller, The Rage, and began work on their biggest production to date, The Dead Matter movie.  In 2008, the band released it's tenth studio album, The Dead Matter: Cemetery Gates.  One of their most critically acclaimed releases to date the disc was inspired by the themes from the upcoming movie.

In January of 2010, Midnight Syndicate began a year-long celebration to commemorate the 13th Anniversary of the release of it's Midnight Syndicate debut CD.   A reboot of their website, the July 30th release of The Dead Matter movie and soundtrack, a 13th Anniversary Halloween Music compilation CD, fan appreciation contests, and special appearances, are just some of the major announcements the band will be making in the coming months.
How Freakin cool is that?!? Tom Savini as judge?! Contests to win free Midnight Syndicate stuff as well as to have your silent film featured on the DVD release of The Dead Matter? I'm busting out of my skin with this! Make sure you check out their website for more details, and keep it here. You never know what we may dig up.