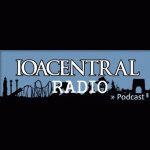 Almost three years ago, Erik started his podcast journeys with a show called IOACentral Radio. The show dealt with all things Universal Orlando and eventually spread to all parks and eventually lead to Behind The Thrills.
Now Erik, Matt, Preston and Bsquare are back together and talking Universal the only way they can….badly. They catch up on old times and talk about the future of the park, as well as their favorite subject Halloween Horror Nights.
February 16, 2010 03:06 AM PST
Cant you feel the magic? You will be able to relive the Adventure every month only here on Behind The Thrills.