Let me just preface this by saying I'm not a financial expert, I'm just an avid theme park fan. Ever since there have been theme parks, most notably, ever since Disneyland opened it's gates, Character Mascots have been a huge part of the marketing.What would Disney be without Mickey after all? But what happens when you don't have your own idea to draw from? Instead of making your own character that will hopefully be a success most parks opt to license characters that are already known, and already well marketed.

For parks such as Universal, where their library of movies isn't always family friendly, they have historically turned to other companies for the basis of rides shows and attractions. When people weren't thrilled with the Legacy Of Alfred Hitchcock for a 3D show, it was instantly turned into Shrek 4D, a Dreamworks creation. When looking for inspiration for a brand new land at Islands of Adventure, Harry Potter was the brand to shoot for.
Some cases they work very well, other cases they don't. The DC brand is used extensively by Six Flags with limited success. After the launch of Marvel Super Hero Island at IOA, Six Flags scrambled to purchase license rights to DC Comics and began showcasing them in the parks on a limited basis. While the rides are often a success, they have yet to come through with the mega success of Spiderman. The Wiggles also fell into the license trap and was a series of failed kid themed areas in the Six Flags chain.
More often than not, however, the brand is outgrown and sold off to the highest bidder. Perfect case in point, Nickelodeon Studios at Universal Studios Florida. The Nickelodeon area was once a staple of USF with several Nick shows being filmed right on property. Then Cedar Fair bought the rights, and the contract with Universal expired. The studios were left abandoned and it later became Blue Man Group. They still have the rights to have characters like Jimmy Neutron and Dora in the park, as well as Spongebob, and still have a Jimmy Neutron attraction, but many see it as having it's days numbered. In an interesting twist, Nickelodeon's contract also expired with Cedar Fair and instead of renewing it, Nick optioned to explore having their own theme park with the success of Nickelodeon Universe at Mall of America. They also have a Nick Hotel agreement with Holiday Inn, but announced they were teaming with another chain to bring more hotels across America.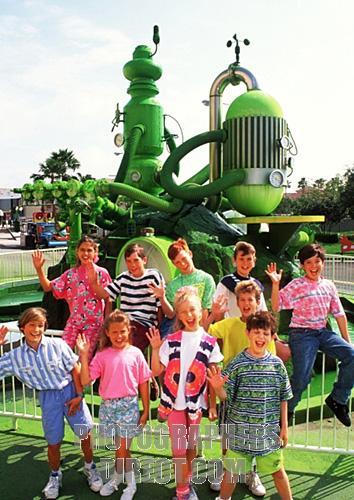 Besides the expiring licenses, what happens when the ride is just….old? Dora is barely on anymore, no more new episodes of Jimmy Neutron or Rugrats are produced, and most of the kids who grew up on Wiggles on Playhouse Disney are now more into video games. It's a big gamble to put a license on something that will be outdated in a few years, especially if the ride technology itself isn't timeless. Peter Pan's Flight is over 40 years old, and it's just as good and charming today as it was then. You could update it, such as they did with Pirates, and add a new piece to the aging attraction to reflect new films, but it ends up messing with the original story and dating a timeless attraction. But then again, this isn't a license issue…just bad ideas, whole different issue there.
All of this leads me to the biggest mishap of recent times in theme park licensing. The purchase of Marvel Comics and all of it's characters by Disney. This wouldn't be a problem, only that Marvel signed a contract with Universal ensuring that as long as Universal kept its end up, no other theme park East of the Mississippi could build attractions based on Marvel characters. This would pose a huge problem for Disney with it's four theme parks in Florida. And even if they were to build on the West coast, it takes the exclusivity away from Universal and/or Disney. What would be so special? My suggestion to fix this? Comcast needs to purchase DC comics outright and to hell with Six Flags….but that's a dream.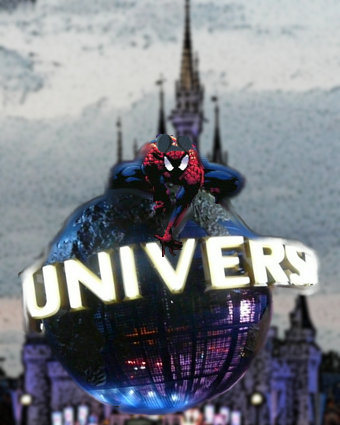 But the problems dont end there. Orlando Sentinel reports that now, Disney could be facing an Antitrust lawsuit. Again, no lawyer here, but essentially because Disney owns Marvel and Universal sells Disney Merchandise (thats what Marvel is now) Disney can check Universal's books. And because they can check the books this gives them information that could make for unfair business practices, both on Disney's and Universal's parts. Say for example, Universal plans on upping the prices of soda's, Disney would know and could do things such as up the prices at the same time. This would make for an uncompetitive market for the other parks and attractions in the area.
Here are some more issues about Antitrust from Wikipedia:
prohibiting agreements or practices that restrict free trading and competition between business. This includes in particular the repression of cartels.
banning abusive behavior by a firm dominating a market, or anti-competitive practices that tend to lead to such a dominant position. Practices controlled in this way may include predatory pricing, tying, price gouging, refusal to deal, and many others.
supervising the mergers and acquisitions of large corporations, including some joint ventures. Transactions that are considered to threaten the competitive process can be prohibited altogether, or approved subject to "remedies" such as an obligation to divest part of the merged business or to offer licenses or access to facilities to enable other businesses to continue competing
The biggest part of that seems to be the threat of the competitive process, which means to me, things such as price fixing within the two parks. If you read more of the article you'll see that the two companies are trying to avoid that.
To me, however, the fix is simple. Parks need to have more faith in their creative teams. Let's look at Disney. Imagineers made that company what it is today, and now it seems that the really good ideas are squashed in favor of name brands that people already know. What they seem to forget, is that if you build a good ride with a great story, people will remember the names of the characters and you'll give your attractions the life of their own that they deserve. Want proof? Figment. All I need to say. Further proof?
Okay. Let's look at Halloween Horror Nights at Universal Orlando. The event has been going strong for almost 20 years now. It started out as a single maze for just a few nights. It grew to 8 mazes over a month and a half. They have used movie characters before, because what's scarier than going into your favorite horror movie and coming face to face with your worst nightmare from the screen? I'll tell you what. Coming face to face with your worst nightmare that you never knew you were afraid of. That's what creative minds like TJ Mannarino, Mike Aiello, J. Michael Roddy and the entire creative team at HHN has been doing. The most beloved Icon of the event, and a fan favorite, was created and modeled after Roddy. In fact that creation was loved so much that Jack Schmidt was used more times during the events history than any other character. That's solid proof that creative teams can produce not only a memorable character, but they can do it better and probably cheaper than it would be to go out and buy the rights to use another companies characters and stories. Yet, this year, instead of going with the amazing story of Julian Browning (the Usher) they decided instead to market Saw as the main event, resulting in leaving the Usher in the dark.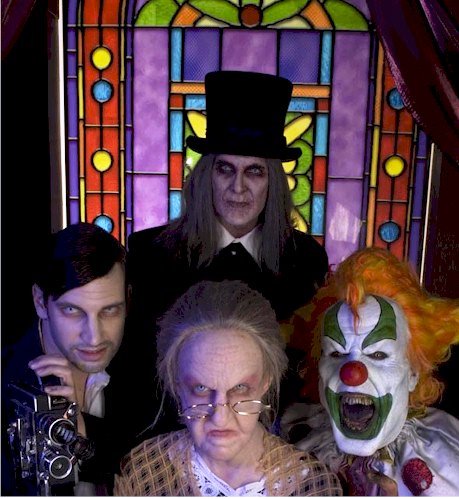 So while it's great to use big names to attract visitors, it's even better to have faith in your own creative designs.