Dinner shows in Orlando are really a dime a dozen. You can do anything from fight with Knights and wizards, to plunder a village with pirates and even watch amazing horse tricks. Always a gimmick. I've done a bunch of them, and really while they can be fun you usually pay a lot to participate and being a dinner show, the food is usually not up to par. There are exceptions to the rule, but usually you go for the entertainment value alone. Enter the Makahiki Luau.

Located at Sea World Orlando in the Sea Fire Inn at the Waterfront, and taking place only once a day usually after park hours, the Luau gives a fresh take on the whole Dinner show concept. As you walk in you are greeted with a flower lei and tropical drink. The only thing missing is the little umbrella thingy. You then get to take a picture with some of the dancers, which they print for you complimentary during the show. At first glance, you're not really sure why the dancers are so special, but you find out quickly.
As many other dinner shows, you are seated with a group of people. We were pretty much center stage in the front, which are great seats for the show, but lousy for taking pictures! As I said, it's not your typical dinner show where you are seated in a row around an area and rushed out all your food. The wait staff is exceptional and comes out immediately telling you what the dining choices for the night are, and quickly taking your drink orders. As you are nibbling on a delicious salad, the music starts up nice and easy. A trio of island singers and guitarists come out playing traditional island music.They help to set the mood and atmosphere quickly, singing and smiling, posing for pictures as everyone whips out their cameras.
Then the Big Kahuna and his wife come out greeting you and welcoming you to the Makahiki, and also welcoming tribes from surrounding islands. Each tribe has a different specialty and has a different type of dance or performance.After each dance or performance, you get a little time to eat and enjoy your meal before the next act. Makes it nice so you can enjoy your meal, then the show.
[flickr-gallery mode="photoset" photoset="72157626461808161″]
Food
You are given a bit of everything, pulled pork, chicken, and tilapia. While I wasn't a fan of the tilapia(not really a seafood fan at all) everything else was really delicious. It's not the most extravagant preparation, or the biggest spread, but it is all you can eat, and it is better than most of your typical theme park restaurant food. The desert was a wonderful mix of different cakes and pastries and was just enough to satisfy your sweet tooth. All soft drinks were complimentary, and alcohol is available at the cash bar. You are being served, and gratuity is not included in the price, so bring a little extra cash. The wait staff is very friendly and very accomodating with everything that you may need.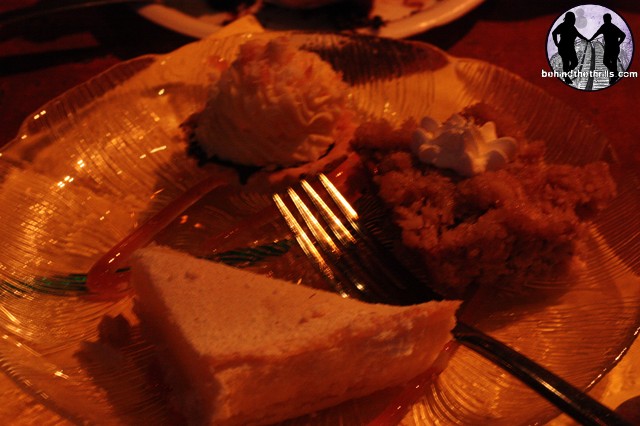 Entertainment
The dancers are the main attraction. Hula dancing, spear dancing, even fire dancing. These dancers are extremely graceful, and seem to really have a good time doing it. My favorite were the numbers when both male and female dancers would come out together and interact. It's definitely a sensual performance without being sexual…even though all the dancers really are half naked.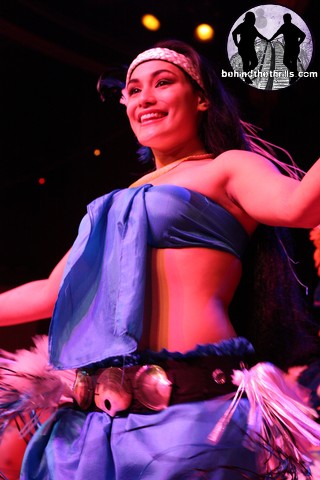 It's really age appropriate for all ages, though smaller kids may get frightened with the shouting and fire play. It was enough to entertain Racheal and I and keep us on the edge of our seats. Be prepared, however, it is an interactive show with the Big Kahuna demanding audience participation. There is one touching moment in the show where he asks for everyone celebrating something special to stand up. We were celebrating our honeymoon. Big Kahuna makes it special. Kids will also be pulled up on stage to learn how to dance, and to use instruments, as well as the ladies. Guys will be pulled on stage for a drum lesson. I was volunteered, and after giving my most fearsome warrior face, was able to keep up for a while on the drums.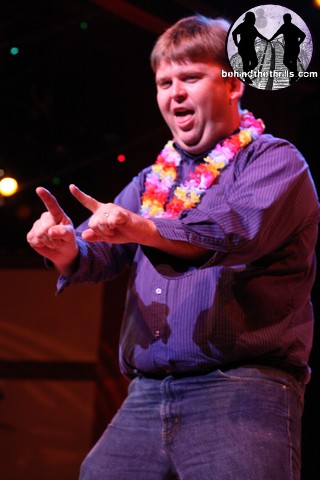 Sure there are other luau themed dinner shows, and really its a pretty common way to go, however this one stands apart for a few reasons. The biggest one is the fact that its completely indoors. At the time we were experiencing the longest coldest snap Florida has seen in years. Other luau shows had to cancel for weeks at a time. Makahiki was going strong. The price was very reasonable, normally $46 dollars for adults and $29 for kids 3-9, we used a platinum passport and received a huge discount. Also because of the time of year it was, it wasn't as crowded as other shows which were all pretty much filled to capacity.
This is definitely recommended for any looking for something fun and even special to do. Admission to Sea World is not included, nor is it required, you can enjoy this seperately from your normal trip to the park.