The internet is a great tool. It's also a great source of information, and a great way to find out the latest and greatest news and hopefully a way to get a sneak peek into a world that you have not been lucky enough (or on the right lists) to view yet. It's also full of information that could sometimes be <gasp> wrong! Hearing rumors of the impending opening of The Wizarding World of Harry Potter we decided to take an unannounced trip to Universal's Islands of Adventure. Hopeful with the promise of rumored soft openings, we made our way back to the Wizarding World. Let me tell you, the last time I felt this nervous and anxious was the last time I said "I Do".

As we ventured onwards we saw that we were not the only ones who had heard the rumor as there was a line of folks at the door just waiting. Some were internet geeks like us and had read on the various sites that it would be open, others were told by "other employees in the other park" that it was open and that they had just gotten off. So naturally when they fleetfooted their way over to Islands, they were turned away by friendly and very well versed Team Members who were stationed in front of the gate that informed them they were lead astray. They were very angry at the mis-information but were well taken care of for their troubles.
We were, however, not strayed so easily by promises that there was a "100% guarantee" that the area would not open. We had seen people going in and out all day in full costume, and had heard (and seen) all of the special effects working. Surely there was to be some kind of grand opening, right? We were able to sit and talk to a great deal of people and actually turned a boring situation into a good time. Some people had read on websites, others had heard on the news, some had even read in newspapers and heard from employees that the WWOHP would be opening. Then there was the fact of the greeters at the gate. They would switch out in shifts, there were alot of them, and most importantly they had not been there the day before. Now I'm not saying that Universal was responsible for planting a false rumor in hopes of getting a normally quiet attendance day up, I'm just sayin. Some of the crowd speculated that we had been duped, some had speculated that it would be "any minute"  and still others speculated that they were going to open up, but decided at the last minute to not do so. It was a fun experience, honestly, though a little disappointing. Walls were moved around in Dragons Challenge, and even more Team Members poured out, at one point coming to the front gate in mob form and immediately turning away, looking our way and laughing as they were in on this huge prank. If you think I'm being too harsh on Universal, perhaps I am, however, they have done this sort of thing before with other attractions such as Rockit. They have also been so tight lipped about things that it has to make their teeth hurt. So we dont put it past them.
Also, it didnt help one bit that we walked around and saw that walls were down by Forbidden Journey and you could see pretty much into the attraction. It enticed and teased making us think "why would they do this unless they had something planned?" Another big tease was the park map. It highlighted Wizarding World with Hippogriff, Dragons and FJ all on the map with a huge "Coming Soon" underneath.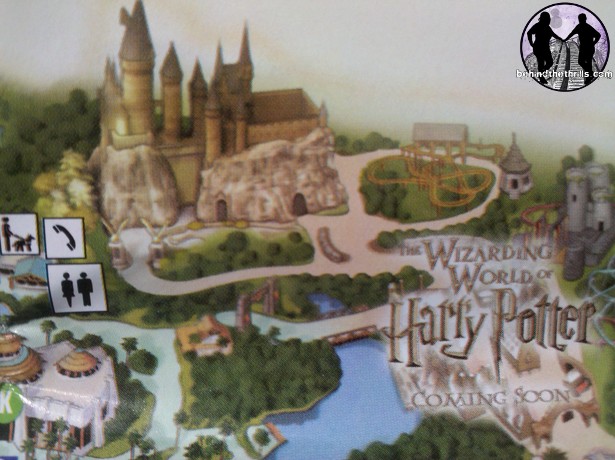 Regardless, we did not get in that day, and we were sternly told that it WILL NOT soft open, June 18th would be the opening day and that even those who booked the vacation packages this week ( I was told this by two lovely and very nice employees in front of a lot of other folks) were not guaranteed that they would be able to ride the new attraction or shop the shops. The area would be open, and that's the only guarantee for them there was. Also, there was little to no chance of the area opening to the general public before June 18th. We were also told that the night before it was employee preview night and they did ride FJ…so what to believe? We did camp out most of the day, disappearing into other parts of the park momentarily to appease the kids, and to keep from going crazy. That was our choice, and really because of the really nice and fun people we met, it was really worth doing.
[flickr-gallery mode="photoset" photoset="72157626594250622″]
On the other side of things, we did check out Sindbad for the first time in a long time. I had forgotten how neat of a show it was. Lots of pyrotechnics, some laughs, and some Horror Nights flashbacks. Fun show, and definitely checking out at least once. We also had fun finding all the hidden items such as "One eyed Willy" from the goonies, and some of the old stop motion figures from the movies.
[flickr-gallery mode="photoset" photoset="72157626594279670″]
Seuss Landing had a lot going on with all the costumed characters out and about. Cat in the Hat is spinning, and only a total of about five times, with less jerky movements. Right next to One Fish Two Fish, there was a really small stage setup (where they normally hold the Grinch holiday show) for "Oh the Stories You'll Hear". It's not a new show, but this was the first time I had actually stopped and seen it. Great little show, and I think the story teller made it all the more enjoyable.
[flickr-gallery mode="photoset" photoset="72157626594297616″]
Within the rest of the park, Hulk needs love. Bad. The monster really seems to be rusted out in a lot of places. You can also tell that it has been cleaned in a lot of places. More work had been going on in Toon Lagoon, and in Jurassic Park everything was up and running proper. Overall it seems like Universal is on the right track, but we'll see for sure in the coming weeks.
[flickr-gallery mode="photoset" photoset="72157626594305852″]