Universal has continued to set up for the grand opening ceremony of the Wizarding World of Harry Potter, which will take place this Friday. A few days ago, signs started going up and props started to move out. The Knight Bus, which first appeared in Harry Potter and the Prisoner of Azkaban, showed up at Universal Orlando just a day or so ago for the grand opening.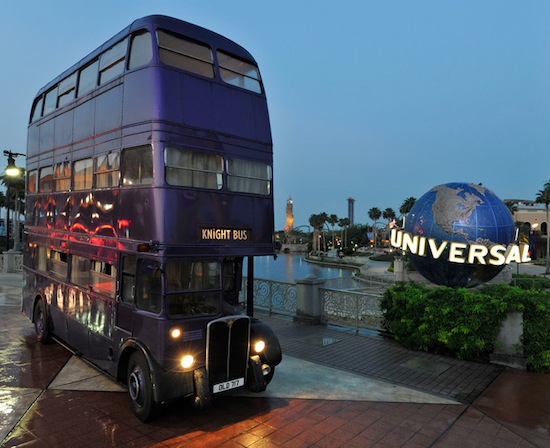 With the grand opening just two days away, there is a good chance they will not be letting the general public into the WWOHP again until after the grand opening ceremony. The Wizarding World of Harry Potter is a wonderful place to be because it's so immersive. You really forget about all your personal issues because it all seems so real. Let's take one last look at the Wizarding World of Harry Potter before the huge crowds and the Florida summer heat really take over.
More grand opening set up is going on. They've got the orchestra pit out and ready to go. All kinds of people with badges are walking around: pryo tech and staff badges. HOLY CRAP. Are those people on top of Hogwarts? The view must be amazing. It's also apparent the menus inside the Three Broomsticks run off of windows and still have normal issues like most computers do. I've been asked if that's J.K. Rowling on top of Hogwarts, but I doubt it's her. We've also got the Knight Bus, which has moved from Citywalk to inside of the Wizarding World of Harry Potter.
[flickr-gallery mode="photoset" photoset="72157626601551078″]
The crowds are going to be massive and Potter is going to be packed once they let the general public in. Universal set up a giant monitor inside the Port of Entry for guests to watch the grand opening, but there's an even better option out there. If you've seen it already and want to avoid opening day crowds, Universal will be broadcasting the grand opening event via the internet at 9pm TONIGHT on their official website. Avoid the crowds and view it from the comfort of your homes before it opens. Also we've heard a very distinctive rumor that the general public will not be allowed into the Grand Opening Celebration Friday, it will be reserved only for the very select media that has been invited, and some hotel guests. This has left many people extremely upset as they think they have the right to get pictures and autographs with the stars. This Friday is going to be a madhouse, but I bet it would be a good day to go to the Studios.