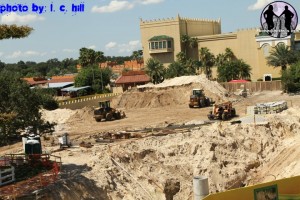 With Howl O Scream right around the corner, the madness can be seen spreading throughout the park. More is happening on Project 2011, and Katonga has packed up shop and is no more.
Katonga hasn't been gone a week yet and the signs are already gone. Cirque Dreams "Coming Soon" are taking their place. Speaking of being gone, Gwazi's Tiger side was down. After asking staff, we were told that it will be "down for a while." We've heard rumors earlier this year that there was the distinct possibility of some new Millenium Flyer trains, but no official announcement has been made. Also Montu was down which made traffic around Project 2011 very light.
[flickr-gallery mode="photoset" photoset="72157626501591055″]
Speaking of 2011, there's been a lot of minor details happening around the Crown Colony House as paint has been showing up, and a new style of wall. Also more construction is happening in the Skyride building. Over in the Serengeti Plain area, more footers have been poured. Yay for mounds of dirt!
[flickr-gallery mode="photoset" photoset="72157626501602929″]
Howl O Scream construction has been going on a break neck pace with mounds of Sylvie's junk showing up in front of the park for what is possibly MyX FANatics. Also pieces for Spiders and Snakes are going up by Sesame. Not really seeing much to this, but it looks like there will be lots of surprises from above. Why'd it have to be snakes? Nothing yet happening for Road Trip, but lots happening around Timbuktu for presumably Crazed Love. Meanwhile over at Alone, more detail is going up for the sign and really making this place look like somewhere you really don't want to be.
[flickr-gallery mode="photoset" photoset="72157626626151284″]
For more information on Howl O Scream including tickets, visit the official website!
For the complexities of Pyscho X's visit our forums!