Howl-o-Scream was also part of our huge haunt weekend. Saturday night, we headed over to Busch Gardens to meet Sylvie, Howl-o-Scream's icon for 2010. This year's event was good and has a lot of potential to live up to the hype of Ms. Vayne from last year.
We're going to go old-school here with a 1 through 5 scale, 1 being bad and 5 being outstanding. Nothing complicated or scary at all!
Houses
Alone – 5/5

Alone could possibly be a "game changer". It's an up-charge house, meaning you have to pay extra to go through it. It costs $25 if you book in advance (online or over the phone), or $35 at the park. It's a very unique experience as you can either go by yourself or with three others if you're too scared to go alone. I won't spoil anything about Alone, but I will say that it's completely worth paying $25 for. If you do go alone and you make it all the way through without chickening out, you'll get a voucher at the end for a t-shirt to show that you did it alone!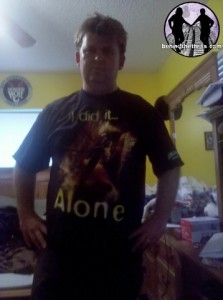 If you're thinking about doing Alone, it's totally worth it. Opening weekend, Alone was completely sold out, so if you're not sure if you want to do it, you can wait until you get to the park and pay the extra $10, but there will be no guarantees they have any space available. Your best bet is to book in advance. Lastly, be sure to arrive 15 minutes before your scheduled time. Once you check in, you have to wait behind others who have reserved times.
Would I do Alone again? Yes (but probably not by myself again).
MyX:Revenge Rocks – 3/5

This house is all new this year. The MyX concert is sold out, but someone sneaks you in through the backstage to the concert. This house screams MyX everywhere. Every corner you turn, you see something that resembles MyX. The cool part about the house was all the scaractors don't just jump out and scream, they jump out asking for your backstage pass. It fits very well.
Taste of Blood: A Different Vein – 3.5/5

Taste of Blood is running backwards (compared to last year). Not much has really changed, but it's still a good house. The entrance replaced the exit from last year. The crowd control around Taste of Blood was phenomenal this year.
Nightshade Toys: Son of Nightshade – 4/5

Nightshade moved from the Skyride building to behind Zagora's Cafe for this year due to all the construction going on for Busch Gardens' 2011 project. While the house was very similar to last year, it was upgraded and a lot better than it already was last year. While this was my favorite house last year, it's still a favorite this year.
Deathrow Vengence: No Escape – 3/5

Another house that was recycled from last year. This year it didn't seem so dark, but it was still just as good.
Trapped in the Walls: Ghostchasers – 2/5

Busch Gardens added a few things at the beginning of the house to give it the "ghost chasers" feeling. There's an actor outside with ghost chasing equipment, then you're off into the house.
DEDer: Extreme Rush – 1.5/5

There's been some changes to DED this year. In fact, DED is welcoming Sylvie to the house. There's MyX fandom going on inside, as well as Sylvie singing a song that she wrote all about DED. They've also added some guys to the mix and moved scare actors around. Oh yeah, and the game Life (you'll find it inside if you're paying attention) – That got an upgrade too. I thought that was really cool. If you're paying close attention, you'll also find an icon from the past besides a portrait of Ms. Vayne. Still a good house! The line seems to be better than it was last year for some reason. I believe the entrance moved to near the stairs where the front of the line access is utilized to accommodate larger crowds and confusion of people exiting in the same area.
The only thing that I really didn't care for about DED was at the very end. Once you're out of the house, if you look to the left, there's a guy that's been cut in half and one of the scare actors takes a fake hand gun to his head and shoots him and he pretends to die. I was actually kind of disappointed to see them go as far to to use a fake hand gun.
Deconstruction: The Dr. Is Out Of Control 2.5/5

It also didn't seem as dark compared to last year. Not much has changed this year, except they've done some updating to show the Dr. is out of control.
If you went to Howl-o-Scream last year, you'll notice a lot of similarities in the houses with some slight changes here and there. Overall, I think the scare-actors did a great job trying to scare people. In fact, I saw a lot more getting scared at Howl-o-Scream than Halloween Horror Nights. Check out some pictures of the outsides of the houses this year.
[flickr-gallery mode="photoset" photoset="72157626508483677″]
Scarezones
Crazed Love – 2/3
Crazed Love fits very well in the the icon this year. This particular scare zone has wedding cakes with the figures on top.. but one of the lovers has their head cut off (but I don't think it was Sylvie's doing since their fingers are still intact). One of the scare actors in particular walked up to my husband and asked my husband to marry her. Cute, but where's the kneeling and the big diamond ring!? Enjoyed this scare zone, but I hope it's scarier at night. Check out the pictures below (they're mixed in with Light of Doom).
Light of Doom – 2.5/5
The lighting effects and fog absolutely make this scare zone what it is. Check out the pictures below (they're mixed in with Crazed Love).
[flickr-gallery mode="photoset" photoset="72157626633053770″]
Road Trip – 5/5
Road Trip was by far my favorite scare zone of the evening. The scare actors were really into what they were doing and gave it all they had (except for the guy playing dead.. he was pretty motionless). The girl in the tend was pretty vicious herself as she chased guests about and the guy that pops out of the van.. PRICELESS.
[flickr-gallery mode="photoset" photoset="72157626508513465″]
Spiders and Snakes – 3.5/5

The second favorite of the evening. The guy tangled in the spider webs seemed pretty helpless, but his roaming friends were covered in spiders and snakes. It was enough to make me run away in fear.
[flickr-gallery mode="photoset" photoset="72157626508522773″]
Shows
Blood Relations – 3.5/5

The first part of Blood Relations was good, but it was very similar to this year's Bill and Ted at Halloween Horror Nights. The rumors are true, it was produced by Michael Roddy who has worked at Universal Orlando for some time on their creative team. I've yet to see the second part of the show because I had to get to Alone, but so far it looks good!
[flickr-gallery mode="photoset" photoset="72157626508537481″]
Fiends – 3/5

Did you know Fiends has been part of Howl-o-Scream for 11 years? They've done some slight upgrading to Fiends this year. They've added sexy male nurses to the mix, but they don't have pink hair (sorry, ladies). The show seemed a lot more hilarious this year, too. They're also utilizing a screen while the crowd packs into the show area to tell jokes, give fun facts, and get the crowd pumped for the show. Fiends was great this year.
[flickr-gallery mode="photoset" photoset="72157626633105048″]
Club X
It's not really a show, but Club X is what it says it is -a club. It's an exclusive 21+ club where you can purchase liquor, dance to music, meet Sylvie, and just relax. Unlike Club Vayne last year, Club X is free, but be sure to bring your ID to the park. If you wish to go into the club, employees may request to see your ID to verify you're 21 or older. Once they've checked your ID (or if you appear old enough and they didn't ask for your ID), they'll give you a wristband so the bartenders inside know you're old enough to purchase alcohol.
The "MyX" drink was very good, actually. With a strong hint of pineapple, it had a very fruity taste. The park offers two different souvenir cups for alcohol (which can be refilled at Club X for $7.50): The Goblet, seen below in pictures, and a light up cup. I chose the Goblet because of the way it looked and the fact everyone buys the light up cups. Overall, it's fun and worth seeing, even if you don't plan on drinking.
[flickr-gallery mode="photoset" photoset="72157626508560335″]
Here's some random pictures of the event.
[flickr-gallery mode="photoset" photoset="72157626508571827″]