The details are out for Howl-o-Scream at Busch Gardens Tampa, but it seems like Busch Gardens Williamsburg is keeping their lips sealed over this year's Howl-o-Scream event. Thus far we've been teased and taunted, but still no official details.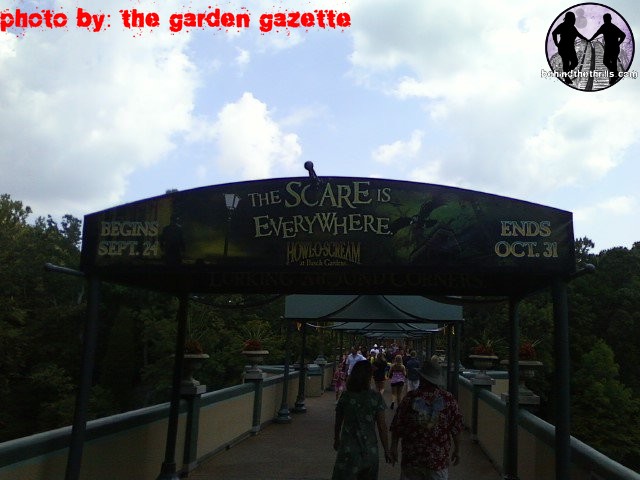 In an on location interview with the Vice President of Entertainment, Scott Gasparich, during our visit last year to Busch Gardens Williamsburg for Howl-o-Scream, we discovered that guests can "expect the unexpected" and "no where is safe". While this has not been confirmed by the park, I believe we may see roaming hoards this year at Howl-o-Scream like we do in Tampa. Busch Gardens "has a great opportunity for immersive themeing which [the park] do[es] extremely well, I think there's some opportunity in 2010 to even take that further" said Gasparich.
On location (Ireland) during Howl-o-Scream:
Illuminights: Skip to about 18 minutes to hear Scott talking about Howl-o-Scream.

Speaking of Howl-o-Scream ramping up.. We've got some Halloween decorations in the Christmas shop in Germany that have started popping up, as well as the canopies on the Italy bridge have been updated as well to feature Howl-o-Scream advertisements.
It looks like Busch Gardens will be using the same locations as last year for haunted houses. Decorations have appeared in the entrance way for the old Drachen Fire queue house, as well as a poster outside of where Cursed was located last year.
[flickr-gallery mode="photoset" photoset="72157626623616868″]
Special thanks to The Gardens Gazette for the photos.
Busch Gardens has been taunting us with clips of running chain saws, as well as crowing ravens. Speaking of chain saws, is it possible we'll see roaming hoards, like their sister park Busch Gardens Tampa has? The Scare is Everywhere , just like roaming hoards. One last thing I would like to point out is Jack is not being widely advertised this year, compared to in the past.
Check out the latest teaser from Busch Gardens Williamsburg's official Facebook page.