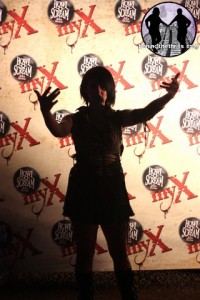 Busch Gardens has become pretty well known for putting social media to work. Last night, Busch Gardens began the "Bleed Up" event last year, and continued it last night after the @HOSInsider on Twitter gave away free tickets to the event a few days ago to ten lucky winners.
In comparison to last year, Club X is included with admission to those who are 21 years and older. Club X serves hard liquor and has some of the sexiest dancers on stage to keep the club scene cool. It's well worth checking out if you're old enough to get in. If you're into hard liquors like Vodka and Rum, try the "My X" or "Sylvie's Rockin' Punch".
[flickr-gallery mode="photoset" photoset="72157626640846274″]
Sylvie made a special appearance in Club X and performed for us, then helped draw the winning names for a small raffle.
After the conclusion of the Bleed Up in Club X, we were off to check out the rest of the event. Be sure to read our full review of Howl-o-Scream's opening weekend.
Here's some random pictures of Howl-o-Scream.
[flickr-gallery mode="photoset" photoset="72157626640860870″]