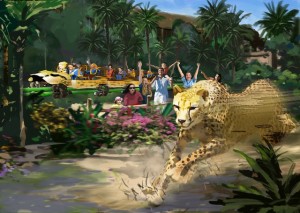 It's been very prevelant that Busch Gardens is building a huge new attraction with all the work that's gone into the area near the Skyride since earlier this year. Today, Facebook fans were the first to learn the details of what's coming to the park next year.
Busch Gardens Tamp announced today they are building a new roller coaster, Cheetah Hunt. Through the use of magnets, the coaster will launch riders three times with speeds up to 60 miles per hour. The station of the new attraction will be in the old monorail station (same station as the Skyride near the Crown Colony).
Riders will be launched out of the station, then launched again where they'll be shot up into a tower, and plunged 130 feet down.
It will incorporate many elements like over-banked turns and a heartline roll (inversion) to simulate a Cheetah chasing it's prey across the plains.
Ride Statistics:
LSM (Linear Synchronous Motor) roller coaster

Three different launch areas

Riders will plunge 130 feet downwards

Speeds up to 60 mph

4,429 feet of track (longest track at Busch Gardens)
This new attraction will be very similar to Manta at Seaworld Orlando in how it incorporates animals into the attraction to make it a "wow" experience.
Cheetah Run, which will be located where the old Clydesdale barn was, will allow guests to get close to Cheetahs. The area will incorporate touch screens to allow guests to learn more about these cats, as well as give guests the opportunity to watch Cheetah's sprint. Trainers will conduct daily sprints so guests can see the fastest land animal in action. It will incorporate an elevated glass viewing area (sounds like it will be similar to Jungala's Chimp-exibit or the Tiger pop-up).
Cheetah Hunt and Cheetah Run are scheduled to open in Spring 2011. For more information about the attraction, visit www.cheetahhunt.com
Check out the concept art of the new attractions. Pictures courtesy of Busch Gardens.
[flickr-gallery mode="photoset" photoset="72157626640748222″]