Universal Orlando has announced a huge increase in attendance, revenue and profits. To celebrate the Blackstone Group is looking to sell it's share in the Orlando resort. Blackstone is a 50% shareholder in the Orlando resort,home to the Wizarding World of Harry Potter.

This news comes just six weeks after Comcast finalized a deal to buy NBCUniversal. Universal has reported huge increases in attendance in 2010 and 2011 is shaping up to be even better.
Why Sell?
Before we answer this question, let's look at a few things. Blackstone has offered the company to NBCUniversal. The company has until June 12th this year to buy out Blackstone. If it doesn't buy the out Blackstone could then put the entire resort up for sale. So now the question, "Why Sell?"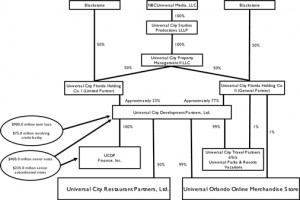 The simple answer, the time is right. Universal is facing record attendance and profits. It makes a good selling point for anyone looking to buy into the company. Blackstone has recently acquired Sea World Parks and Entertainment with it's ten theme parks. The company announced earlier this year that it was looking to restructure debt. What better way to restructure than to pay a large sum if cash towards your debt?
Will Universal buy?
Honestly they would be stupid not to. In an SEC filing it's revealed that if they do not sell, it could lose many of it's current licensed properties including Harry Potter. In agreements with Warner Brothers if the company changes hands or if quality decreases at Islands of Adventure WB reserves the rights to pull the license.
Not to mention the deal would also include all if the onsite hotels, CityWalk and Wet n Wild.
Many have speculated that Comcast would look to sell off the parks, which would help repay debt that was incurred in the purchase of NBCUniversal. However the company has expressed enthusiasm for the growth and potential the parks hold.
More info as we hear it.
What do you think of the sale? Let us know in the comments below.