A few weeks ago we put out a call to anyone who was a self proclaimed Disney expert. We got back tons of interesting comments, but only a few were really serious about sharing their information with the world. The ones that were, wow. So now we present JET, who will hopefully have a lot more information to share in the coming weeks not only about Disney but about Theme Parks and planning in general!
Picture this, its spring break and you're at the parks whether for one reason or another, crowds are high, it is usually hot, and you feel like nothing will get done. Rest assured there is a way to navigate the crowds and do everything you want to do. It just take a little more planning, research, patience, and a little bit of luck doesn't hurt either. Below you will find an outline and guide of how to handle the Walt Disney World parks during spring break.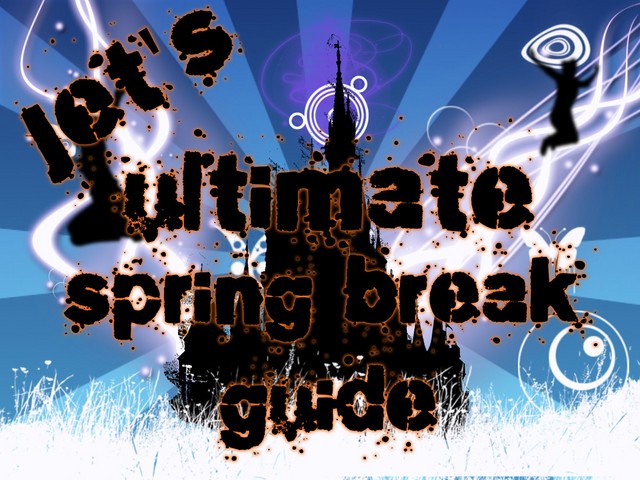 Magic Kingdom:
Ah yes, the Magic Kingdom Park, lots of rides, lots of people, little space. As you will see in all my park guides it is best to always know what you want to do in each park. So pick out and if you have time prioritize what rides you want to do.  This park during spring break will test your patience probably more than others.  As with all parks I suggest you are there for rope drop or right when the park opens, this will allow you to do 3 or 4 attractions before lines start to build. In this park the first thing to get busy will be Dumbo and Peter Pan's Flight in Fantasyland, Space Mountain in Tomorrowland, and sometimes Splash and Big Thunder Mountain in Frontierland.  My personal suggestion is if you want to do a lot in fantasyland get a fastpass for Peter Pan and go get in line for Dumbo. These two rides have some of the slowest moving lines in the park. Space Splash and Big Thunder Mountains will have long line but they move quickly making the wait feel like less. Don't worry too much about rides like Haunted Mansion, it loads fast and quick and probably won't exceed 30 minute wait most of the day. Also remember, especially in an attraction filled park like this, fastpass is your friend, it can allow you to be waiting for one ride virtually while actually in line for another.
Epcot:
By far the easiest and most relaxing park of the Disney four you will encounter is Epcot. It has lots of space, lots to experience and most importantly most of its attractions are what we call in the business "people eaters". No, don't panic they don't really eat you, that's at Animal Kingdom, but seriously this ultimate efficient park is simple and easy to complete but will probably still take most of the day. Start very early and go get a fastpass at Soarin'. After getting your fastpass, head to the other side of future world and get in line for Test Track. If your family or group doesn't mind splitting up, you can opt for single rider's line. Just remember, YOU WILL BE SPLIT UP, although it can be a much shorter wait then the regular standby.  After doing these two tasks, you are free to roam the rest of future world. Lots of great attractions and don't be afraid to venture into Innoventions they have lots of educational fun. Don't let that scare one of their newer and my favorite attraction is Sum of All Thrills. It is a robo-arm with seat and you design your own roller coaster then get to ride it. The line for this can get up to about 30-45 minutes during spring break and busy periods so maybe head for it right after Test Track.
The other half of Epcot is the 11 countries of World Showcase. This is the much easier side of Epcot all attractions (mostly shows) can take lots of people with little waiting needed or are fairly low in popularity. Take time if you have it to enjoy each countries atmosphere and discover some new things. I have been out there thousands of times and I almost always still learn something new. Key Attractions in World Showcase that are my personal favorites include: Maelstrom, Gran Fiesta Tour Starring the Three Caballeros, and "O Canada!" Starring Martin Short. So that is Epcot, enjoy and have fun, it is my favorite park.
Disney's Hollywood Studios:
With this parks play your cars right and you will go far. Defiantly start at rope drop and follow the crowd to Toy Story Midway Mania, get a fastpass for the ride and then get in the standby line. Trust me if you like games you will want to do this one twice. Make sure to get the fastpass first though they tend to run out very very quickly. After experiencing the attraction the first time head for Sunset Blvd. where you will find two of the biggest thrills Disney has to offer.  I would go to Tower of Terror first then head straight to Rockin' Roller Coaster. After doing "the big 3" plan for any shows or do other attractions you want. A very simple park, just have to be early to get ahead. On the Subject of the night show Fantasmic, lately they have been having so few shows you may not be able to escape having to line up super early and I mean like 2hrs early. Just ask cast members what they have been seeing lately and usually they will be helpful enough to tell you when to line up for it.
Disney's Animal Kingdom:
The fourth and final park is Disney's Animal Kingdom and as with all above start early. From rope drop depending on your style go one of two ways. If your group has thrill seekers head for Expedition Everest and do the same procedure you did at Studios, get a fastpass and get in line. If you are not the thrill minded, go do the same thing at Kilimanjaro Safaris instead. If you do Everest, I would head for the Safari immediately afterwards. From there on all I can say is be early for the 3 main shows: Flights of Wonder, Finding Nemo: The Musical, and Festival of the Lion King. Again, I would ask the cast members how early to line up but I would go with at least 30-40 minutes prior to show time. If you can, do all three shows they are all entertaining in their own way.
All park Strategies:
A few things I didn't mention above:
Character greeting get long quick if you want to meet someone you think is popular and don't want to ride much, go to them first or when the greeting starts. Grab a times guide when you enter the park and figure out who you may want to meet.
Other then the above mentioned Fantasmic, night shows and day and night parades usually require at least 30-40 minutes prior line up. Usually the Magic Kingdom parade is most popular of all you will encounter if you want to be on the curb of the 1st parade line up like an hr or so early.
If you are staying on property take full advantage of extra magic hours by going in the park an hour early or staying three hours late. Don't be bummed if night EMH is crowded at first be patient and as the night goes on more will leave.
On the flip side, if you are not on property, avoid parks with these Extra magic hours for the whole day if you can.
So in conclusion just be patient commit to one park and try not to get frustrated, remember everyone is trying to have a good time.  I wish you the best of luck and fun in the parks and hope that my strategies above help you greatly
JET
If you have a ton of information you'd like to share with the world, and would like to be a BTT Contributor-Let us know!