Greetings…you may call me …Keeper..for I am the keeper of theme park tales.Universal Orlando's Mardi Gras is upon us and the treasures have been heaped upon us from a top floats of great splendor!

We are a few weeks into Mardi Gras and you probably have many baubles and trinkets from your adventures. Maybe even some broken through your battles. You might say "but Keeper, what am I gonna do with these treasures?" Not to worry my friends, your pal, Keeper is here to help. You'll need a length of treasure 17 units long and a little patience.
With a bit of island magic I'll show you h
ow to make a beastie out of your treasure. A beas
tie that the ladies fair always treasure.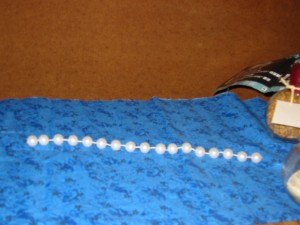 Step one- fold 4 units over onto the length of treasure
From the end take the square block at the end where the treasure is folded onto itself. If you are counting from the end of the length it would be units 3,4,5,6. Take this block of four between your thumb and forefinger while your opposite hand holds the rest tight. This is the tricky part and it depends on the spacing of your treasure and a little luck from the gods…. Slowly and forcefully twist the block of 4.

After your block of four skip one unit and then do another block of 4.
Then skip another unit and do another block of 4. You might have to put extra twists if things are loose or twist blocks around but if all is well you will end up with this.
A beastie rising from the ashes of broken treasure!!! A beastie to display with your treasure…to give to a fellow traveler…or like I do, to share with the hard workers at the local festival.
A beastie to travel with you as you discover…
For more ambitious adventurers we present yet another project, this one takes a little more time and effort so it's recommended to only the most patient and skilled of adventurers.
We need a hot glue gun, ample glue sticks, broken beads and a wreath form (you can purchase all at your local craft shop for less than $10 doubloons). You will take your broken strands of beads and wrap them around your wreath form. I have chosen to do an alternating color pattern of only Mardi Gras colors. Glue the first end to the wreath, wrap it, and glue the other end. Make sure to wrap tightly, and give plenty of time for the glue to dry. If you don't have enough broken beads, then break some! I would recommend only the perfectly round beads as they fit perfectly onto the wreath.
As you can see, mine isn't complete. When you're done, take a thin string and tie it around the top of the wreath. You can also decorate it with more beads of different colors, coins, miniature masks…whatever your heart desires! A festive reminder of Mardi Gras you can keep up all year round!

Every Day's An Adventure
Keeper