I'm excited for Legoland Florida. But as a parent this advertising campaign kind of ticks me off. That's really trying to guilt parents into your park isn't it?And is all this guilting really necessary? My kids are going absolutely bug nuts at the thought of an entire park themed to Legos. Every time we go to Downtown Disney all they want to do is play in the Legos.
Legoland Florida will be huge! No guilt needed! 50 rides, legos, and Cypress Gardens charm. Winner!
Here's the info: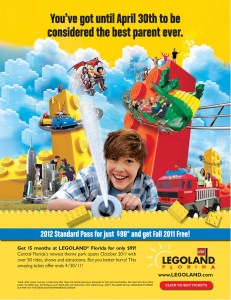 Be the best parent ever and go by your kids Legoland Florida passes and learn more info from the official site.