When it comes to supporting a cause, no one seems to do it better than Theme Park Fans. When it comes to putting together an event for a cause, no one does it better than Theme Park Designers. Last year at the Mad Cow Theatre in Orlando, several designers from both film and theme parks gathered together in hopes of raising money and most certainly awareness for the American Cancer Society's Relay for Life.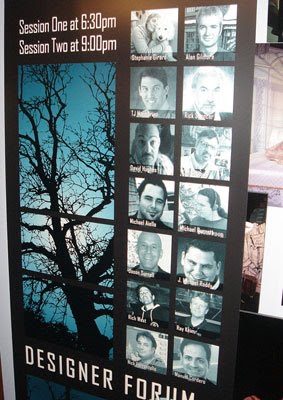 Last year's event raused $5,000 and both sessions were sell out shows and drew huge praise from fans and organizers alike. This year they are doing it yet again, and with a completely new line up.
The Mad Cow Theatre in Orlando will once again play host to the event on Friday April 22nd. Just like last year there will be two sessions both moderated by Mike Aiello.
Tickets are on sale now and can be purchased either by visiting the Mad Cow Theatres website (click here) or by calling 407-297-8788. Again tickets go on sale THIS THURSDAY (April 7th), and they will go fast so make sure you get yours.
Just like last year there will be a silent auction featuring one of a kind artwork, memorabilia and HHN items.
6:30 p.m. Session
TJ Manarino: Director for Universal Studios Entertainment Art & Design
Mary Nesler: Designer, Universal Studios,Halloween Horror Nights streets
Rick Spencer: Creative Manager, Universal Studios writer, producer
Patrick Braillard: Show director, Universal Studios, Halloween Horror Nights
Robbi Lepre: Technical director, Busch Gardens, Howl-O-Scream shows
James Keaton-Actor for Halloween Horror Nights (you may know him as Eelmouth, or Jack the Clown!)
9 p.m. Session
Cindy White: Freelance designer for Disney parades, Super Bowl half-time shows
David Hughes: Senior designer, Halloween Horror Nights house designer
Eric Baker: Prop master, The Wizarding World of Harry Potter
Doug Sauls: Technical manager, Universal Orlando, Halloween Horror Nights, Mardi Gras Grinchmas
Kim Gromoll: Designer, Universal Studios, Mardi Gras Parade, Halloween Horror Nights
Ray Keim: Universal Orlando
Designers from three of the areas theme parks coming together to help with one project. It's actually rather inspiring! There will be more to come as the date gets closer and we will have all the details.
For pics and tidbits from last year's event visit Haunted Dimensions.
And don't forget to purchase your tickets this Thursday!