So Friday we ran some "TOP SECRET" Disney concept art. After some digging we were able to find out a whole hell of a lot more information about it. The secret Disney project is going to be…mine. Yeah yeah, April Fools and all. It was actually part of this larger project, but being that we were so close to April Fools Day, I couldn't resit. But you guys were way too smart for that…ahem.

Theme Parks have some of the top minds working on their rides, and the ideas they come up with range from the decent to the really amazing. Not all ideas are made into rides, and not all rides are really amazing ideas. We've all done it, "If I ran …. I would do it this way!" And so as a fan and just for fun we're going to take a look at what would happen if I was given free reign of whatever I wanted to build with unlimited space and an unlimited budget. The Sky is the limit, and the art is by J.W. Fearman.
This month the powers that be have given me the keys to the Magic Kingdom. The Walt Disney Company's most popular and successful park. It's a park filled with dark rides, classic Disney characters and of course Space Mountain. It was my first theme park, and it was always a blast.
Main Street U.S.A
Main Street is supposed to represent what America is, or at least the ideal version of it. The biggest problem I have had with Disney these days is the lack of real imagineering ideas. These are the ideas that brought us Haunted Mansion, Pirates of the Caribbean, and Space Mountain. Nowadays they bring us Monsters Inc Laugh Floor, Finding Nemo, and CARS something. They seem to be more interested in selling items than making memories. So, here's an idea that can be used solely for marketing and get it the hell out of the way so that we may have more original ideas.
The Amazing Magical Gift Shop Ride!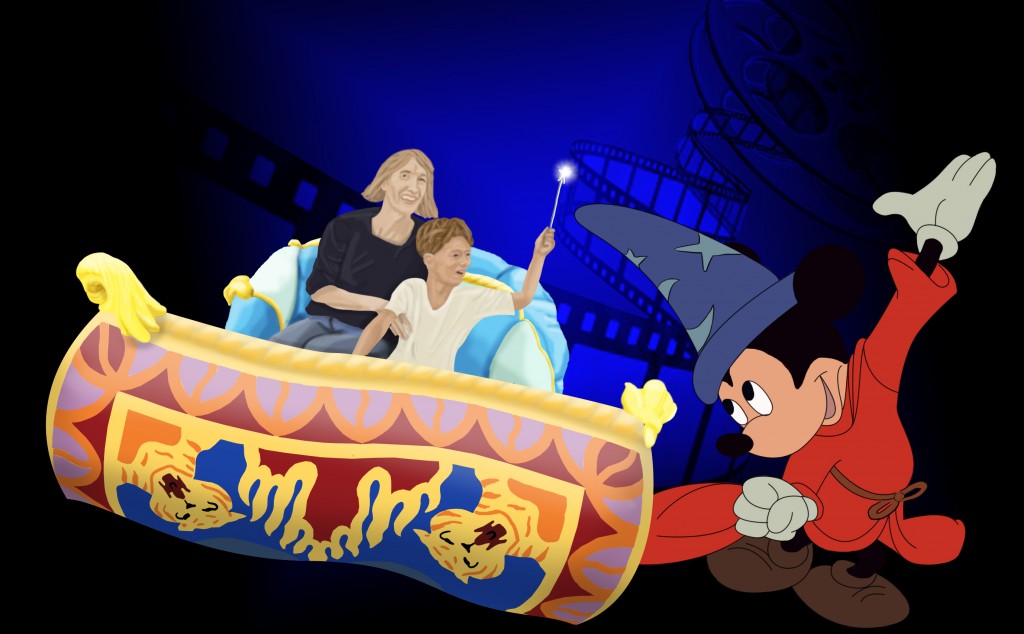 Mickey has just opened a fantasical gift shop and he wants you to be part of it! You board special "carpets" to take you through and relive the most memorable scenes of your favorite Disney movies in the past ten years. One scene per movie per year. We can have a crazy zooming Monsters Inc. part, or an "underwater" Nemo scene. Toy Story will be all in, and it can be narrated by Mickey Mouse! Here's the best part. You sign up to use the "Next Generation" system. Not only do you reserve your ride time, you check in by using a specialty "wand" just like Mickey used in Sorcerers Apprentice. Between each scene there is a series of shelving and special displays containing tons of merchandise. You simply point your wand until it lights up, and voila! Item purchased! You will have already inputted your size and color before hand. Then magically when you return to your hotel room you will have all of your items waiting on you! MAGICAL!
Tomorrowland
With all of the merchandising of movies out of the way we can get right to business with rides that are not affiliated with known Disney properties.
Space Mountain-Race Through Space: It's always bothered me that Disneyland has a really great version of Space Mountain, and Magic Kingdom has a wild mouse. So we meet in some middle ground and make two all new coasters inside, side by side. I thought about making this Tron: Cycle Fight but we want to be original. So instead of that, we have two dueling coasters in the dark. They do not invert, but they have high banked turns and they intertwine quite a bit. Several near misses are heightened with a series of LED lights that blink as you get closer to the other trains.
Alien Encounter 2-Stitch is terrible. The original concept was Alien Encounter, and it fit perfectly in the world of tomorrow theme. It was about a transporter that goes awry and brings a hostile alien instead of a friendly CEO. So, we bring that aspect back. Only now it's an omni mover with many different features attached. We go through a tour of the facility and see the cute fuzzy guy, we see them making robots, and in the end we are strapped in and treated to a demonstration of the transporter. And things go bad. The whole time we have been traveling up, and now we are traveling down. Think of Horizons where the scene moves with your car.
Time Traveler-I loved the idea that in the future we could travel back in time. So, we'll be able to with the Time Traveler! You book your time period with your "travel agent" and you are whisked away on an adventure into the past. Era's could include Ancient Egypt where you encounter a mummy, or Ancient Greece where you battle the God's for the City of Atlantis. No Dinosaurs, there's already a ride like that, but it will be a "sold out" option. Each area will have it's own track, which takes you to your period. It will be a mix of Harry Potter and Horizons with screens, real props and of course scenes that move with you (ala Horizons). In each of the scenes something goes wrong while you are adventuring and you are accidentally sent to the future where your future self greets you (think Spaceship Earth digital facial imaging) before sending you back to your own time.
Fantasyland
I like the idea that they are already expanding Fantasyland. Really they should change it up a little more and have three different areas, Princess Fairy Tale land, Storybook Circus and one more.
Villains Way
Disney had talked about this a long time ago. It's a little darker, it's a little scarier, and it's a tad more thrilling. But what is that we can build here?
Villains Emporium-Everything you need to be a great villain. The headgear, the robes, the capes, the dastardly make up…yes even the magical staff! Would be villains could create their own "magic potions" including "liquid death" (a drink so sour it makes the hardest of criminals run!).
Villains Rule the World Stage Show-Right in front of our signature attraction we have a huge show with pyro-Technics villains and a hero. The poor unfortunate soul doesn't know what he has coming to him. It's a world in which the bad guy is the good guy!
Bald Mountain-We take a dastardly boat ride on the river where even the villains are afraid to sail. We see many villains fleeing and taking flight. We see the evil Malefecent as the dragon, and tons of scary scenes (not too scary) of Villains from classic Disney movies. Then we hear the music, and we feel a cold chill as the doors close all around us. The chamber starts to fill with water as the music of "Night on Bald Mountain" gets louder and louder. We are lifted horizontally up the mountain as the water turns to fire! Then we come face to face with the master of the mountain Chernabog as he spreads his wings and we are dropped to our doom down the side of the mountain.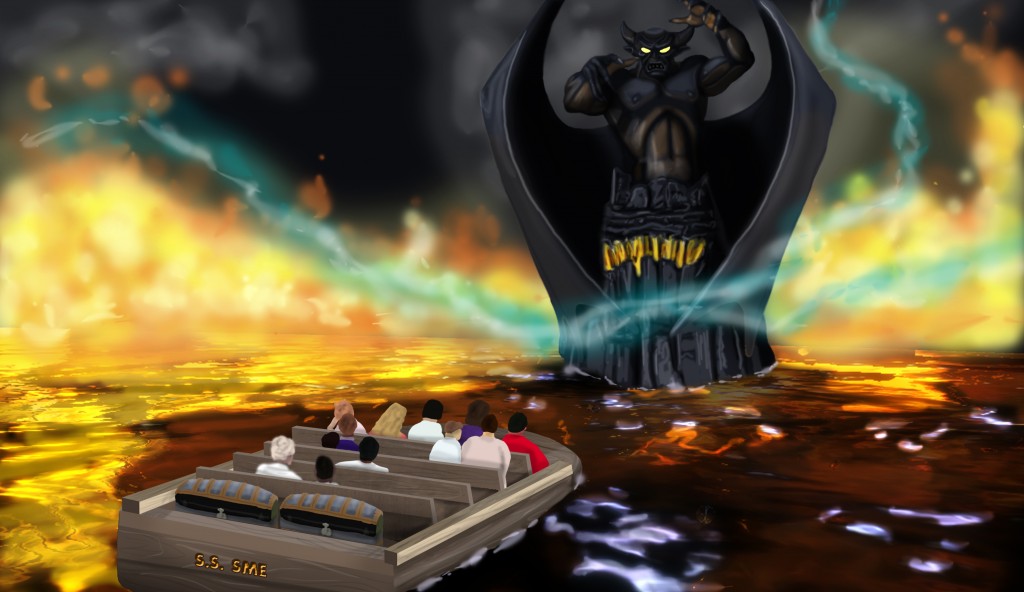 Those are a few of the things I would change. I like the ideas already in place in Frontierland and Adventureland. The only thing I would change is Tiki Room and Pirates. Let's Expand Pirates to be just as good if not better than the original Disneyland version. And Tiki Room? Yeah, the new management isn't working out.
So what would you do? Let us know in the comments below. And remember, when I have the keys…nothing is safe!
Special thanks to J.W. Fearman, if you would like to see more of his scratchings, or find out how to get scratchings of your own visit his official Facebook Page.