This weekend marked the inaugural Ramp Jam at Busch Gardens Tampa. The event happened this past weekend and will be back next weekend. The event will eventually travel to Busch Gardens Williamsburg, where it was last year.

Ramp Jam is a stop by the ASA Action Sports World Tour. It features inline skaters, skateboarders and BMX acrobatics. Also taking to the stage are local bands, and vendors.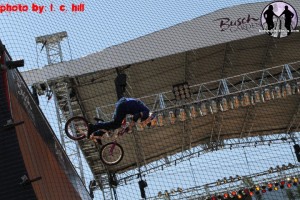 Athletes like Pierre Luc Gagnon, Kevin Robinson, and Simon Tabron graced the ramp with demos and signed autographs for the crowds afterwards.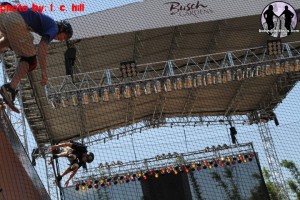 Even more pics:
[flickr-gallery mode="photoset" photoset="72157626657264922″]
Of course the thing on everyone's mind is the big CHunt(Cheetah Hunt to the less lazy)! Since last time we were able to take a look around they've added tons of themeing to the outside building, including palm trees.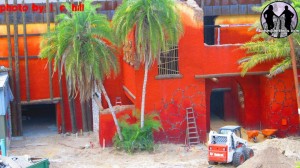 The final touches are being put on all around the coaster, including an all new fence around the train tracks.
Of course with all the hype up over the coaster and area, they've added merchandise, and even more, some really killer concept art inside one of the gift shops.
Those are two of the best looking shirts they have, and even then, I'm still not loving it too much. Maybe once the coaster opens we'll get some shirts that will make the coaster boys salivate.
And call this a rumor, but according to sources, that cute ass little baby cheetah may be in Jambo Junction in just a few weeks which is the nursery and little zoo that allows you to get up close and personal to the animals (thanks to @gi11s for the info)
Even more Chunt pics:
[flickr-gallery mode="photoset" photoset="72157626532644539″]
Ramp Jam keeps going next weekend, and Chunt opens May 27th. For more information visit the official Busch Gardens Tampa website.