A few weeks ago we put out a call to anyone who was a self proclaimed Disney expert. We got back tons of interesting comments, but only a few were really serious about sharing their information with the world. The ones that were, wow. So now we present our own U.K. "Tour Guide Barbie", to give her British spin on things, and who will hopefully have a lot more information to share in the coming weeks not only about Disney but about Theme Parks and planning in general!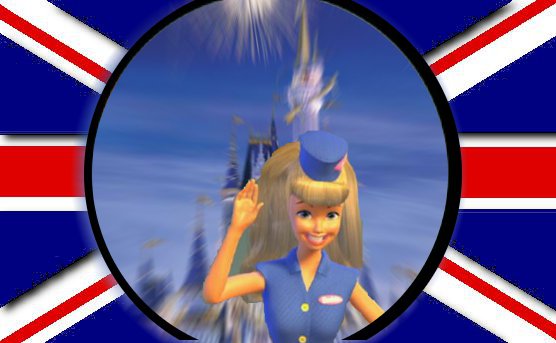 Disney, Sea World & Universal Parks– your Survival Guide!
…So you think Disney World is just for 'kids'?
…and you don't like roller coasters?
…these are just excuses for not letting your hair down and enjoying the (quite literally) 'best place in the World – Disney World Florida!'
To the Disney newbie's, Disney World is not just a park its:-
• 4 parks,
• 2 water parks,
• a separate shopping, entertaining and eating area called Downtown Disney
• Lots of unique hotels and a massive transportation facility.
The whole area is approx the size of Manchester, which is why whoever you are, whatever you like/dislike; however old (or young) you feel there is something for everyone here.
My name's Heather and my husband and I have been luckily enough to visit Florida several times including our honeymoon and more recently with our son for his very first visit. We were even there during Hurricane Jeanne in September 2004. Over our trips we've picked up hints and tips that may be useful to see.
Florida is a MASSIVE place so preparation is key but it is sooo worth it. Your homework for your holiday:-
• All members of your party to swot up on a range of Disney movies, you don't want to be out shone by your 4 year old when you have to ask them the name of the character you are just about to meet!
• Invest and buy a fan spray BEFORE you go; the ones on holiday are extortionate prices ranging from £10-£20 just so you can have a picture of your favourite park on it!
• Check out the websites, they'll have info of when shows are on as out of season they may not be on every day, opening and closing times, height restrictions and any scheduled ride closures for maintenance.
• Coupons / Coupons / Coupons- They love them and love for you to use them too. You can find coupon booklets at most stores. If you are travelling with a Travel Agent they normally have a welcome meeting on the first morning of your holiday. GO! As the reps have loads of local info, specific offers and sometimes coupons off major stores and shops. I've listed below some websites. It's well worth printing off all the ones you think you'll use % discounts for a meal, free gifts, priority seating etc and use them when you get there – we got loads of stuff!
• Discount Vouchers – View these on line and print and take with you!
• http://orlandocouponsfree.com/
• http://couponsalacarte.com/
• http://www.orlandocoupons.com/
• http://www.floridadiscountcoupons.com/
• Taking a pram? Oh yes – even if your child is slightly over the pram age. . The heat, the excitement, the sheer size of each park you'll be doing lots of walking. You can hire strollers from any Disney park but if you have one at home, taking your own isn't gonna cost you. If you do take your own, I'd recommend buying some stickers and decorating it! We have started a tradition where we put stickers on our suitcases the night before we go away, that way you will definitely know yours on the carousal. The same goes for prams, you'd be amazed at how many are the same so go wild and decorate!
Each park has a wonderful range of rides, character greetings and unique appeal but you can use these simple hints to get the most out of them all:-
• Park leaflet & show times – pick these up at the entrance to each park and plan your day, better still take 2 days to do each park and you'll definitely do and see everything you want to.
• Guest Relations – will let you know what the current 'theme' is. When we went it was 'Celebrations' and you were given a badge stating your celebration. My son had one saying 'Happy 4th Birthday' with his name on it. Throughout the day everyone, including the cleaners, restaurant and ride staff all commented and said 'Hey dude Happy Birthday', it made him feel incredibly special.
• Have a rest and watch… – Plan sit on / watch rides when you think you want a break / snack in the day
• Lots of Shows and parades – Aim to see at least one of the various 'Show Performances' and plan a good spot for the parade.
• Park Shopping! If you are buying large / lots of items in the Theme Park shops you can sometimes have them taken to the main entrance for you to collect on your way out. Check in the Park shops for details.
• Fast Pass – use these to get on rides at a certain time. They do run out so aim to use them for the most popular rides. They are valid for 1hr so enjoy another ride, nip to the loo, grab a quick snack until it's your turn. You can't get another Fastpass ticket until the current one has run out so if you aim towards the end of the allotted time so it won't be long before you can get your next one.
• Disney PhotoPass – In the Disney Parks there are Disney Photographers everywhere. Use them as much as you can as taking a picture is free. They will give you a card (credit card size or a mini one for your wrist at the water parks) that they will scan the pictures on. Check out the website for more details but I practically grabbed one of the photographers and made them take loads of us at all the different Disney parks. The pictures aren't cheap I think £6/7 for a 5/7 but they are definitely worth it! If you can get access to the internet on holiday you can registered your PhotoPass and view them on line. You can also view them at any time at any Disney park or Downtown Disney. I'd suggest going to the Downtown Disney shop towards the end of yours hols to see all your photos, the staff can add logos; dates etc and you can get them all at the same time.
• Security – Expect to have your bags searched going into any Disney park. Also all parks (Disney and none Disney) have policies on what you can / cannot take into the park, simple stuff like you can't take the big water cooler picnic boxes so check out the websites for more info.
• Young Children – Before you go, visit the supermarkets and buy bags of carrot sticks, apple slices etc and have them in small handy bags or containers. Queuing it's the best hobby of a small child and the food is easier to eat than a big carrot / apple plus you can't always find a bin in the queue!
Other Useful info!
Parking
Its rubbish but you have to pay to park your car in the theme parks, and some of the water parks too. When we were in May 2010 it cost $14 per day! You do get parking for all day so for Disney that means you can hop from one Disney Park to another in the same day and you only pay once. There are alternatives, some free buses, I-ride etc you can look into.
Cheap Disney stuff – Disney souvenirs can be expensive and if it's something cheap and cheerful that you're after then go to the large souvenir stores like 'Bargain World' and the Disney discount shop at Premium Outlets. It makes a real difference and the stuff is genuine Disney stuff just generally a previous season.
Google Map – you can view practically anything via Google map, so check out all the attractions I've mentioned here. If you zoomed right in you'll get the street view and you can see if for yourself!
Disney travel – at the end of your holiday I bet you will have travelled on:-
• Disney buses, Disney Boat, Disney Trams and the Disney Monorail which travels through the middle of a HOTEL!
Shopping
• Groceries/Food/Medicines – Walgreens, Publix are fab
• Premium Outlets
• Prime Outlets
• Mall at Millenia –check out the coupons for a free Mall of Millenia gift! I got a nice bag.
• Pointe of Orlando
TO EAT
You should be able to view most of these online.
• Olive Garden – http://www.olivegarden.com/default_f.asp
• Dennys
• Perkins
• Red Lobster
• Cheesecake Factory (at Mall of Millenia) – I had a 5-tier chocolate cake!!
• Planet Hollywood (Downtown Disney)
• NASCAR Cafe (City Walk)
• Dunkin Donuts
• Johnny Rockets
• Ponderosa Steakhouse – it's an eat all you can menu!
• Uno Pizzeria
• Cracker Barrel
• Black Angus Steakhouse
• Hard Rock Cafe
• Disney – Magic Kingdom
• This Park may appear all fairy and whimsical but behind those gates lies a 6 magical lands all with rides, characters and exciting entertainment. Where else on Earth would you find Cinderella's castle in the backdrop of the mega roller coasters Splash Mountain and Space Mountain, fight aliens or have a laugh on the Monsters Inc Laugh Floor – it's surreal!
• If you need a sit down and a leg rest, try the Monsters Inc Laugh Floor, It's a small world boat ride, Mickey PhilharMagic, Peter Pan, Snow White or Winnie the Pooh rides. They are great for getting out of the sun for a short period. Also try the Tomorrowland Transit Authority People Mover, you travel on a track high above Tomorrowland and you get to see loads, you even get to go through Space Mountain and see behind the scenes of Buzz Lightyear's ride!
• For the speedway drivers in your party try 'Tomorrowland Speedway'! as almost anyone can drive these cars. If you seat a child with an adult the adult can do the speed pedal and the child can drive!!! Lots of fun.
• Fab rides – Buzz Lightyear, Mickey's Philhar-magic, Peter Pan, Tomorrowland Speedway,
• Fab Shows – Monsters Inc Laughter Floor,
• Other stuff – Check out the Parades, worth queuing up to meet Mickey and friends, the roller coaster are fab too.
Disney Hollywood Studios
• (Just like in monopoly)As soon as you get there 'GO STRAIGHT TO TOY STORY MANIA TO GET YOUR FASTPASS TICKETS!' Do not stop for any shops or rides or anything on the way – it is soooooo worth it! You can sit either 2 adults or 2 Adults and 1 child, making it perfect for small families.
• Shows – Car Stunt show (well worth it but you need to queue up at least 45mins before so have plenty of drinks and snacks whilst you wait.) Beauty & Beast Show (great show and also gets you out of the sun and heat for 30mins) same for Backstage Tour, Indiana Jones, Voyage of the little Mermaid,
• Exhibition – One Man's dream @Disney Animation and meet the characters afterwards
• Rides – Great Movie ride, Muppets 3D
SeaWorld
• Rides – Journey to Atlantis – you will get wet!
• Shows – Shamu (queue up early!), Dolphins, Otter &Seal show
• See Manatees, dolphins, penguins, stingrays, sharks, alligators
• Take comfy shoes and snacks as SeaWorld is massive!
EPCOT
• Ride inside the giant golf ball, go on the Nemo ride, go and meet Crush, more chances to meet Mickey and his friends, and then walk and see 11 countries! All with rides and shops and authentic cuisine including Harry Ramsden's chippy in the UK bit!
Aquatica – SeaWorld's new Water Park
• Loads of cool slides that all the family can go on. There are lockers for your valuables (chargeable!) but ask the attendants where is the best place to leave your towels as depending on numbers some parts of the water park are quieter than others.
• There are lifejackets for all ages from toddlers to adults and regardless of swimming ability you may need them on the rapids, is such a cool water ride but very strong current!
Typhoon Lagoon – 1 of 2 Disney Water Parks
• AMAZING if you love waves you'll love this. Grab a Disney photographer and get them to take a picture just before and after the wave – it is fabulous (I'm running out of fantastic, amazing words!)
• Do you fancy swimming with Sharks? We did this last time and it was truly wonderful. Even if you don't you can get up close and personal by going to the viewing gallery underneath.
Animal Kingdom
• Rides – Kilimanjaro Safaris and have your camera ready to see Lions, Giraffes, Elephants, Hippos, Alligators!, Kali River Rapids – you WILL get wet!, Tough- to- be- a- bug which is underneath the Tree of Life,
• Shows – Festival of the Lion King, Nemo Musical,
• Trails & Treks – Gorillas and Jungle Lion trek
Universal Studios, Islands of Adventure and CityWalk
CAR PARK – You drive to Universal and you park up. Check out the noise when you leave your car. Each car park at Universal is themed from a movie and the theme tune is played out, whether its Jurassic Park, Jaws or Spiderman it's definitely a surreal experience and you're only in the car park!
CITYWALK – you walk from the car park to a central area called CityWalk, shops, restaurants and a cinema are all situated around a large lake. To your left is Islands of Adventure and to your right is the famous gate to Universal Studios. CityWalk is also a great place at night and after a certain time (I think 6pm!) the car park is free.
Universal Studios
• Loads of cool rides, we haven't been for a few years so I'm sure it's changed but we've been on and loved the Men in Black ride is just like you're in the movie, Shrek 4D, Jaws. Check out the website for more info http://www.universalorlando.co.uk/usf_map.html
Islands of Adventure
• Again we didn't manage to go this time but we have been in the past and I loved it! This year they have opened up the new Harry Potter World (it was being build when we were there), from what I have seen on the internet it looks Amazing! http://www.universalorlando.com/Amusement_Parks/Islands_of_Adventure/islands_of_adventure.aspx#
Other cool stuff
As well as the Disney/SeaWorld /Universal parks there is loads of other stuff too. Your holiday rep or hotel can give you more info or see the internet:-
• Balloon Flights
• Swim with Dolphins
• Cirque du Soleil – La Nouba
• Arabian Nights – evening show
• Busch Gardens – another theme parks that's about 1hr + drive away
• Airboat rides in the Everglades
• Gatorland
• Titanic Experience
• Ripley's Believe it or not (the building is just weird!)
• Wonderworks – I've never been in it but just looking at the building is jaw dropping – its UPSIDE DOWN!!! http://www.wonderworksonline.com/
• Pirates Cove – Crazy Golf! It's open until midnight and its fab for any age! This is a must we've spent hours on this in the evening out of the heat.
As you can see we love Orlando very much, and on our May trip ended up taking 900 photos! I've ended up with 5 A2 clip frames of pictures and memorabilia on my dining room wall. But the great thing is every morning when we have breakfast we look and remember all the wonderful times we had. Our son celebrated his 4th birthday out there and even he can tell you a thing or two about how wonderful it was. We're saving now for next time!
Heather, Andrew and family!