Spring Break is a fickle time of year. It's a huge crowd bringer for theme parks, but because so many schools have it spread out from February to the end of April this year, predicting when crowds will be heaviest is a crap shoot. However, with Easter hitting next weekend, it's a fairly safe bet to say that the next two weeks are going to be among the busiest of the year so far. Add in Harry Potter to the mix and Universal has to pull out all the stops to make sure that crowds have plenty to keep them occupied.

But before we look at all the things that Universal Orlando has rolled out for the busy Spring Break weeks ahead, let's look at a few other things first.
Hulk
Our first look at the green machine in quite some time. In fact it's our first in depth look at him since Orlando United started petitioning to have it painted. While the complaining worked (and Universal said they were going to do it anyway) Hulk is now mostly gloriously green again!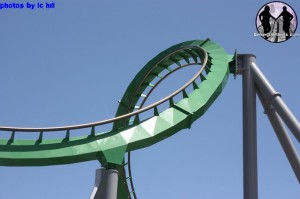 So that means, it's a great smooth ride again..right? Sadly, no. The reason for this is because while the rest of the coaster is being taken care of, the rails (the part the coaster actually rides on) has gotten no attention. There are some enthusiasts out there that has chastised us for saying this saying "the rails have nothing to do with the roughness…it's all in the wheels". Half true. That's like saying "the roads aren't rough, you just need new tires on your car". It's been a good long clip since Hulk has been completely shutdown for a good once over, so the wheels are more than likely in need. But there is this:
With chunks of who knows what on the rails, it's not going to get any smoother.
More pics of Hulk:
[flickr-gallery mode="photoset" photoset="72157626532761587″]
Then there's Rockit. Screamscape has ran a picture or two of bags on footers of the ride, indicating that concrete work has happened. Today the bags are off, and though I'm no expert it looks as if there was more concrete added AROUND the existing footers. Maybe I'm wrong? Whatever happened, there are pretty good cracks happening around it. Perhaps someone knows more?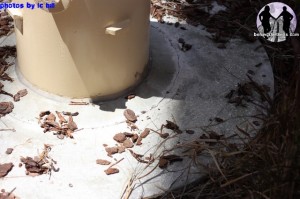 More pics of Rockit:
[flickr-gallery mode="photoset" photoset="72157626532772221″]
As we said earlier, Universal has pulled out all the stops making sure that crowds have plenty to do. One such stop is of course, The Triceratops Discovery Trail. Nothing really has changed, but it's still fun to take a look at these amazing creatures. The one thing that I loved about this attraction was the fact that the actors made no qualms about saying this attraction was closed by touting "It's a very special occasion, as these paddocks have been off limits to visitors for quite some time now." Gotta love that type of continuity in an attraction
[flickr-gallery mode="photoset" photoset="72157626534522997″]
Another old attraction showing up is of course Fear Factor. This was the stunt show based off the wildly popular TV show of the same name. It pitted park guests against each other in contests of strength, agility and grossness. It's back for the Spring Season, and besides the level of prizes (one guy got a cup for downing the "smoothie") nothing has really changed.
[flickr-gallery mode="photoset" photoset="72157626659154338″]
And since Universal has a huge movie coming out really soon, they are rolling out the actual cars from the upcoming Fast Five starring Vin Diesel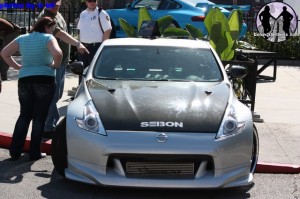 [flickr-gallery mode="photoset" photoset="72157626534554135″]
The one great thing about Universal that I haven't seen pulled off anywhere else are the atmosphere characters. The park tends to scale back a lot during slow times and put it's best foot forward during the busy. In Toon Lagoon, Beetle Bailey, Zero, and Broomhilda were out.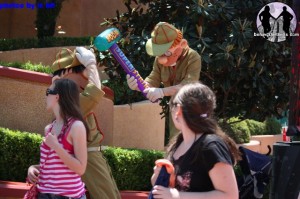 Zero couldn't care less about posing for pictures, while Beetle Bailey loafed under a tree…fitting. They would stop to pose, but mostly they played. It was great to see these two not falling in line with the Disney way of meet and greets. We watched Zero shoot hoops, and sneak up on an unsuspecting Beetle and whack him with a hammer. Great stuff.
[flickr-gallery mode="photoset" photoset="72157626659172044″]
Jimmy Neutron was opened, and the Nicktoon characters were out greeting guests. Here's a tip-If you want to see any changes to Jimmy Neutron and don't want to wait in line, or ride the nauseating ride, simply ask for stationary seating. You'll be taken to the front (if it's available) and able to sit in a non moving seat. Sadly nothing has changed, aside from a blue paint job on a blimp and a few other items.
[flickr-gallery mode="photoset" photoset="72157626659180424″]
Mardi Gras at Universal ends this coming weekend with 30 Seconds to Mars performing. You will not see me hide nor hair near it. Already the park has taken down the Mardi Gras medallion from atop the arch at the studios.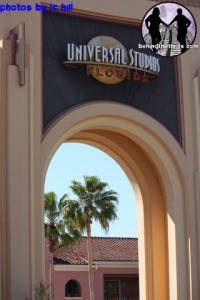 So we take one last look at Mardi Gras. We recommend going next weekend if you haven't, but be warned this is a HUGE band and it will be crowded.
[flickr-gallery mode="photoset" photoset="72157626659190202″]
For more information, including tickets, visit the official Universal Orlando website.