It's just now April, and already many are making plans for Haunt Season. What can I say? We're just freaks. Officially Haunt Season kicks off September 23rd with the opening of Halloween Horrror Nights, and other theme park haunts. Unofficially haunt season starts a week earlier with Sinister's VUDUCon.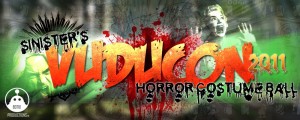 Last year's event (then called VUDU Cinema) was a huge success with Orlando area artists, scareactors and designers making an appearance. There was even a bunch of knuckleheads there broadcasting a live podcast…which we'll be doing again this year.
With free movies, prize giveaways,and the chance to meet the meat and potatoes of the haunt season it turned out to be an all out blast. And this year looks to be even bigger.
A new venue and even bigger plans to guarantee for an amazing kick off to the Haunt Season.
September 17th is the date, mark it on your calendars!
Here is a list of special guests who are already scheduled to appear:
Sinister
Jena San Cartier
JW Fearman
Ghoststop
DJ Squared
Six Souls
Horror Night Nightmare
Behind The Thrills(check out our coverage including our podcast from last year in which we interviewed members of the Chainsaw Drill Team from Halloween Horror Nights (click here).