We were given the opportunity today to get an early sneak preview of Busch Gardens Tampa's newest attraction, Cheetah Hunt, which officially opens tomorrow, May 27th. During our sneak preview, we were able to check out the ride, the Cheetah Run habitat, and even interview several of the folks who worked heavily with this attraction to make it what it is today.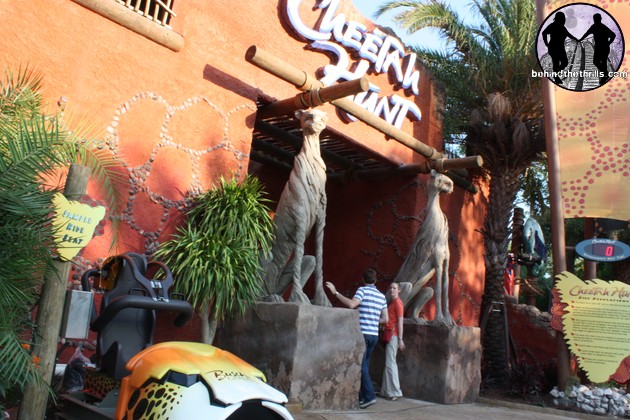 When the ride officially opens to the public tomorrow morning, guests will be able to experience Cheetah Hunt and Cheetah Run to the fullest. Cheetahs will be running at various times through out the day, but they'll be out in their habitat for viewing through out the day. Guests can also experience the park's brand new multi-launch coaster.
For those of you who are asking what Cheetah Hunt was like, it was a very fun ride. While it wasn't the most thrilling coaster I've ever been on, it was exciting and thrilling all at the same time. With one inversion, it twists, turns, and accelerates guests three different times. The coaster perfectly captures the spirit of the Cheetah. It's pretty safe to say our Cheetah Cam from today perfectly captures my exact thoughts of the ride.
We'll have even more videos up later.
Edit: Here's the rest of the videos from our preview of Cheetah Hunt. Click the thumbnails below to watch the video interviews:
[youtubegallery]
Interview: Mark Rose|http://www.youtube.com/watch?v=oLj-dgOx4V8
Interview: Jim Dean|http://www.youtube.com/watch?v=KSCrcAgG9aE
Interview: Mike Boos|http://www.youtube.com/watch?v=cBcJaKCPCpI
[/youtubegallery]
Cheetah Hunt's station is located inside the same building as the Skyride. The entrance to the Skyride has been slightly shifted to the right to help separate foot traffic going into and leaving Cheetah Hunt. The station features facts about the ride and Cheetah's as well as a giant Cheetah Rock. The inside of the Skyride/Cheetah Hunt station has been given a completely new look.
[flickr-gallery mode="photoset" photoset="72157626686345735″]
The area will also feature strolling entertainment such as the belly dancers. They were a lot of fun to watch.
[flickr-gallery mode="photoset" photoset="72157626688993975″]
Remember, Cheetah Hunt opens tomorrow and the park will be staying open an hour later on Saturday and Sunday to allow guests extra time to enjoy Cheetah Hunt and the rest of the park. In June, Busch Gardens will also be offering pass holders exclusive ride time an hour before the park opens. Click here for more information on ERT for passholders.
Here's even more photos of the ride to get you even more excited about the grand opening tomorrow!
[flickr-gallery mode="photoset" photoset="72157626813755808″]
And finally.. We actually got to ride Cheetah Hunt twice today. It was a nice treat. During our very first ride, Cheetah Hunt actually stopped on the third launch area, rolled backwards into position for relaunch and after a few minutes, we were off!
Visit Cheetah Hunt's official website at http://cheetahhunt.com!