We've been pretty busy since Thursday and haven't exactly had the chance to sit down in front of the computer for an update, so today's Cheetah Hunt update is going to be fairly large. We'll start with last Thursday, the 19th.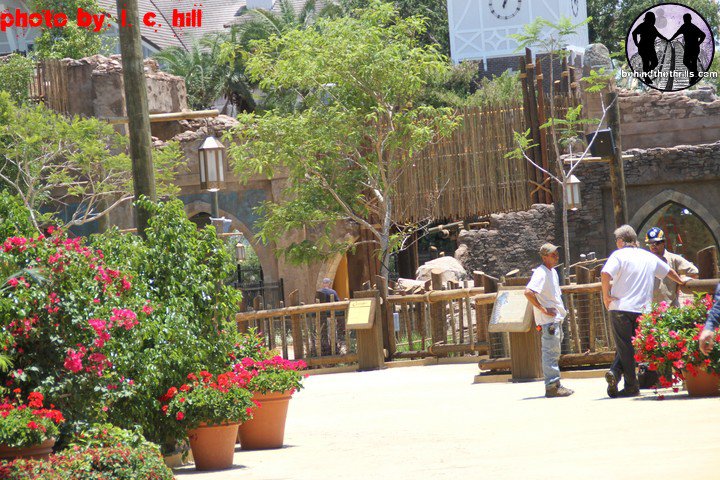 Cheetah Run is starting to look very complete. After all, we're 5 days from the grand opening of Cheetah Hunt. Yes! Less than a week to go, people!
Thursday we will be previewing Cheetah Hunt and Cheetah Run. During that time, we'll be interviewing Mark Rose, Jim Deam, and Mike Boos, so if you have any questions you want asked, shoot us an e-mail or @reply us on Twitter. We'll make sure to ask your questions!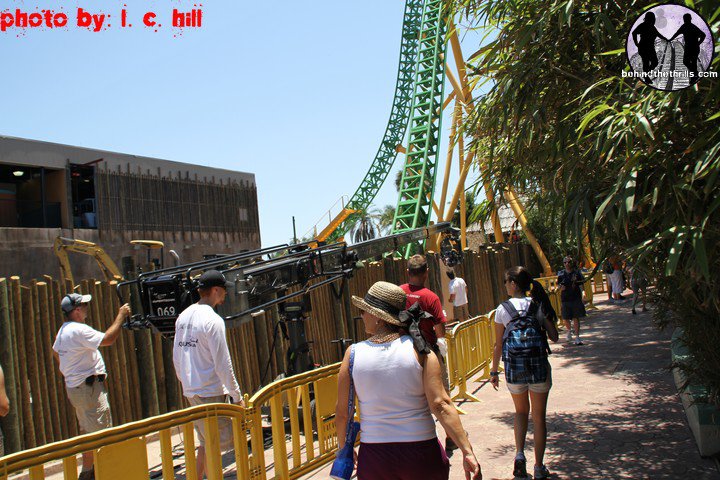 The park was also doing some filming of the ride. That's some seriously awesome equipment, by the way.
And here's a few more photos from our construction update on Thursday:
[flickr-gallery mode="photoset" photoset="72157626781398880″]
Now for today's stuff! Yay!
Elephants have returned to their habitat near Rhino Ralley.
The ride's wait time sign has been installed. Yep, it reads 240 – Too bad that's not actually accurate as the ride didn't soft open today. Gosh, I hope it doesn't ever reach the point of a 240 minute wait.. Only a four hour wait.
New spotted banners have been spotted (pun intended).
Skyride was testing today. Cabins stopped on the line periodically, but we've been told Skyride will only need to test for 24 hours before it's ready to go back into service. Not exactly sure what time it will be done, but it should be done before 5pm tomorrow if that's the case!
Pepsi vending machines have been installed in the area. It may not matter to you guys, but hey – I'm a hardcore Pepsi fanatic. No Coke-a-cola for me.
A little bit of work was being done to the track today. I'm not quite sure what is happening here, but it appears he's using that bar to push a pin in?
A very small section of Cheetah Run was open to guests today. By small, I mean about a single panel for guests to see the Cheetahs in. Look at how big and beautiful these cats are.
And here's a few more photos from our construction update today:
[flickr-gallery mode="photoset" photoset="72157626781446878″]