Cheetah Hunt is just about a week from opening, and while we haven't seen any soft openings yet, Employees got their first rides in Sunday. As employee previews continued today (Monday) Park President Jim Dean took the chance to ride the coaster. After getting off of the coaster he declared that "We have another winner here."

And to promote the Park President's first ride on the newest addition to the park, Busch Gardens sent out this official image: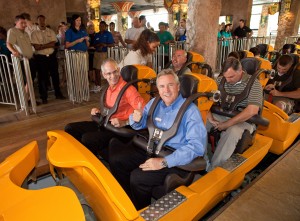 That's really great. However, we happened to be on hand and not only saw that Employees were riding, but also happened get Jim and VP of Marketing Gerrard Hoeppner as they took that first ride.

Say hi Guys!

Everyone on the ride seemed to be loving it and in some cases it even seemed to be a little much for some people

And still best ride ever for others

Video of a welcome sound, screams and cheers:

Elsewhere in the park, work on the skyride continues as lines are dropped and the towers get work done

Even more Cheetah Hunt Construction pics:
[flickr-gallery mode="photoset" photoset="72157626613123225″]
Cheetah Hunt still has at least one train still using water dummies from what we've seen today. It could be possible to see a soft opening, but it's probably not going to happen if the park is still cycling trains with water dummies in them.
[flickr-gallery mode="photoset" photoset="72157626613039643″]
However, Cheetah Hunt does open on May 27th.
For more information including tickets, visit the parks official website.