It seems like a natural transition from the theme park company that has long been touted for not only their conservation, but also education about marine life in all their parks. Sea World Parks&Entertainment has announced the release of their new film Turtle: The Incredible Journey. The film is the first by the newly formed SeaWorld Pictures division.

Turtle follows the life cycle of a Loggerhead Sea Turtle from hatching, through it's migration and maturity and back to it's original nesting grounds in Florida. The film is a documentary directed by National Geographic's Nick Stringer, and took two years and over 9,000 miles as the crew followed Loggerheads through their migration and their fight for survival.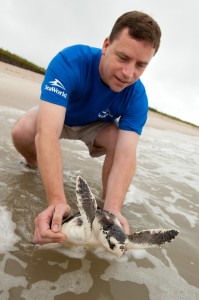 "This is a remarkable story crafted by one of the world's most gifted documentary filmmakers," said Scott Helmstedter, Chief Creative Officer for SeaWorld Parks & Entertainment. "Turtle: The Incredible Journey does what our parks have been doing for more than five decades: inspire, enrich and entertain. Helping bring this film and its powerful message of the fragility and beauty of our oceans to the public is what SeaWorld is and what we have always been about."
The film comes at a good time for Sea World who has recently released their 1,000th rescued sea turtle back to the wild. The company has overall rescued more than 1,500 turtles due to complications from cold weather, injury and man made obstacles.
Sea World San Diego recently announced that it will discontinue use of plastic bags, one of the main causes of death of Sea Turtles when they are thrown into the water. Sea World San Diego will also be home to "Turtle Reef" an all new attraction that features an animal exhibit, ride and interactive maps.
"Turtle" opens in New York, Los Angeles and theaters near all three Sea World locations-Orlando, San Antonio and San Diego on June 24th, 2011. The film is expected to expand to an additional 200 screens in other cities from July to August. The film will be available in 3D.
For more information on this and other programs, visit the official Sea World website.