Everyone is breathing with baited breath for soft openings of Star Tours 2 at Disney's Hollywood Studios at the Walt Disney World Resort. So much so that people are resorting to standing watch, just like they did at Wizarding World of Harry Potter with #Potterwatch. If you want to follow along with the action just look for #StarToursWatch. Not a very original name, but it gets the point across. Meanwhile construction is happening all over the resort.

First up is of course the big one, Fantasyland.


Since our last update, walls are starting to form around Beast's Castle and are really giving the whole area a great depth and perspective.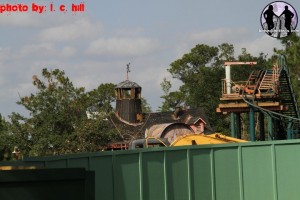 Work continues on the Great Goofini, though that track is still looking rough. The station seems to be getting work.
A quick look at the rest of the construction
[flickr-gallery mode="photoset" photoset="72157626518579309″]
Meanwhile over at the Art of Animation, tons of stuff seems to be going on since our last update. Lots of new walls, and rails as the whole project seems to be shaping up.
[flickr-gallery mode="photoset" photoset="72157626643129008″]
And finally at Disney's Hollywood Studios, loads of work is going on. Star Tours 2 of course is moving along at a break neck pace. These were pictures were taken Monday morning, by Tuesday morning the walls were down fueling speculation that they would soft open any day now.

All sorts of construction from Star Tours to Phineas and Furb to even Pooh and Cars. So much happening for the park. Make sure you check out some of the fun shots we have around the park:
[flickr-gallery mode="photoset" photoset="72157626518606661″]
And now, something we will most likely get in trouble for. Since the opening of Star Tours 2 is merely days away we have got our hands on new Darth Vader footage from the ride. Warning, this is spoiler heavy, and we recommend that you don't watch it. Though we say that Vader has an all new look:
You've been warned
Don't hate you know you laughed.
For more information on Star Tours 2 and more, visit the official website.