Happy belated Mothers Day from all of us at Behind the Thrills. We've been celebrating quite a bit because Racheal is one great Step-mom, and me..well I've been called a real mother….well, it's been mostly by my ex-wife so you get where that one's going. Speaking of whom, she is a great mom as well. So Happy Mothers Day to all of you moms, step-moms, grandmothers, and people who act like moms. We love you all. And now behind my back, not another bouquet of flowers, but some honest to goodness Theme Park news. Shall we then?

Universal
Grad Bash is the only game in town for Graduates now that Disney has discontinued Grad Nite. It seems that due to feared rivalries between two Florida High Schools, Grad Bash was cancelled by Universal for one high school. According to this story, Universal ended up rescheduling the school from Lake Wales for another week. Are things really that bad that students can't get along for one night to hear music and ride rides?
Okay Hulkamaniacs! Are you ready brother to feel the awe inspiring wrath of the Hulkster? Hulk Hogan will be on hand for a "sit down" with fans during a VIP event at Universal Studios Florida after the Slammiversary, TNA's Annual Pay Per View wrestling event. For full details on how you can get your tickets, visit WrestleZone
Universal, the studios division, is about to ax another movie series with huge potential because of budgetary concerns. The Dark Tower, which has plans for three movies and two TV series to bridge the show, has been put on hold due to budgetary concerns. This is the same thing that eventually lead to the demise of the brilliant sounding "At the Mountains of Madness" which was to be directed by Guillermo Del Toro. Seriously, take it away from Universal and have it made as a huge TV series by HBO who has a history of taking high-profile scripts and turning them into extremely successful series. Then take those ideas and turn them into HHN house ideas and don't sell them to Universal. Instead sell them to the much in need Busch Gardens for their Howl O Scream event. Read more about it here.
Dollywood
Dolly Parton was on hand for a mini parade, and a huge celebration after Dollywood won the Applause Award. This award is given once every two years, and has only been given to 14 parks. More info.
Disney
Nothing really news worthy, but some fun Star Sightings:
Orlando Magic's Dwight Howard poses with Chewbacca in front of the now closed Star Tours ride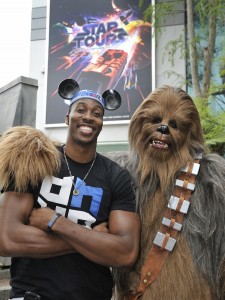 Matt Giraud, season 8 finalist for American Idol stops by…you guessed it The American Idol Experience…
And it's May, so get your tickets NOW for Disney's Not So Scary Halloween Party, and Very Merry Christmas, both of which are on sale now..in May. Click here for more info.
Other
Water Country U.S.A. will be holding Lifeguard classes on site provided by the American Red Cross. There will also be several swimming classes and CPR classes held at the park. All classes are again will be provided by instructors from the American Red Cross. More details.
A new Jimi Hendrix theme park has been approved by Seattle and a team has been put together to bring it to life. Not so much of a theme park, as no rides have been announced, but more of a focal point for music in the area. Personally, while it's a great idea to bring the music to the forefront, I think it's a huge missed opportunity. The estate could have another Dollywood on it's hands. Read more and see the details here.
A few viral sites have been popping up for the upcoming film Green Lantern. Including one that leads to a game. While I have no love for the film, I do think the game is a lot of fun, and the marketing clever, though not very subtle. Check it out.
Ride of the Day
An up close encounter that mixed animals, education, and a few great thrill elements. It has since been downsized to make room for another attraction, but this ride added a fun ride through of Busch Gardens Tampa's Serengeti area with a wise cracking driver (or spieler). True story, with my ex wife on my left "Who can tell me what that fat grey thing with no knees on your left is" Me: "My wife" Driver: "Dude just said his wife…yeah, we're coming up on the crocodile pit next m'am." This makes Rhino Rally at BGT your ride of the day.