A whirlwind is coming in the next few weeks. We will see just about every major attraction open at every major park. If you're a theme park fan, it's going to be crazy to try and keep up with it. If you're planning a theme park trip, your choices are going to keep you guessing up until the time you leave. Never fear, BTT is here! And we're doing absolutely nothing to help you make your summer plans. So sit back, relax, hold on tight, strap in, hang on, quit dreamin, coast on, start screamin…and oh yeah, get ready to ride. How about some theme park news? Shall we then?

Horror
It's not theme park related, but because I'm jonesing for some good horror and we're a full five months from Haunt Season, I'm going to throw some bloody juicy tidbits at you and hope some get on your face.
The Trailer for Final Destination 5 is out, and it's silly. The deaths seem so unoriginal and the big scene where everyone ends up walking from death just seems contrived. Meh, I'm over it…which means I'll probably still see it.

The New York Times has the first image and interview with cast and crew of Abraham Lincoln, Vampire Hunter. I want this to work so so bad. I can just imagine a house at HHN using famous people of the past, such as George Washington Werewolf Slayer, Groucho Marx Defender against demons, and of course Zombie Jesus. The movie will tell the story of Abraham Lincoln, and his quest to destroy the scourge of vampires that imprisoned not only slaves but threatened to conquer humanity.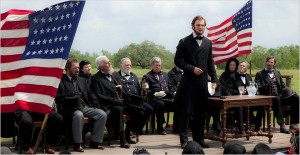 Disney
While not exactly new news, Goofy's Sky School opening has been pushed back until July 1st when it will reopen with the all new Paradise Pier area. More details.
Storybook rooms are coming to the Walt Disney World Resort very soon, with the "Royal Rooms" sporting the princess theme. However according to the Orlando Sentinel it may not be the only addition. The park also tested rooms from Pirates, to a Princess and the Frog theme, to even a Haunted Mansion theme. All of which tested well, just the Princess rooms proving to be a bit more popular. The bottom line is if these rooms are a success you can more than likely expect more rooms coming soon.
Other
Legoland is popping up all over the place, now with yet another Legoland Discovery Center, this time in Kansas City. The Discovery Center will be built along side a new aquarium, and an already existing Crayola Cafe. All of which will be located in the Crown Center. More details.
Xanadu, the troubled big mall project that was promised to get it's own indoor theme park has yet another backer who has called not only to push ahead with the project, but also expand the original idea:

More here.
China is building a Hello Kitty theme park. The ultra popular, ultra cute cat has inspired cartoons, clothing, and tons of hot ladies to sport shirts way too small to cover up their ummm….kitty's…The project will cost around $215 million and be finished by 2014. Can it work? That's an awfully small amount considering most parks are closer to the 500 million range. There are two Kitty parks in Japan.
Ferrari World has announced that they will now offer annual passes. They are home to the world's fastest coaster.
Ride of the Day
The London Dungeon prides itself on the horror's presented in it's displays to be fairly historically accurate. They are include some very severe rides. Imagine being accused of a crime and the punishment is death. You are sent before the judges and read a list of crimes, the gallows are before you and you are hung by the neck until dead. The floor drops out below you and you drop to the floor. A completely dark and demented attraction makes Drop Ride to Doom at London Dungeon your Ride of the Day.