Morey's Piers has announced the return of their annual coaster enthusiast event, Coastin' by the Ocean. Coastin' by the Ocean is an exciting and social gathering for members of coaster clubs and their guests. The event will run from July 8th through July 10th.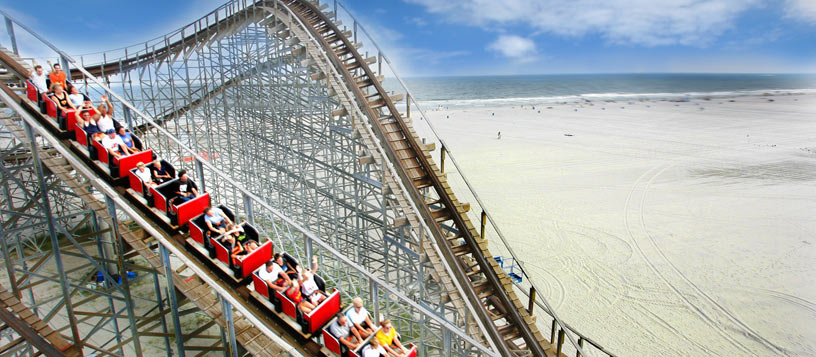 "Coastin by the Ocean is the most uniquely entertaining event on the coaster enthusiasts' calendar. Jack, Will, Dino, Kristel and the gang at Morey's put on an amazing show that have coaster fans from all over the country coming back year after year. We can hardly wait to see what they have up their sleeves this year," said Adam Revesz, New Jersey Regional Rep for American Coaster Enthusiasts.
These kind of events draw coaster enthusiasts from all around the globe. They're all passionate about coasters, and also very knowledgeable about the rides and the history of the rides (and the parks themselves).
Morey's Piers has announced clubs in attendance so far for the event are as follows: Coaster Zombies, American Coaster Enthusiasts, Great Ohio Coaster Club, Coaster Fusion, and Darkride and Fun House Enthusiasts.
"Over the years we have found it extremely important to have an open dialogue with members of coaster clubs and amusement aficionados, especially when embarking on custom and one-of-a-kind attractions. Our relationship with them provides us with a critical research opportunity as they travel to amusement parks all over the world and opens the door for a true conversation about the best attractions and the best practices on a global basis. Aside from the technical aspects of the event, these people are just plain fun to hang out with," said Jack Morey.
Those in attendance must be a card-carrying member of a club in attendance. For more information, visit www.moreyspiers.com or call 609-522-3900.
---
Also at Morey's Piers on July 16th and 17th, the beaches will be filled with young athletes for a Lacrosse tournament. The event at Morey's Piers, the first of it's kind, continues to draw more and more teams from all over the east coast each and every year.
"Lacrosse is one of the fastest growing youth sports and we're proud to provide such an outstanding venue for these players," said Nick Lassor, Beach Sports Manager. "They can enjoy the game, camping on the beaches and access to the amusements."
Rules have been tailored to the setting of the event. Each team is allowed a maximum of ten players, which includes four field players and a goalie. The field will be 30×40 yards. Each game is split into two half's, each being 18 minutes long with a four minute intermission between halfs.
For more information, visit www.moreyspiers.com or call 609-522-3900.