Memorial Day weekend just passed and summer is right around the corner. I mean that literally – my kids get out of school tomorrow at 1pm. Summer got here so quickly! There's a lot going on everywhere, including Disney's parks.
At Magic Kingdom, there's Fantasyland of course. Lots of work is still going on for the first phase that's scheduled to open in late 2012. The skyway that has remained closed since 1999 is completely being demolished and will eventually be turned into restrooms so that the restrooms by Peter Pan can be turned into more queue line (pictures of that to come in our next update). I've never seen the skyway in operation before at the park, and now I never will, but Fantasyland will sure be a big turn around for the park.
[flickr-gallery mode="photoset" photoset="72157626924733386″]
There's no better way to tease us than to throw up a Cars 2 advertisement on a construction wall. Disney California Adventure announced they would be getting their own Cars Land within their park for 2012 incorporating rides and more themed to the movie, Cars. I doubt we'll be seeing our own version of that in Florida,  but hey – we can dream, can't we?
[flickr-gallery mode="photoset" photoset="72157626800143467″]
The Phineas and Ferb meet and greet area has finally opened at Disney's Hollywood Studios. If you're a fan of the cartoon – this is the place you're going to want to head to see some of your favorite characters. They look so goofy, like the cartoon, but in a way they're pretty cool looking.
[flickr-gallery mode="photoset" photoset="72157626924750912″]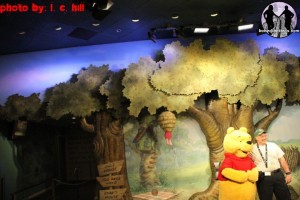 Speaking of meet and greets.. Winnie the Pooh also opened up recently at Hollywood Studios. I really like the environment the characters have been put into here with the story line and the back drop.
[flickr-gallery mode="photoset" photoset="72157626801571473″]
And of course, Star Wars Weekends continues at Hollywood Studios. Nothing like a huge Star Wars celebration after the grand re-opening of Star Tours. If you're a big Star Wars fan, this coming weekend will be the last weekend for the celebration until next year. That's right – if you miss it, looks like there's always next year.
[flickr-gallery mode="photoset" photoset="72157626801617243″]
And now for some random pictures.
[flickr-gallery mode="photoset" photoset="72157626926197846″]