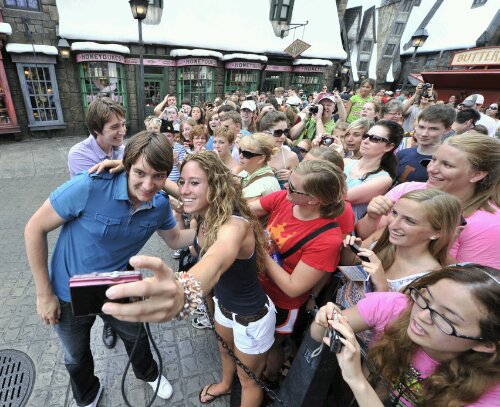 Oliver and James Phelps (L to R) –who portray the mischievous Weasley brothers, George and Fred respectively, in the Harry Potter films –stopped to greet fans and take photos with eager guests in Hogsmeade at The Wizarding World of Harry Potter while visiting Universal Orlando Resort on Thursday, June 9, 2011. The Wizarding World of Harry Potter, which celebrated its grand opening nearly one year ago, is the most spectacular-themed environment ever created.
The Wizarding World of Harry Potter has nearly been open for a year at Islands of Adventure. It was rumored that Oliver and James were visiting Universal Orlando to assist with some kind of promotional filming for the area. While nothing official has been confirmed by the park, its tough to say when these wacky characters have lost their "ginger" appearance.
Oliver and James have previously visited the Wizarding World before, prior to the grand opening of the area with fellow actors from the series including Emma Watson, Robbie Coltrane, and Matthew Lewis.
Here's a few more photos that Universal Orlando snapped during their visit to the Wizarding World.
[flickr]http://www.flickr.com/photos/getreadytoride/5816481514/[/flickr]
And my personal favorite:
[flickr]http://www.flickr.com/photos/getreadytoride/5815913253/[/flickr]