I would normally share some story or a smart assed diatribe here, but today we would like to pay tribute to our dear and beloved L.C. Hill. Mr. Hill started out as just a guy who would send us pictures every once in a while because he loved theme parks. He's turned into a full fledged staff member, and a very dear friend. He's done so much for us, and though he's on a very deserved vacation he's got a bunch of goodies for us all when he gets back. He's also now a full decision making, writing, acting, bitching, and complaining partner on this little section of the internets. He's earned it, and we're more than happy to officially make him part of the Behind The Thrills family.
With that said, if you are visiting a park this summer and have stuff you'd like to share(pictures, videos,trip reports, columns, rants, diatribes)…simply let us know(by clicking here)! You never know what could happen!
Well it goes like this, the 4th, the 5th, the minor fall, the major lift…the baffled king composing MY THEME PARK NEWS!

Disney
The Disney parks blog has announced a huge change to how it will be kicking off Grad Nite in 2012. Grads will get an exclusive FastPass to take in a showing of Fantasmic as the night kicks off. In 2013, the party will be moved to California Adventure, and the special showing will be of World of Color. Walt Disney World ended their Grad Nite festivities this year, instead offering "field trips" for Seniors.
The Disney Parks Blog has the full line up of guests at this years Candlight Processional during the Holiday Season at EPCOT. They include:
Mira Sorvino ("Romy and Michelle's High School Reunion") Nov. 25-27
Michael W. Smith (Christian singer) Nov. 28-Dec. 1
Whoopi Goldberg ("The View") Dec. 2-3
TBD Nov. 4-6
Isabella Rossellini ("Alias") Dec. 7-9
Neil Patrick Harris ("How I Met Your Mother") Dec. 10-12
TBD Dec. 13-14
TBD Dec. 16-18
Trace Adkins (country singer) Dec. 19-21
Susan Lucci ("All My Children") Dec. 22-24
Blair Underwood ("The Event") Dec. 25-27
Marlee Matlin ("Celebrity Apprentice") Dec. 28-30
Disney has released a time lapse video, cramming in a week of the Alaskan Cruise in under two minutes.

Hipster artist SHAG will be at Walt Disney World this weekend laying out his entire collection of Walt Disney World art in two shows. The style is retro, and depicts families in stories. He's very popular, but looks like something out of a car insurance commercial. More details.
Longtime Disney Exec Al Weiss, the President of Worldwide Operations of Disney Parks and Resorts, has retired effective immediately. He will remain with the company working with Tom Skaggs until November 1st. Weiss started when he was 18 and worked for the company for 39 years. He started as an hourly worker, proving that once upon a time at Disney, dreams did come true. More information from the Orlando Sentinel.
Disney-Pixar's Brave has released a teaser poster. The film opens in 2012 and tells the story of a Scottish Princess. The poster pretty much says it all.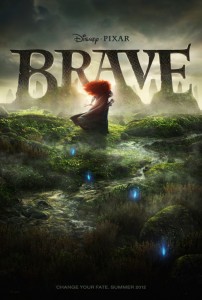 Other
In Japan a game called Monster Hunter is so popular that there is going to be a huge event in August held at Universal Studios Japan. The event will create locations and Monsters from the game for the event, and all will be full size scale models. Talk about cool. More details
Ontario has unveiled the all new "Edge Walk" which let's those who are brave enough to walk along a catwalk on top of one of the city's largest buildings. You're harnessed in, but looking at pictures, it looks like you're really on a huge path, with no danger…I don't know if it's worth the $175 price tag. More details here.
Oceanfront Amusement park is closing, only to be opened again next year on Virginia Beach with a 100 foot Ferris Wheel…yeah, makes no sense to me either, but read more about it here.
The all new Elmo's Cloud Chaser averted tragedy when a small child leapt from her chair towards her mothers chair. The park said that the child was taken into her mother's chair, and rode safely down. Witnesses say the child was hanging on for dear life as the ride rode down and almost didn't make it. Scary stuff. The ride is only 20 feet tall. Read more about it.
Yesterday we reported that Kennywood was looking to sell it's drop tower, Pitt Fall. Today it's being reported that they are looking to sell it to make room for a new attraction, possibly a ride like Windseeker. More details.
Wanna buy a roller coaster? The wooden classic "Zingo" is being sold via Facebook. It's a John Allen designed coaster with a Philadelphia Toboggan Train. More information
Kentucky Kingdom is close to having a deal that would reopen the park. Officials say they remain optimistic about the park, and hopes all parties can come to an agreement. If you remember, the park was owned by Six Flags…was the place where a girl lost her leg on the drop tower, and was closed. More information.
Ride of the Day
It's the first launch coaster built by Mack. It launches you off so fast that they built heart monitors into the seat! Blue Fire at Europa Park is your Ride of the Day