Welcome back my friends to the show that never ends…seriously, it never ends. I write the news, go to bed..and then it's time to write the news again. But it's okay, I like you. You're a good people. So for you, I write the news. Anyway, did you know that it's National Roller Coaster Week? Seriously, the government needs to do something about this. It snuck up on me and I had no idea! We need to protest and get a national day of coasters…okay…so everyone in the country trying to ride a coaster on the same day may not be the best idea. But how about an extra floating holiday that you have to take in the summer to go and ride a coaster? Now we're talking!
Sit back, Hang in and Strap on for my theme park news!

Disney
Rapunzel will become the 10th official Disney Princess. They make this stuff official now? According to the Orlando Sentinel they do. There will be a huge ceremony and little princesses from all over the world will have a high profile ceremony in Kensington Palace and a procession through Hyde Park. After this she will marry Flynn Rider in a Disney Channel special in 2012.
Legoland California
Okay, so this kind of broke my heart and made Racheal cry a little.. Okay, a lot. The kid loves Star Wars, Legos, and Harrison Ford so much. Watch it and cry. CRY I SAID!
Cedar Point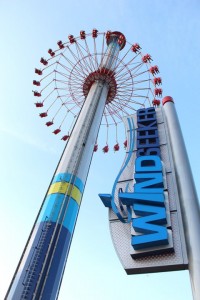 Windseeker at Cedar Point is now open…officially according to a tweet from the official Cedar Point Twitter. Go, ride, fly!
Speaking of Windseeker, according to the LA Times, Windseeker at Knots Berry Farms is expected to be open by Mid July, and will hold a contest to see who the first "Thrill Junkie" will be to ride it. More details.
And we have two new pics from @WesFrater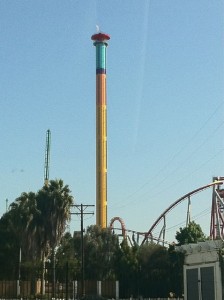 Other
Grand Reef has officially opened at Discovery Cove. It's awesome and amazing, and you should definitely go. The old portion of Discovery Cove, the reef that originally opened with the park has closed. We were told that it would be reused for a new attraction by the park. However, we've also heard rumors that the new attraction, which is located next to the FRESHWATER river will open next year. And it too will have a unique animal attraction. Unlike the Grand Reef and Dolphin Lagoon, this new area is said to be freshwater and will be a whole new type of experience for guests to discover. Again, just a rumor at this point..but wouldn't it be cool? It would cover all body types of water with saltwater and freshwater animals to explore. Who's up for a swim with crocodiles!
A 16 year old boy is in serious condition after having a heart attack while riding a coaster in Spain. According to this article, the ride is still open, though they don't say which park or which coaster.
There doesn't seem to be a cause of the accident last week in which a 12 year old girl from a Ferris Wheel at Morey's Piers. However, the coaster is still closed and will now have to require riders to be 54 inches without an adult, and no fewer than 2 riders per gondola. More Details
Gilroy Gardens has unveiled it's 3,000 square foot Dinosaur exhibit. It's animatronic, but the real feature isn't the creatures that roar and move. It's the fossilized Dino poop. Sounds awesome, actually. More details
Finally, Chud.com has released some images of the filming of the 2nd season of the critically acclaimed and wildly popular AMC series..The Walking Dead. I loved this show last year. It's currently filming in Atlanta, where my kids are spending the summer. Let's see if dad can't figure out where and have the kids become extras! YAY ZOMBIES! See the Zombie goodness here.
Ride of the Day
You strap in for an adventure above the clouds. The unique lift hill pushes you up a spiral lift hill instead of being pulled by a chain or flung by magnets. You then experience an almost hang glider like experience. This is why Tomb Raider (Time Warp) at Canada's Wonderland is your ride of the day